Pakistani actor Feroze Khan is not new to jumping in on online crossover. Whether it's someone in the industry bad-mouthing others on a show or social media, Khan defends his friends in the industry when they really need him.
Just recently, Khan defended Alizeh Shah when Nida Yasir and her husband bad-mouthed about her on a talk show. One similar incident occurred when Oscar-winning filmmaker Sharmeen Obaid-Chinoy left not-so-nice remarks on Instagram for actress Sonya Hussyn.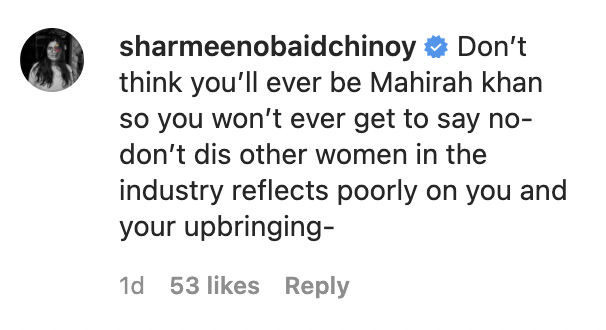 Khan put up a story on Instagram saying, "I once saw this YouTube link where the woman – she (Sharmeen) made a documentary on got her Oscars –  was complaining she never paid her". He added, "While talking about your upbringing, @Sonyahussyn, these people don't decide your destiny. Laik olad kay saray baap hotay hain! Stay strong".
Sharmeen's remarks about Sonya made headlines, and so Sonya also responded to the situation. She took it to her Instagram and wrote a lengthy caption. She said, "Pulling one woman down while putting up another in full view of public and talking about upbringing! Besides, the pandemic has given too much extra time to some people to "dis" others by taking things out of context."
We often see news publishers pick the said words out of context and present them to the public to maximize reach on the post. Unfortunately, this is what happened in this case, too – Sharmeen left remarks on a post taken out of context.
Sonya's said words were taken out of an interview from 2018 where she answered a rapid-fire round question. She had to pick one film out of three in which show wouldn't want to work: Verna, Raees, or Ho Mann Jahaan. Hussyn chose Raees. The host then asked her,  "Why, because you don't want to work with Shah Rukh Khan?' To this, Hussyn replied,  "No, never. It was never my dream to work with Shah Rukh Khan. My dream is that your character should be such that you are seen, and you're not just a side character to a hero."
Her answer simply narrated that her dreams are different. She clearly didn't disrespect Mahira for her choices.
Feroze Khan Has Rejoined the Showbiz Platform but With a Different Purpose this Time. Read the full story here:
Feroze Khan was invited to Ahsan Khan's talk show alongside his sister, Humaima Malik. During the episode, both revealed many details and aspects of their current lives. There is no doubt that the two have had altered their lives tremendously and are now preaching to follow the righteous path.
Feroze Khan Has Rejoined the Showbiz Platform but With a Different Purpose this Time