Pakistani models Hasnain Lehri and Nimra Jacob caught in a controversy after an alleged incident at TDAP's fashion show during TEXPO2023.
Lehri denies all accusations of physical altercation and abuse, stating it started with a verbal argument initiated by Jacob.
Jacob shares her side of the story, highlighting threats, abuse, and assault, calling for accountability in the fashion industry.
---
---
In a surprising twist, Pakistani models Hasnain Lehri and Nimra Jacob have found themselves embroiled in a controversy surrounding an alleged incident at the Trade Development Authority Pakistan's (TDAP) fashion show during this year's Textile EXPO (TEXPO2023).
A video released by a Pakistani tabloid captured Lehri engaged in a heated argument, with Jacob and other models present.
The video depicted a tense situation as Jacob appeared visibly shaken, surrounded by female models amidst the argument. Lehri vehemently denied the accusations while being held back by some individuals. Meanwhile, a group of models encircled Jacob, who was on the verge of tears.
 

View this post on Instagram

 
Jacob took to Instagram Stories to share her perspective on the incident. She asserted, "I will not tolerate mistreatment, threats, or bullying. There will be consequences for laying hands on me." She further expressed her frustration with the fashion industry, stating,
"We have witnessed too much abuse, disrespect, and neglect for our safety. I have no room in my heart for forgiveness when it comes to abuse, harassment, bullying, assault, and more."
Detailing the incident, Jacob explained, "I was subjected to threats, verbal abuse, and physical assault without any justifiable reason. My belongings were taken and used as leverage against me. In an attempt to protect me, my female colleagues were also harmed.
All of this occurred in a professional setting where I had previously expressed concerns about my safety to the management. The management should have taken action when I first raised concerns."
Jacob continued, "I'm lucky there were eyewitnesses to this man's horrific actions. From his threats to his violence, some people witnessed it all. As traumatized as I am, I'm not standing alone. I refuse to let anyone abuse, threaten, intimidate, or belittle my colleagues or myself in any way. Today I stand to let you know that I will call out these abusers, harassers, and bullies for exactly who/what they are. Every single one of them."
"If we want the industry to be a safe space, we need to take a stand and collectively check disrespect at the door. We need to demand accountability for those who are supposed to ensure our safety at work. And demand zero tolerance for the perpetrators involved in spewing such violence and aggression at the workplace. I'm done with this toxic, abusive culture. No more! Enough is enough." She concluded.
Prominent model Zara Peerzada took to her Instagram Stories to share her thoughts on the matter. "Stop hiring violent males to walk your shows, be in your shoots. It's not complicated. How about when you see abuse taking place, you address it and intervene? It's not complicated. Stop doing empowerment campaigns for women to sell your clothes when you don't have respect for them or their safety. It's not complicated. This is not an isolated incident. Why are models alone braver than all managers, guardians of industry, and designers with all their pomp and circumstance? Why do you hesitate so to discipline or sideline abusive men? It comes at the cost of safety," she said.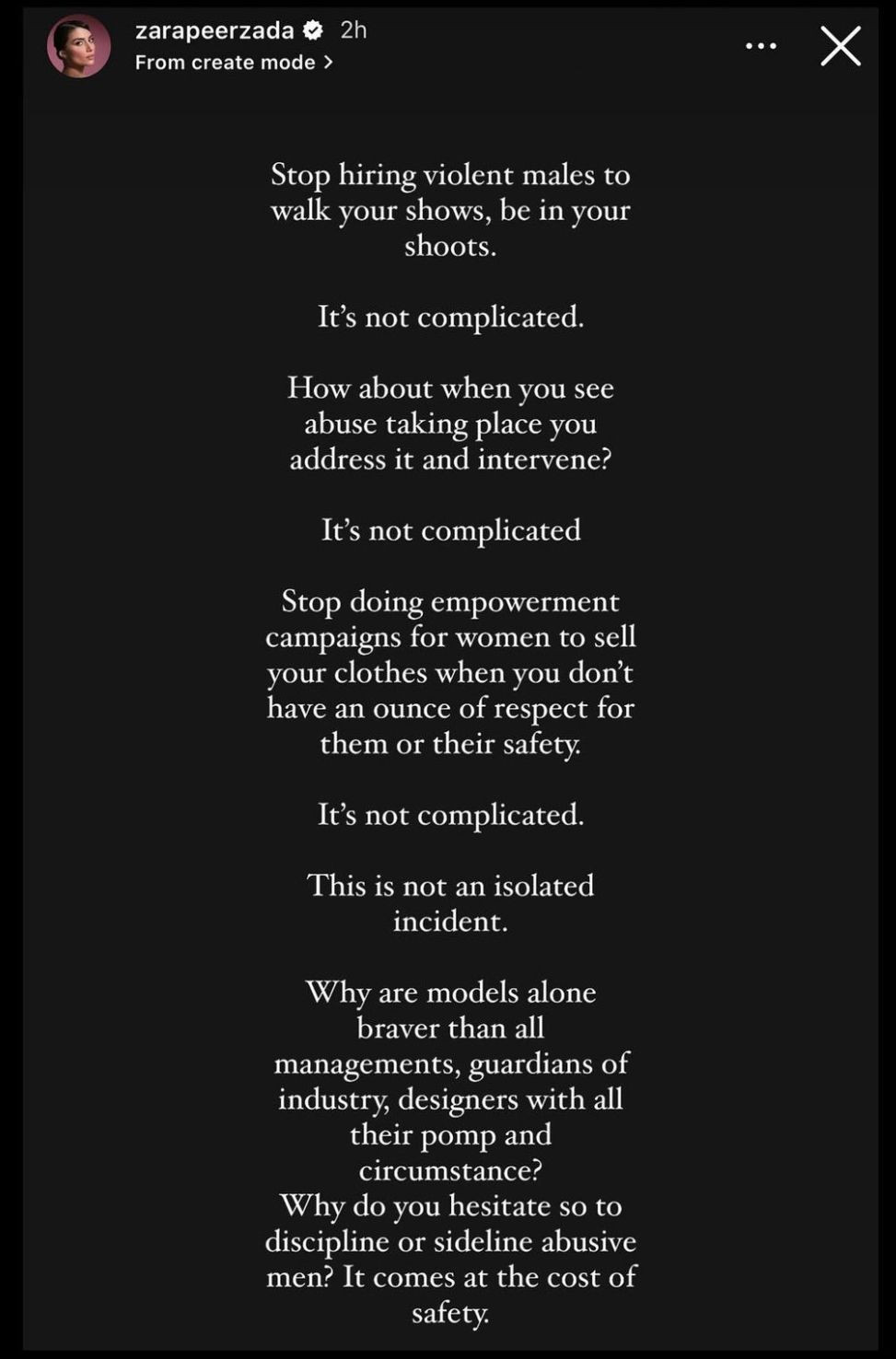 Fashion designer Kamiar Rokni also voiced his opinion. "Toxic male behaviour needs to be addressed in the fashion industry," he stated. "Violence against girls backstage at a fashion show is a new low. This can not be allowed to happen again it is up to us to come together and make this a safe place for the girls. Our models are an invaluable part of our industry and we can't stand around while they are abused."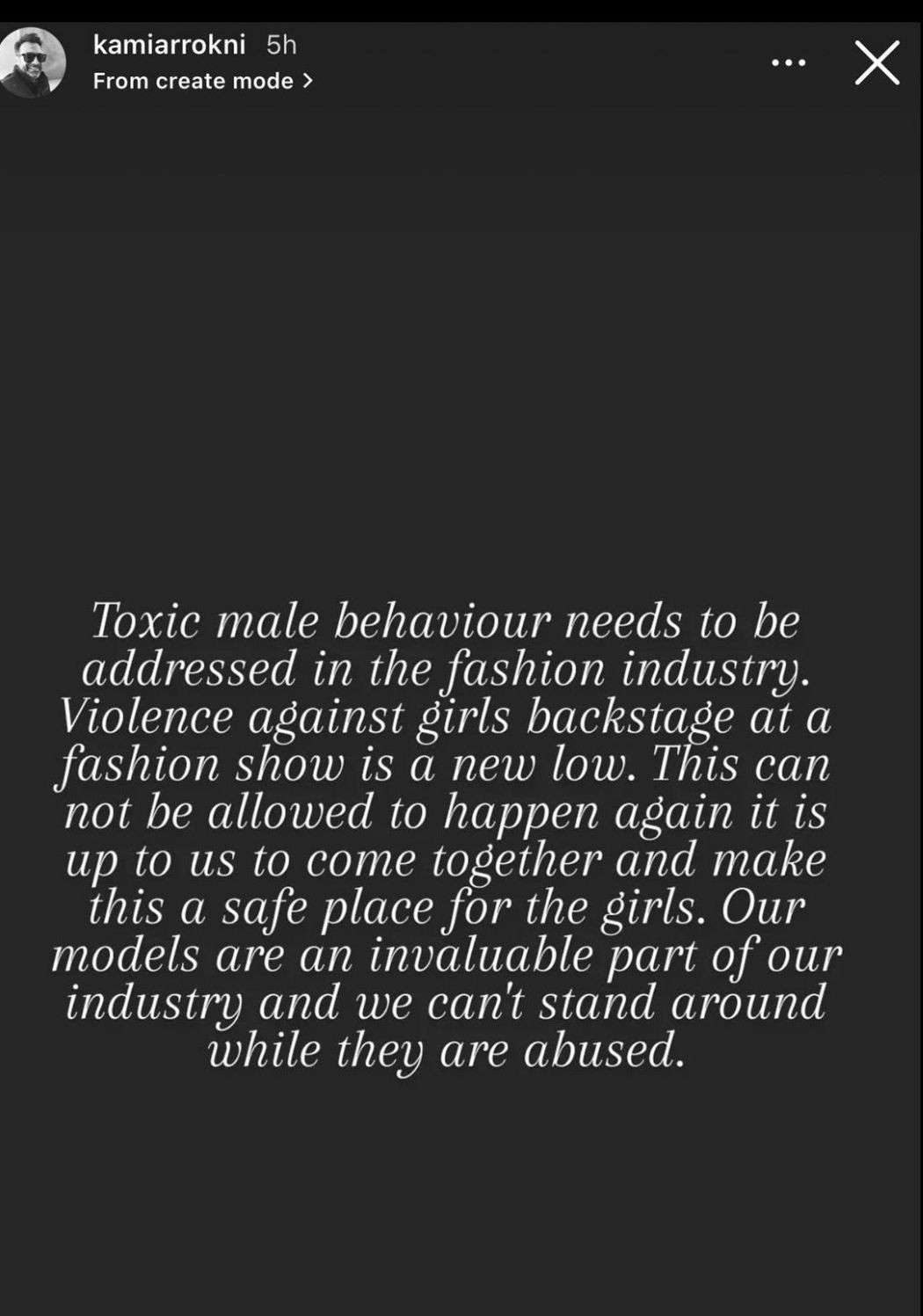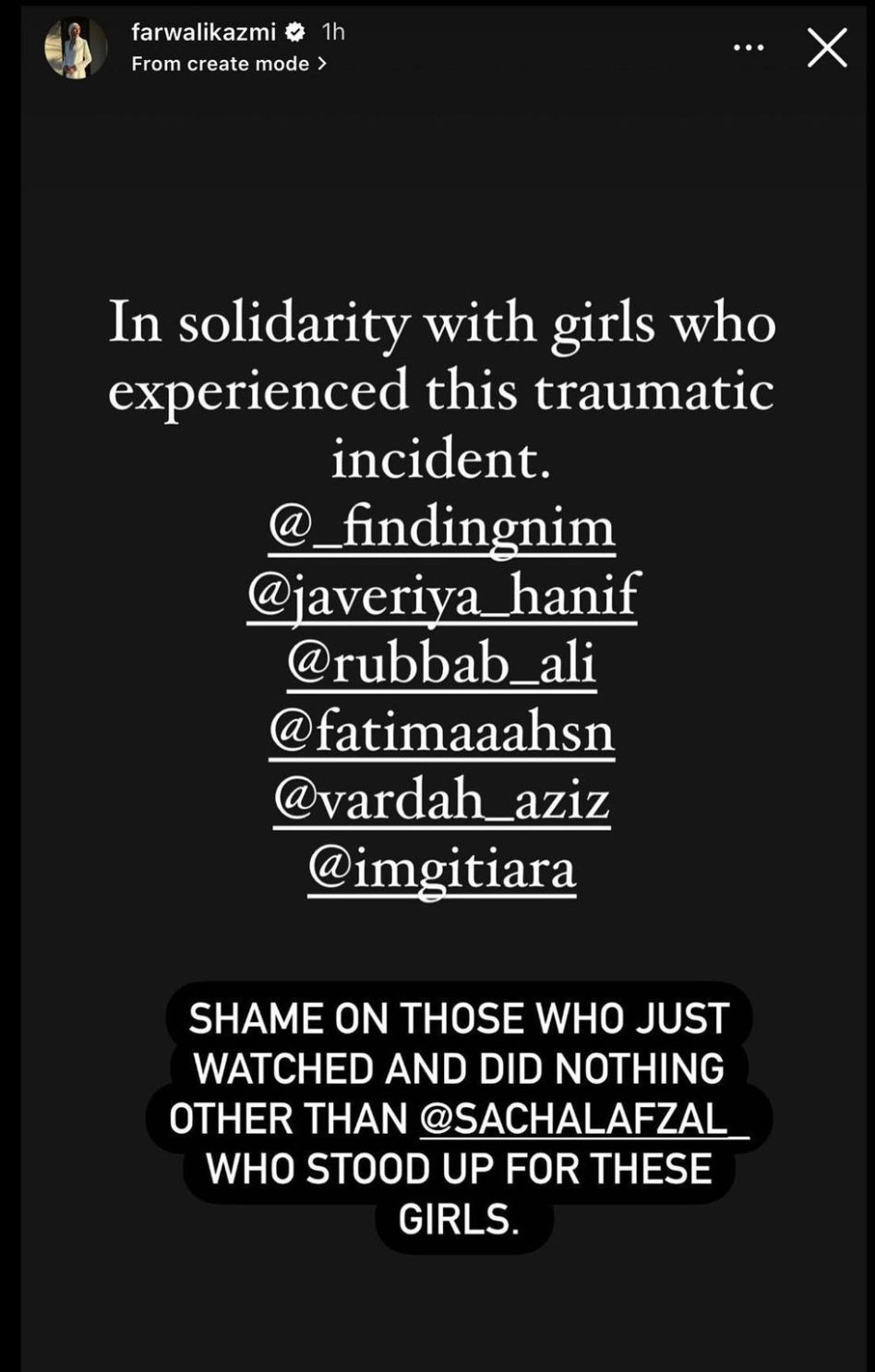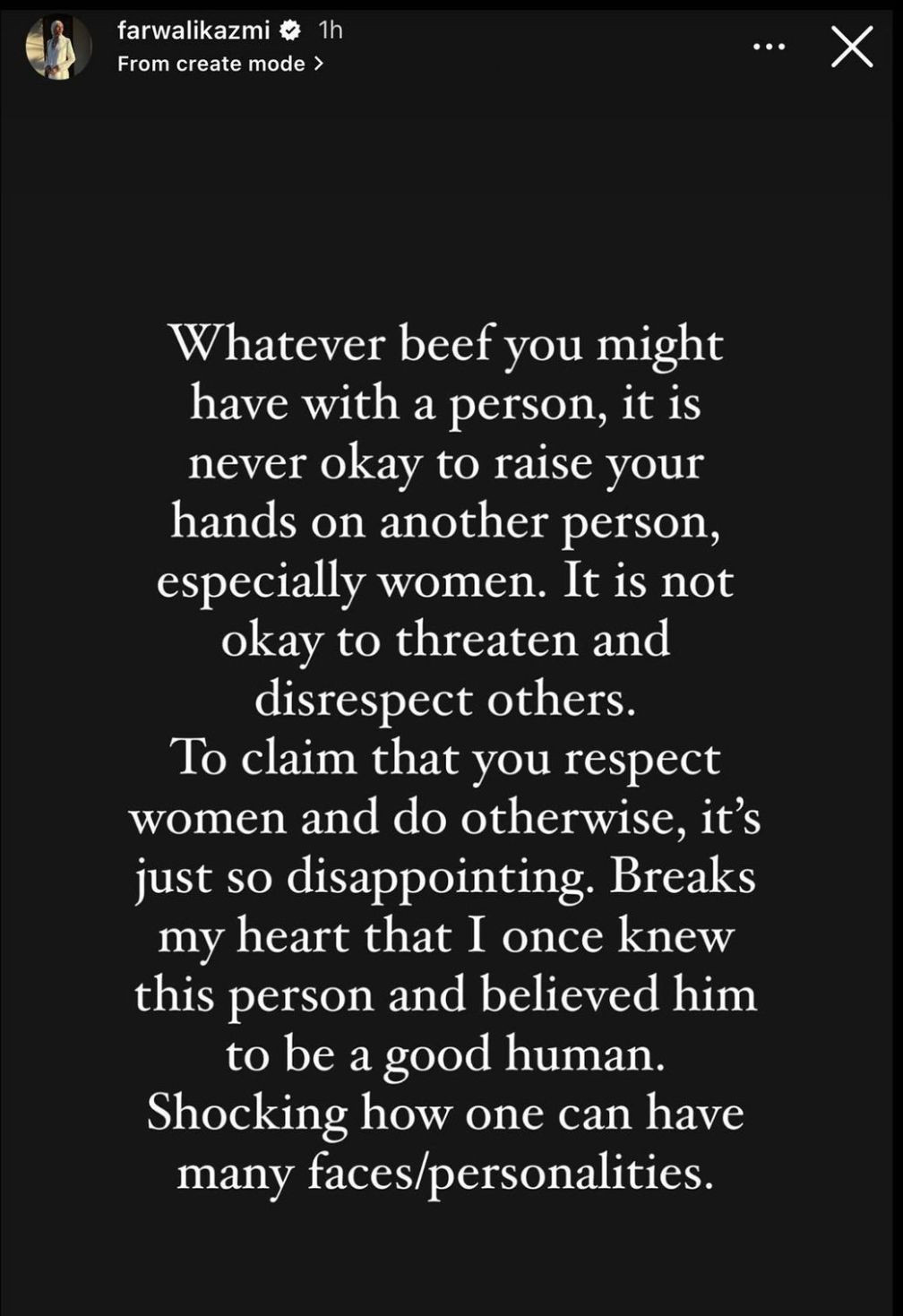 Frieha Altaf also tweeted her support for Jacob. "Deeply disturbed by the news on how Jacob, a model was bullied and felt unsafe at a fashion event. Anoushey Ashraf, [the] red carpet host also felt scared and unsafe at a man making a video of her at the same event. Must create safe spaces for all women at work," she penned.
Deeply disturbed by the news on how #nimrajacobs, a model was bullied & felt unsafe at a fashion event. Anoushey Ashraf, red carpet host also felt scared & unsafe at a man making a video of her at the same event. Must create safe spaces for all women at work. #Safeourwomen pic.twitter.com/LBcwefaNDp

— Frieha Altaf (@FriehaAltaf) May 28, 2023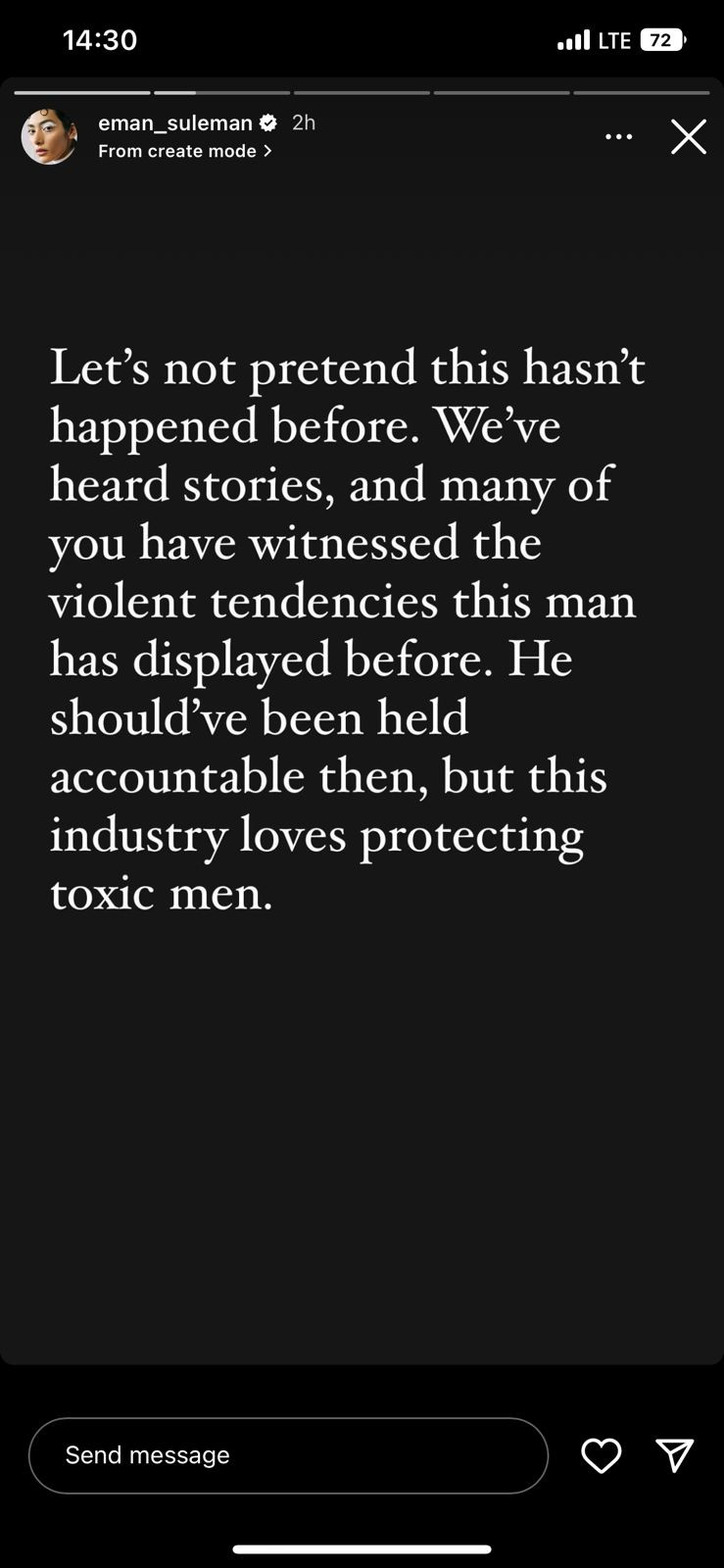 Hasnain Lehri Denies Accusations by Nimra Jacob
On the other hand, Lehri denied all allegations. "I vehemently deny all allegations of physical altercation and abuse," Lehri firmly stated. "I come from a highly respected family, and we are not the kind of people who would engage in such petty conflicts."
Explaining the sequence of events, the model recounted that it all began when Jacob intentionally bumped into him during the ramp walk for the sportswear brand, Spartans. "While crossing paths on the ramp, Jacob deliberately collided with my shoulder. Backstage, she approached me and insulted my ramp-walking skills, leading to an argument where she even brought up my late father," Lehri explained. He then asked her to leave, and they both returned to the ramp for the finale.
He further mentioned that there were witnesses to this verbal dispute. Lehri asserted that many people, including organizers Tehmina Khaled, Tehmim, and choreographer Nubain Ali, were present. "I shared my concerns with them, and they informed me that Jacob had multiple issues with other models and had a reputation for unprofessional behaviour," he disclosed.
"After the show ended, I packed my bag, preparing to leave. Nubain approached me to inquire about the issue. As Nubain and I were discussing, that's when Jacob returned and reignited the argument," Lehri continued. "She cursed at me, and I responded in kind. It was at that point she took out her phone and began recording me."
The model stated that he repeatedly asked Jacob not to film in front of Ali before eventually taking her phone. Recalling the incident, he explained, "This behaviour was unacceptable, so I took her phone. That's all I did. I took the phone from her hand and kept it with me because she was recording me without my consent. She only wanted to present her side of the story," he clarified. "I wish I had taken out my own phone and started recording how Jacob was misbehaving as well."
Lehri stressed that he will not be manipulated by anyone and will not tolerate bullies. "I swear on the Holy Book, with God as my witness, that all I did was take her phone. I did not assault anyone or physically harm her. Jacob's three friends ganged up against me, and naturally, they will support her," he added.
He further revealed that after discussing the issue with the organizers and when Jacob threatened to involve "men," he told them to bring whomever they wanted. When he refused to return Jacob's phone, the police were called. "If I were in the wrong and the alleged physical assault had occurred, why would the police let me leave? I was free to go," Lehri pointed out. "I have immense respect for my colleagues, but Jacob is distorting the entire situation." He shared with ET.
We have yet to see when this banter will come to an end or if will it take a twist.
Stay tuned to WOW360.