Turkish actress Esra Bilgic who has played the cherished character of Halime Sultan in the Turkish drama serial Ertuğrul has been featured in Victoria's Secret ad for their latest Victoria's Secret Love Cloud Collection. Pakistani fans of the actress are furious at her for agreeing to model in intimate wear for the lingerie company.
The actress wrote on Instagram, "Are you ready to be above the clouds? Victoria's Secret Love Cloud Collection, inspired by the lightness of the clouds, is now indispensable. I am my biggest supporter with its lightness, softness, smoothness, and comfort. Join this journey and experience a completely different comfort. #CloudAsLight" 
Pakistanis left vile comments under Esra's post. A user wrote, "Shame on you after Halima character you should be ashamed this type of dress."  
Another user commented, "Please stop showing your naked body."  
"Shame on you..if you show your self in bra then you shouldn't have played role of Halima Sultan," wrote another user.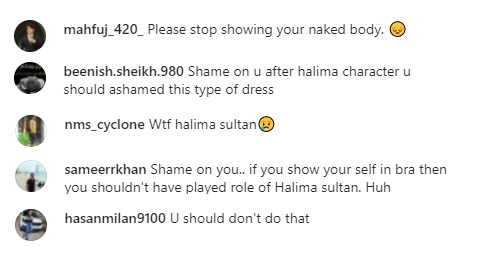 A user wrote, "I was a fan of yours but no longer!! You should know that majority of your fans exist because of your portrayal of Halima Sultan. What was the need for this advert promoting nudity? Seems like you do not care about fan feelings, it is a great shame!"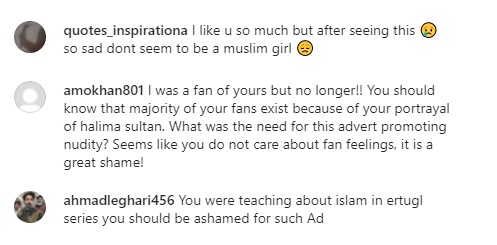 The actress has previously modeled for Khaadi's campaign for their winter collection in 2022 and also became their brand ambassador in Pakistan. She also did a few ads in Pakistan, including Jazz, Qmobile, etc.
This is not the first time the actress has faced criticism from Pakistani fans. Previously, she had faced constant moral policing on her photographs on Instagram. As per the fans, she must carry herself with grace and respect, which she owes to her on-screen persona.
In response, Esra gave a shut-up call to all those who were shaming her online. They said, Let me give you a little advice: Don't follow me, thank you."
Pakistani Celebrities Criticise Local Brand For Having Esra Bilgic As Ambassador. Read the full story here:
As soon as the Turkish series Dirilis Ertugrul was aired on PTV, people around the country went gaga over the storyline, and many of the actors developed a large fan following. Moreover, the leading cast of the series, Esra Bilgic, known for essaying the role of Halima Sultan, and Engin Altan Düzyatan, Ertugrul, are winning the hearts of Pakistanis with their fantastic chemistry in the series.
Pakistani Celebrities Criticise Local Brand For Having Esra Bilgic As Ambassador
Have something to add? Let us know in the comments section below.
For more news and updates, stay tuned to Wow 360.