Pakistani singers Asim Azhar and Hasan Raheem have the entire country moving to their groovy music, however, recently both crooners called out the organizers of the Summerajam Colour Fest event on social media.
According to the singers, the organizers had allegedly failed to make payments, which is why they had to refuse to perform at the event. Moreover, the 'Jo Tu Na Mila' singer even pointed out that his team will be taking legal action against the team behind the event.
@Summerjam_Colourfest is a scam, and the organisers are frauds. Please get your refunds on all tickets and sponsorships. And PLEASE BEWARE OF ANY FUTURE EVENTS BY THEM.

 

Due to non payment, fraud and miscommitment from the organisers, we won't be performing tonight in Islamabad.

Me and my management will be taking legal action against the organisers of this festival who have fooled the fans in buying tickets and getting sponsors by using our names and at the end not letting us perform due to non-payment. Everybody should get their refunds and the people responsible for this fraud must face concequences.

Regardless of everything, me and my team are sorry to all the fans who were looking forward to see us perfor. Hope we make it up to you next time.
'Joona' famed singer Hasan Raheem also had a similar story to share about the delay in payments leading to the regretful decision of not performing, whereas he also apologized to his fans and asked them to ensure their money gets refunded.
Really sad about the whole situation. I apalogise to all people who came out to have a good time tonight. We weren't paid by the organisers on time. Kindly get your refunds from @Summerjam_Colourfest we'll be taking legal action against them for wasting everyone's time and money. And love all of you who came out tonight.
That's not all, social media users who had personally attended the event themselves also mentioned their experience and demanded a refund.
One of the attendees shared that the sound quality was awful and that the performers who did turn up were horrible, excluding one or two. On the other hand, men and women were expected to share the same bathrooms, which were in terrible condition.
She goes on to say that despite mentioning the issues to the management, they allegedly replied saying that the public is responsible for the mess made in their loo. She even adds that only a few stalls were actually at the venue and were selling at very high prices.
'Dark Skin, Urdu Speaking Actresses are Given Negative Roles' – Ayesha Toor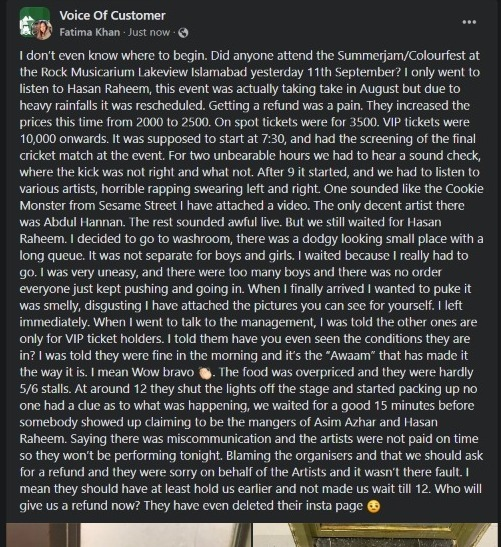 Another attendee posted on the event's social media page asking for a refund.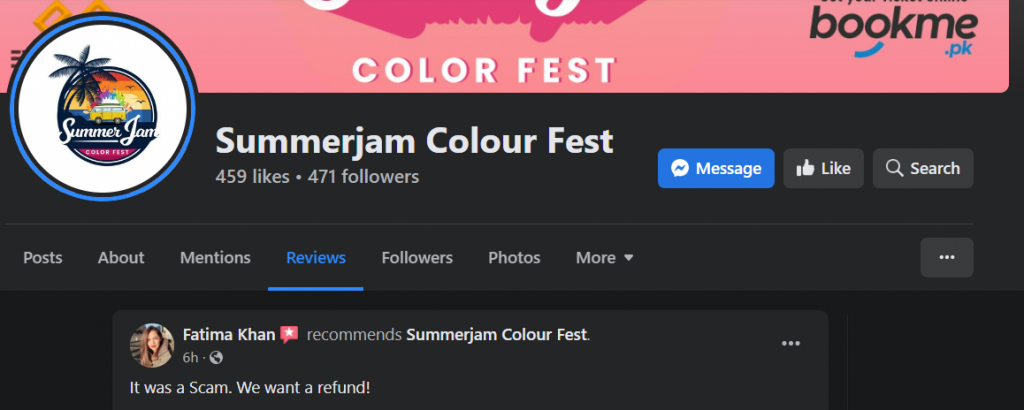 Reportedly, the organisers have deleted the official Instagram page for the event.
Were you at the event? Share your experience with us in the comments below.
Stay tuned to WOW360.
'Never Wanted a Son After 4 Daughters' Shagufta Ejaz Gets Candid