Model turned actress Amna Ilyas has lately been very vocal about colorism, body shaming, and the deep-rooted obsession with white skin in the South Asian culture. This time the model has adopted a very unique way to raise the issue and make people realise how they are more than their skin color.
Amna has taken a hilarious dig at Ayeza Khan's latest faiza beauty cream commercial where the actress can be seen addressing the whitening cream as her 'reason to success'- reiterating how only fair skin can give you the confidence boost you need to be successful in life.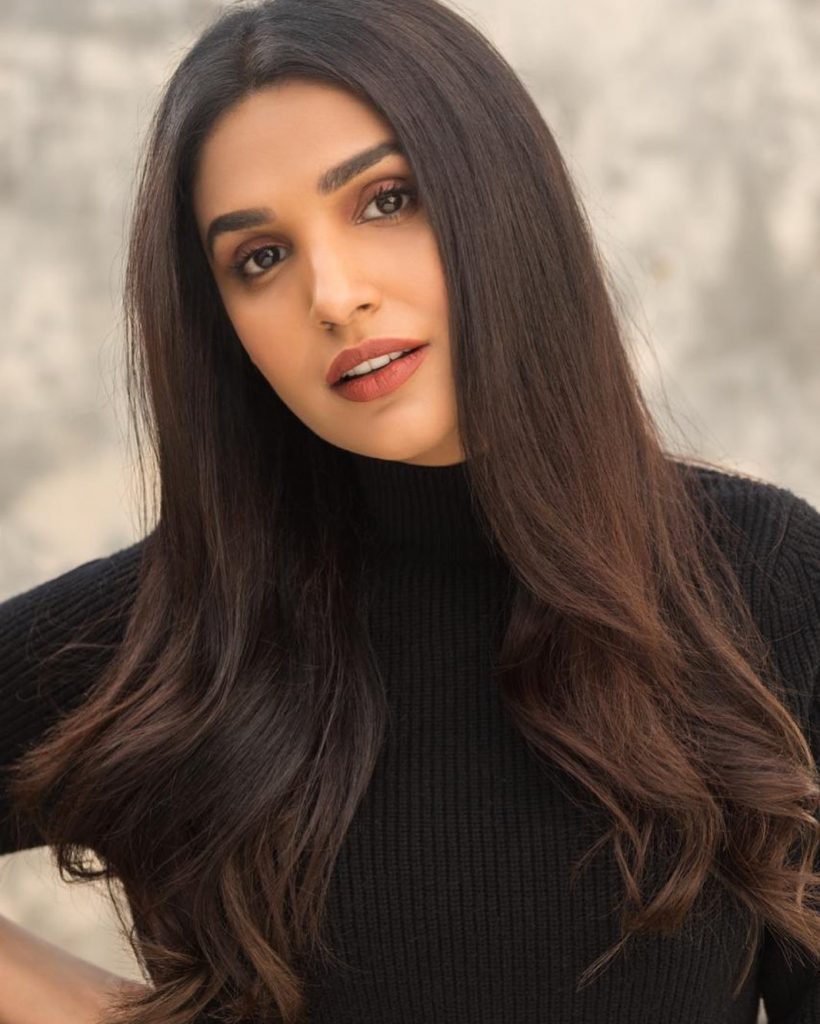 Amna Ilyas shot a parody video and posted on her Instagram. She can be seen delivering the same dialogues as Ayeza's, however, in the end the actress puts her face in a pot full of flour and emphasizes on recongnizing themselves- she wrote in her birthday post video- 'my dream of turning white has finally come true'.
This definitely was a bold move on the actress's part, and she did receive a lot of appreciation for it. However, she also knows she has gathered a lot of haters after this, but it feels so liberating to see a bold, famous model use her platform to speak on issues so stigmatized and deep rooted as this.
Watch video below.
Even before this incident, Amna took to Instagram and addressed the actresses who promote whitening creams. This is the 21st century and we live in a world where the information can fit in the palm of our hands and is just a click away.  We have all seen the pressure built on global brands by the #Blacklivesmovement- how a brand as big as 'Fair and Lovely' had to make a shift to 'Glow & Lovely'. Once cannot deny the power of people- the power of social media.
My dark skin won't be the reason I fall. No matter the shackles of colonisation or the micro-aggressions, I'll set my goals and achieve them all.xx 𝑨𝒎𝒏𝒂 𝑰𝒍𝒚𝒂𝒔

Posted by Amna Ilyas on Wednesday, September 30, 2020
How can an actress like Ayeza Khan be so tone deaf to appear in a campaign like Faiza Beauty cream's that doesn't only promote skin fairness rather is carcinogenic and contains other harmful ingredients like mercury?
Read more here
Fans Disappointed at Ayeza Khan for Endorsing 'Faiza Beauty Cream'
She recently posted another funny video highlighting issues like fat shaming and colorism-
IT ALL STARTS AT HOME. This age old script of colorism and fat shaming has been passed down from one generation to the next, and we mustn't let it trickle down further. Hope you guys enjoy this video, the model wrote in her post. 
Many Pakistani actresses like Mahira Khan, Ayesha Omar, Sanam Saeed, realise the power of impact they hold over people and have refused to ever endorse fairness creams.
According to Dawn news reports, several social activists had urged Minister for Climate Change Zartaj Gul to act upon her statement she made last year about banning skin lightening creams that contain more than 1percent mercury, and are severely cancer causing.
In a webinar conducted at the International Week of Redefining Beauty, which was observed on July 3rd, people from all over the world under the Black Lives Matter movement had gathered and this issue was raised. These people wanted change, they wanted to speak against the prejudice and discrimination held against people of colour.
Founder of Pakistan's anti-colourism campaign, Dark is Divine,  Fatima Lodhi had the following to say:
The damage fairness products cause to health is horrible. These products contain mercury which happens to be a cancer causing chemical; it is found in these products without any check and balance and without any warnings to consumers.
The ministry checked 59 samples of fairness products and found out that the amount of mercury in 56 of them was way more than 1pc. Six months have passed and we are looking forward to implementation of a banon these cancer causing products.
Have something to add to this story? Share in comments below.
Stay tuned for more interesting articles and updates!