Pakistan's entertainment industry has come a long way over the last decade.  Always known as a male-dominated sector, the industry has seen many stereotypes being broken by our talented female Pakistani filmmakers.
In recent years, female filmmakers have played a great hand in helping Pakistani films make a global mark. Moreover, the quality of the shoot, the technology, talent, story, and all aspects have improved widely.
Today, we are paying a small tribute to 5 filmmakers who have contributed their fair share in helping the film, entertainment, and media industry rise during hard times, without further ado, here are the amazing women who are breaking stereotypes:
1. Sharmeen Obaid Chinoy
Pakistani-Canadian journalist, filmmaker and activist Sharmeen Obaid Chinoy is a household name. She is the prestigious recipient of 2 Academy Awards, 7 Emmy Awards, and a Knight International Journalism Award too. Moreover, she has been named one of the 100 Most Influential People in the World by TIME in 2012 and received the honour of Hilal-i-Imtiaz the same year.
Sharmeen has contributed many titles to the industry, including the animated adventure 3 Bahadur (2015), Saving Face (2012), A Girl in the River: The Prince of Forgiveness (2016), Terror's Children (2002), and lastly, the latest Marvel sensation which went super viral – Ms Marvel starring Iman Vellani.
2. Sabin Agha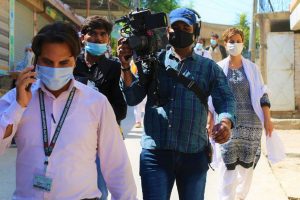 Documentary filmmaker Sabin Agha is also no stranger. The investigative journalist turned documentary filmmaker has produced several internationally acclaimed documentaries on various subjects, including political violence, crime, social and even healthcare/gender conflicts and issues.
Agha has worked with Bill and Melinda Gates Foundation and other well-known names. Some of her work includes Lawless Oceans for National Geographic and a Pakistani documentary titled Liyari Kahani.
3. Mehreen Jabbar
Mehreen Jabbar is a Pakistani film and television director and producer based in New York City. In 2008 Mehreen directed her debut feature film 'Ramchand Pakistani' for which she was awarded the 'Global Film Initiative Grant'. The film premiered in competition at the Tribeca Film Festival and continued a successful festival run.
Her second feature film Dobara Phir Se which was shot in New York and Karachi had a successful theatrical release in Pakistan, the UK, the USA and the UAE in December 2016. Most recently, she has worked with the international platform Zee5 for a web series titled 'Ek Jhoothi Love Story' (2020).
4. Afia Nathaniel
American-Pakistani filmmaker Afia Nathaniel is a name that is highly associated with her debut directorial feature film, Dukhtar. The film premiered in Toronto in 2014, becoming Pakistan's Official Submission for A Foreign Language Film at the 87th Academy Awards.
5. Haya Fatima Iqbal
Haya Fatima Iqbal is an Academy and two-time Emmy award-winning documentary filmmaker. Her work has been featured on HBO Documentary, Redfish, BBC, Al Jazeera, Channel 4 UK, VICE, National Geographic Society, CNN and the Thomson Reuters Foundation among other media organisations.
Which one of these amazing female Pakistani filmmakers is your idol? Tell us in the comments.
Stay tuned to WOW360 for more news and updates.