We often become lazy when it comes to taking care of our skin and following a proper skin care regimen. Especially during the monsoon season, we tend to often ignore our skin. Monsoon does bring a relief from the hot weather but on the other hand, it brings dozens of skin allergies and skin related problems.
The allergies are mainly caused due to humidity, sweat and various infections. Therefore, you need to incorporate certain skincare masks and home made remedies in the rainy season, just like you do in summers and winters.
Here are a few tried and tested home remedies DIY face mask ideas which can keep your skin free from acne, rashes and different kinds of allergies, leaving your skin fresh and glowing. 
1. Dried Mint & Rose Water Mask
Mint leaves have anti-septic properties where as rose water is a girl's best friend, especially in monsoon and summers. Rose water and mint gives glow to your skin. Make a thick paste by mixing dried mint powder with rose water and apply evenly all over the face. Wash once it is completely dried. For better results, use it daily as a face wash.
2. Fuller's Earth (Multani mitti) with Clove oil
The fuller's earth mud mask is not only one of the best face masks, but also one of the best hair masks as well. If you tend to breaks out during the monsoon season or have an acne prone skin,  this one is an amazing remedy.  Clove oil is antiseptic and helps you flush out toxins, where is Fuller's Earth helps your skin to stay cool and calm. Make a paste and use 2-3 teaspoons of Fuller's Earth mud with 1-2 drops of clove oil and let it dry. Rinse your face with cold water. You may use this everyday.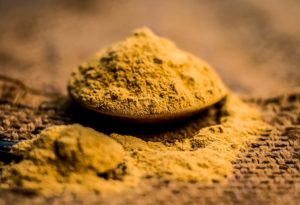 3. Turmeric, Rose Water & Lemon Mask
All you've got to do is take a pinch of turmeric and mix it with one tsp of besan. Add rose water and squeeze 2-3 drops of Lemon juice. Make a thick paste and apply smoothly on the entire face. Leave it on for 10-15 minutes until it dries up completely. Lemon acts as a detoxifying agent if you mix it in water to drink daily or have Lemon tea. Similarly, Lemon is great for your skin as well. You can apply it everyday but if you have an extremely sensitive skin so you may apply it once a week.
4. Cumin (zeera)
Cumin contains active elements such as phosphorus and thymol which act as great detoxifying agents. Adding cumin in your diet helps you in getting rid of acne, breakouts and skin allergies. It also helps one get rid of body toxins.
5. Fruit Mask
To make a fresh fruit mask you need 1 strawberry, 1 inch pieces of an Apple, Peach, Banana and 1 tsp of honey. You can blend all ingredients in a blender or use a fork to mash all the ingredients. Apply this paste evenly all over your face and let it on for a few minutes. Wash your face and instantly spray some rose water to get a super refreshed, glowing skin.
Which of the above mentioned skin care remedies you swear by? Let us know in the comments below. 
Stay tuned for more articles and updates!