Areeba, a single mother in Karachi, defies gender norms by fearlessly running a food stall in the male-dominated world of roadside food vending.
With culinary training and determination, Areeba overcomes adversity, setting up her stall 'Dana Pani' at Frere Hall, offering delectable snacks like samosas, pakoras, rolls, and French fries.
Despite facing criticism, Areeba's unwavering dedication to securing a better life for her children serves as an inspiration, challenging societal expectations and advocating for women's empowerment in public spaces.
---
---
The city of lights is synonymous with food, at every nook and corner you can find a food stall, eatery and roadside café either selling some desi snacks, fries or a good old cup of tea.
However, despite advancements in various fields, the world of roadside food vending in the city continues to be predominantly male-dominated for inexplicable reasons and one can hardly see any woman-led food stall. Traditionally, women have been associated with kitchen duties, and the sight of men cooking on the streets challenges this established belief.
Moreover, the prevailing patriarchal norms have unfortunately made public spaces perilous for women, thus limiting their presence on the streets. Challenging the norms is single mother, Areeba who is making her mark by setting up a woman-led food stall in the popular Frere Hall.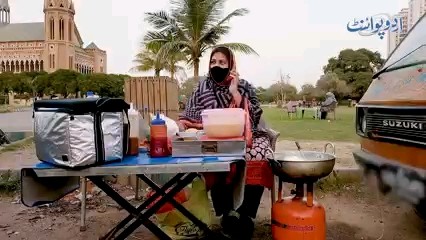 Areeba is a trained chef and has received her training from a culinary school in Karachi. She is proving to be an epitome of a woman who is fearlessly managing her food stall all by herself.
This amazing accomplishment highlights her determination and challenges the gender norms prevalent in our society. In order to make a living for herself and her two children, the single mother has grappled with working multiple jobs to survive the rising inflation with a clear goal in mind – providing a good life and sound education for her children.
She started off as a chef at a restaurant but was fired after taking a day off to tend to her ailing child who needed immediate attention. After this, she pursued further opportunities but could not manage the salaries they were offering.
She then decided to take a leap of faith and set up a small table at Frere Hall, since then she has come a long way becoming an entrepreneur with a stall 'Dana Pani' selling food items like samosas, pakoras, rolls and French fries.
Areeba talks about how she started selling food items at Frere Hall
"I did not have any lights at my table in the beginning and when the night fell I requested the popcorn sellers or ice-cream man to stand next to me so I could be visible to people."
She adds that fighting for a better life for her children is what motivates her to work hard every day,
"I've tried my hand at everything under the sun, from selling online jewellery and clothes to selling food items online and at the same time managing my stall at Frere Hall. I do it all for my children as none of it is their fault. Decisions taken by parents should not be borne by the children, it is not fair on them."
While we salute the hardworking woman, she says she has received immense appreciation and encouragement from people but there are some who do not appreciate a woman coming out and working in public.
"Many people especially women have told me off for setting up a stall in a public place and make fun of me or pass remarks and judge me for what I do."
Areeba's inspiring journey as a single mother breaking gender barriers in the world of roadside food vending is a testament to her resilience and determination. Her ability to overcome societal norms and pursue her passion for cooking not only provides for her family but also challenges the conventional notions of women's roles in public spaces.
Despite facing criticism and judgment, she remains undeterred, driven by her love for her children and the desire to secure a better future for them. Her stall 'Dana Pani' not only offers delicious food but also symbolizes the courage and strength of a woman who stands tall amidst the bustling city, illuminating a path of change and inclusivity.
Stay tuned to WOW360.