Indian filmmaker Sanjay Leela Bhansali's upcoming film Heeramandi, has sparked a debate among Pakistani celebs for all the right reasons.
One would think, why an Indian filmmaker is making a film on a story that is ours? Especially people from the fraternity are furious because they know very well that untold stories from Lahore's pre-partition courtesans are ours to tell to the world. Unfortunately, these aren't even spoken openly on public forums, let alone on a big screen.
The fate of such a film, if produced in Pakistan, will be the same as Sarmad Khoosat's Zindagi Tamasha – only viewed by a handful of people in the country and left in the abyss to be forgotten about.
As reported by many Indian publications, SLB completed 25 years in the film industry this year. His work speaks of his excellence. Reportedly, he has joined hands with online streaming giant Netflix to release his next venture, Heeramandi.
Pakistani actor Yasir Hussain emphasized in a post on telling our own stories before the world does: " Yeh hai Lahore mein aur movie Indians bana rahe hain, (This [Heera Mandi] is in Lahore, but the movie is being produced by Indians). Phir hum kahainge sab ghalat dikhaya. Pata nahi hum apni cheezon ke baaray mein kab baat karengay. Apni kahaniyan kab sunayege, (Then we will criticise how they [Indians] showed false narrative. God knows when we will talk about such issues when we will tell our stories)."
Popular host and RJ Anoushey Ashraf hinted since this is based on prostitution and will sketch an ugly face of our society, this will be banned in the country. However, we won't serve justice to murderers – speaking of the recent gruesome murder of Noor Mukadam in the capital city.
"Watch the courts and lawyers of ours efficiently ban this but not serve justice to murderers yet."
Hira grieved our fate and censorship, of course: "Kyun ke hum banatay hain tho fauran fatwa aur ban lag jaata, producers ke paisay doob jaatay. [Had we made a film on such topic, a fatwa and a ban would have been imposed on it promptly. Producers would have lost their money]. Do you really think people in Pakistan (PEMRA) can tolerate telling the real stories of Heeramandi or any other subject?"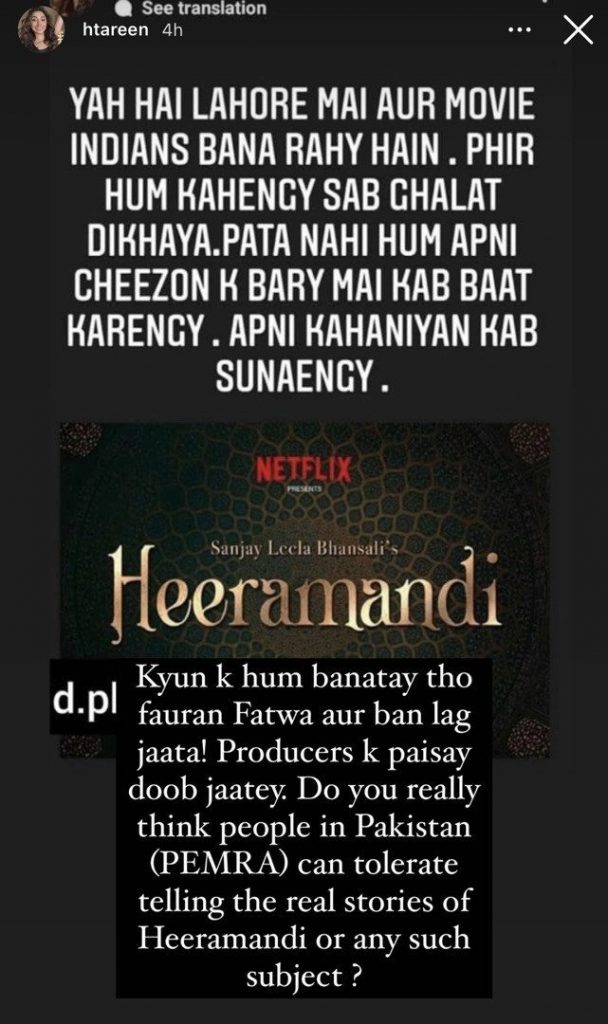 The upcoming venture is a star-studded affair with  Aishwarya Rai Bachchan, Deepika Padukone, Alia Bhatt, and Madhuri Dixit-Nene, rumoured to be chosen as cast for the project. It would be interesting to view Bollywood's take on Heera Mandi.
Yasir Hussain Interviews a Drug Addict for Awareness Purposes. Read the full story here:
Yasir Hussain is back in the headlines, but he's not stirring up a controversy with his statements this time around! He recently interviewed a drug addict during the month of Ramadan. Apparently, Yasir gave the young individual a ride while he was on his way and recorded what he had to say about the addiction.
Yasir Hussain Interviews a Drug Addict for Awareness Purposes
Have something to add? Let us know in the comments section below.
For more news and updates, stay tuned to Wow 360.