If you are a social media user, you must have come across the recent debacle food delivery company, Foodpanda has gotten itself into. In a bid to streamline delivery and operational efficiency and effectiveness, Foodpanda restructured the payment strategy for independent restaurant owners- this aims to increase their commission and overall revenue and also reduces waiting time.
From a time based plus per-delivery fee they went to a higher per delivery fee. This depicts that the delivery team does not get paid for waiting around time- a smart business move turned into a fiasco as restaurants started pulling themselves and now want to deliver directly.
Earlier on Monday, The All Pakistan Restaurant Association (APRA) has announced boycotting Foodpanda in Karachi for three days due to a rise in commission.
The boycott started on September 15th may affect food delivery services for some restaurants, reports Samaa news.
The Chairman of APRA Muhammad Naeem Siddiqui wrote a letter to the CEO of Foodpanda, sharing the members' concerns and grievances, highlighting how Foodpanda "repeatedly pressed for an increase in commission and made some important demands".
The letter further warned how if the unfair practices continued, APRA will permanently sever ties with Foodpanda and close the business nationwide, starting 15th September.
Vendor delivery is the original concept of Foodpanda and its own delivery was launched as an optional service. Forcing restaurants to close their vendor delivery – which will only increase unemployment but will also disconnect the food outlets with customers – is not acceptable at all. Vendor delivery should remain operational regardless of the size of the brand, the letter read.

 
Small restaurant owners are suffering the most. A small restaurant owner who was registered on the Foodpanda application complained about his restaurant is suffering owing to delivery problems. Third-party delivery does not keep riders involved in the business.
The owner complained of how smaller owners suffer greater compared to big chains as they cannot afford this cut in margins, reports Profit.
Watch this video below where the famous Chef Saadat explains how the process works and how the small food businesses need our support
Siddiqui further said that APRA wants operational vendor delivery for all restaurants regardless of the size of the brand.
Foodpanda was blamed for their exclusively aspect; Siddiqui revealed how restaurants complained about Foodpanda wants exclusivity with restaurants. This is equivalent to anti-competitive practice and they can be tested in the Competition Commission of Pakistan (CCP).
Furthermore, an official of the CCP Mr. Asfandyar Khattak told Samaa News, that an official look into the matter and address Foodpanda's anti-competition business conduct.
The restaurant industry suffered a major setback during the Covid-19 lockdown and is currently in need of maximum support from stakeholders.
Competition exists in the form of CareemEats, Eat Mubarak, EatOye and Cheetay and will be very likely taking advantage of this situation.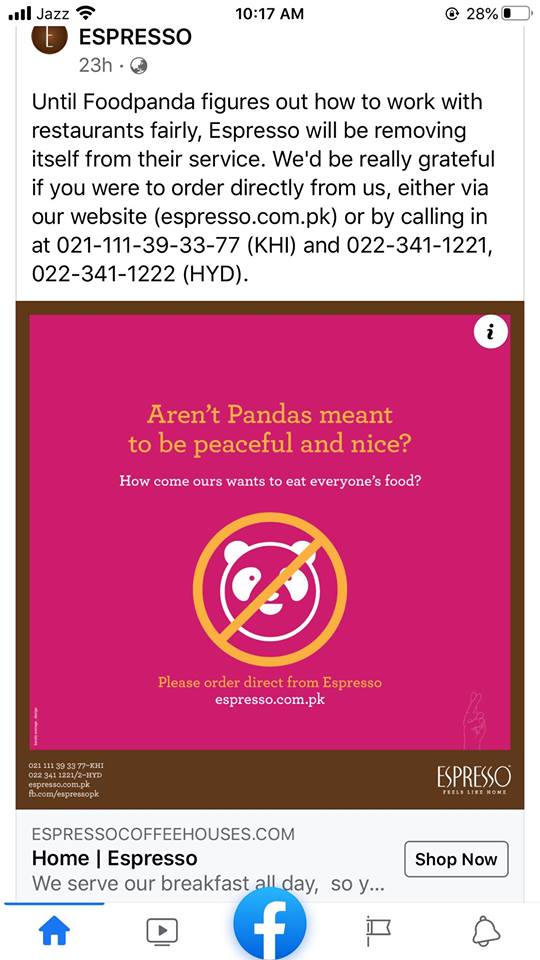 "We did raise similar concerns earlier but there has been no permanent solution from their high-ups," Siddiqui said. "It has led us to announce suspension of services by all our members.
Below are the names of restaurants that are delivering food directly and not through Foodpanda anymore.
Foodpanda CEO Nauman Mirza was approached by publications for their side of the story; apparently, they are still trying to resolve the matter and will respond once they have assessed the issue thoroughly.
What's your take on this? Share thoughts in comments below.
Stay tuned for more interesting articles and updates.