Last year, Pakistani startups raised around $375 million – double the startups' funds in the last six years.
Pakistan is the world's fifth-largest nation that had an exceptional year. The startup scene in the country is booming, with a flood of overseas capital flowing into Pakistani firms during the coronavirus pandemic.
Startup investment advisory platform Alpha Beta Core shared data which indicated that during the year 2021, Pakistani startups attracted the largest share (32%) of funding in logistics, (27%) of e-commerce, and (25%) fintech, and (4%) ed tech and health tech.
Top deals of 2021 include Airlift, Bazaar, TAG, Tajir, and Qisstpay.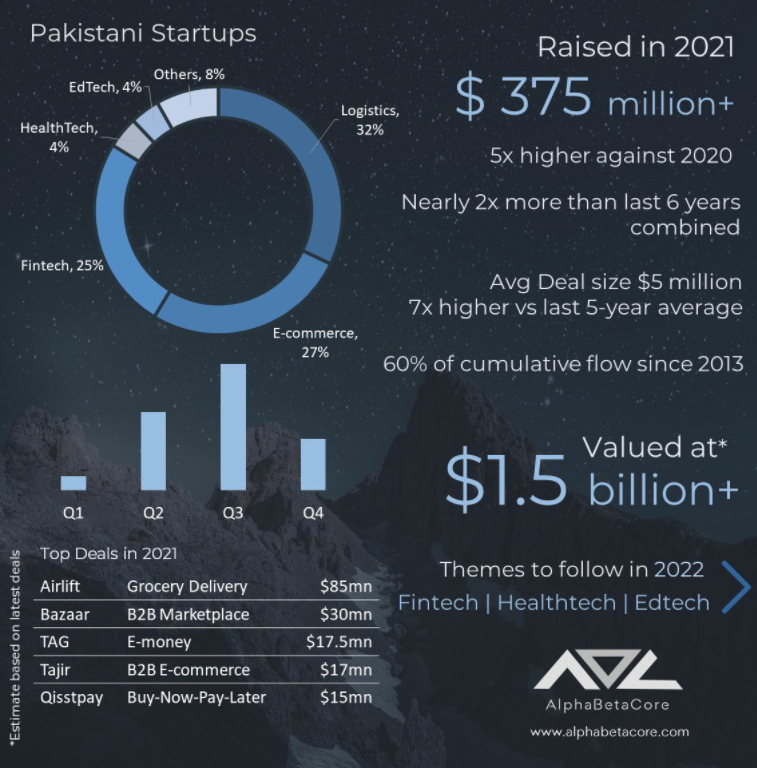 Another organization known as the Invest2Innovate (I2I) that retains track of funding flows to startups in the country put the inflow figure at $350 million. As per I2I, 81 investment deals were made by Pakistani startups in 2021. Between 2015 to 2020, Pakistani startups garnered 174 deals worth $231 million.
Let's Have a Look at Some Startups Where Women Played Lead Roles:
Oraan
Pakistan's first women-led startup co-founded by Halima Iqbal and Farwah Tapal called Oraan had raised $3 million in seed funding to increase financial accessibility for women. It aims to serve the women of Pakistan by becoming a neo-bank. Investors Zain Capital and Wavemaker Partners, along with Resolution Ventures, Hustle Fund, i2i Ventures, Plug and Play, and Claire Diaz-Ortiz, co-led the process of seed funding with Oraan.
CreditBook
A power couple, Iman Jamall and Hasib Malik, are the co-founders of CreditBook, an app that assists small business owners in controlling their finances by tracing cash received and payments pending with electronic payment notices sent out to consumers. The New York-headquartered firm Tiger Global also made its first investment in Pakistan in CreditBook. Iman and Hasib were also featured in Forbes 30 Under 30 Asia List – Social Impact. The startup accumulated $11 million in pre-Series A round.
Bagallery
Co-founders Mina Salman and Salman Sattar of Bagallery, a beauty, and fashion e-commerce store, have successfully raised $4.5 million in Series A funding in a round co-led by Zayn Capital and existing investors Lakson Venture Capital and UAE-based Hayaat Global.
Pakistani Startup 'ConnectHear' Wins Young Innovators Award. Read the full story here:
This year, Pakistani startup "ConnectHear" has won big at World Summit Awards for a smartphone app for "connecting the deaf to the world.". This particular app offers its users with hearing loss virtual sign language interpreters. The app was created 4 years ago by Azima Dhanjee and Arhum Ishtiaq. Any person with hearing loss can connect to this user-friendly app and instantly/remotely connected to an interpreter.
Have something to add? Let us know in the comments section below.
For more news and updates, stay tuned to Wow 360.