Since celebrities lead a life of glitz, glamour, money and fame, they are misconstrued to be satisfied and happy with their lives all the time;however, this holds untrue. Celebrities, just like normal people, have their own demons to fight.
They too get lonely, depressed, anxious and experience feelings of love and loss. Mental illnesses can creep up out of nowhere and take up your whole life. 
The suicide of Bollywood actor, Sushant Singh Rajput has stirred up conversation on this important illness. This has led to a rise in openly discussing the significance of mental health issues. Pakistani stars have revealed their own stories about the struggle with depression and anxiety and many have taken to social media in support of it.
Here's what the Pakistani stars have been saying on their social media platforms.
Zara Noor Abbas
Zara Noor Abbas, the Pakistani TV and film actress recently opened up about her struggles with mental health issues and disclosed that she was diagnosed with clinical depression during the lockdown.
The starlet recently turned to her instagram stories, revealing her feelings and struggle.
Zara wrote, "Lockdown gave me a lot of anxiety; it didn't go very well. I have had severe anxiety issues for some time but I hadn't addressed them. I thought it's because of my hectic work routine that I feel stressed and tired."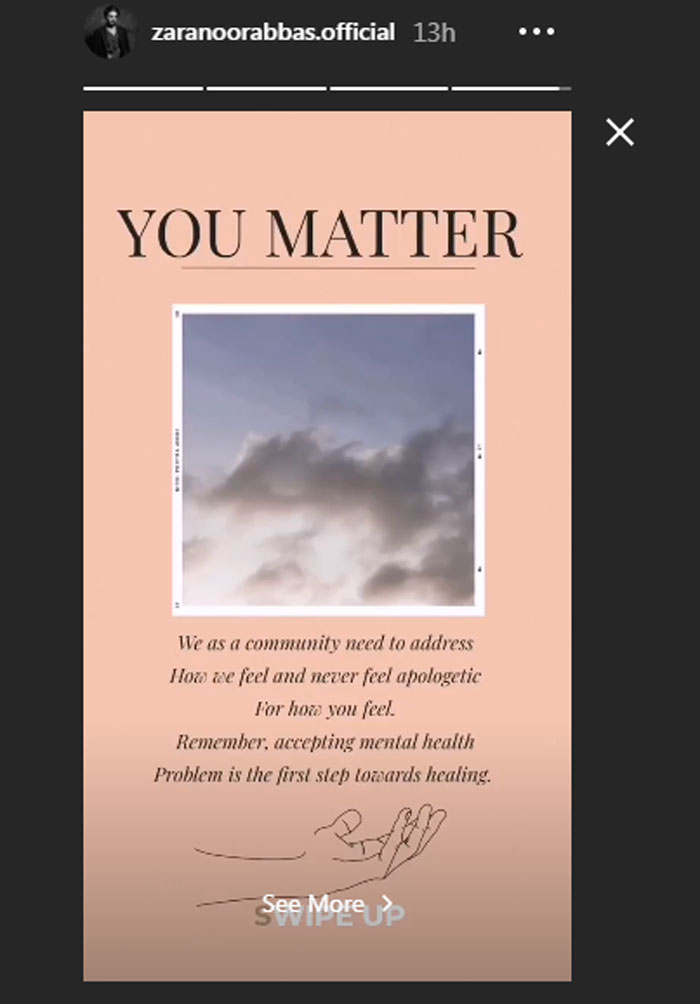 "It kept creeping up and taking over the best of me. Then I realized that I should get it checked and I found out it is borderline clinical depression," the actress said.
"Doctors recommended medicines and therapy, which I went for," wrote Zara.
She emphasized on how this taboo must be broken and how it's completely okay to talk about mental health, depression and anxiety. This lockdown has been hard on everyone and the only way to feel better and heal is to accept the problem.
The stigma attached to mental health must be changed. The actress further went on to say, "Remember, accepting mental health problem is the first step towards healing."
Saba Qamar
The talented and confident starlet Saba Qamar soon jumped on the bandwagon too. She recently raised her voice to spread mental health awareness via her powerful new Vlog!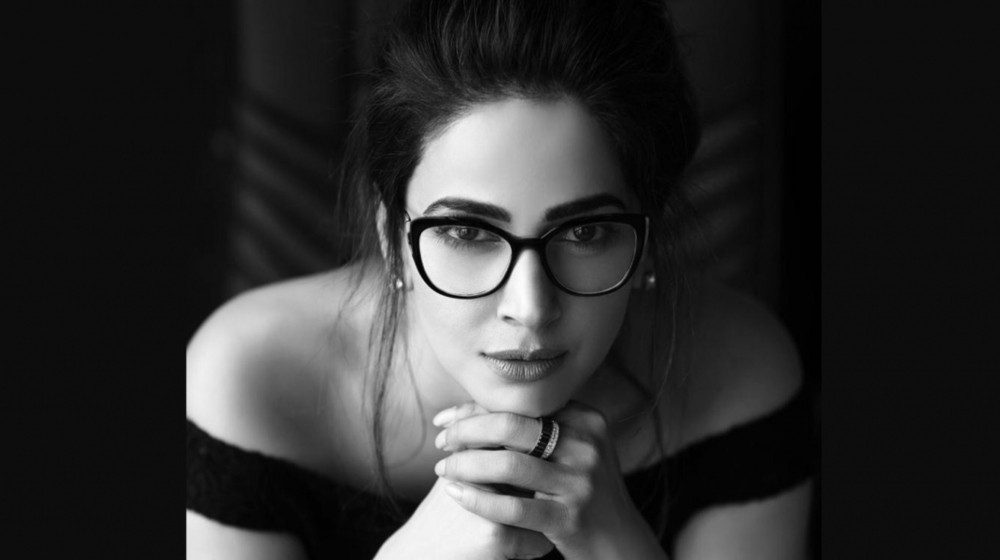 In her emotional, 6-minute long #kabsamjhogay Vlog, featuring Saba herself, the actress beautifully conveys how insensitive humans have become. She urges people to be kinder. To learn that what they say to people, matters. Their words matter and can have a drastic impact on people.
Their harsh and unkind words can make people worthless. No one has the right to judge anyone. We all have to be more accepting, kinder, forgiving.
Watch the powerful video below:
Humaima Malik
Humaima Malick opened up about mental health on Twitter lately and urged people to take it as serious issue. She said, 'our mind gets hurt just like our hearts'.
The Pakistani film actress tweeted, "Mental health! Take it seriously please help people who need it if you see anyone around you who isn't feeling their best please help them instead of asking them questions."
Mental health ! Take it seriously please help people who need it if you see anyone around you who isn't feeling their best please help them instead of asking them questions …. our mind get hurt also like our hearts

— HUMAIMA MALICK (@HumaimaMalick) June 24, 2020
Osman Khalid Butt
In one of his tweets shared last week, Osman Khalid Butt has shared an informative article on 'helping someone with depression'.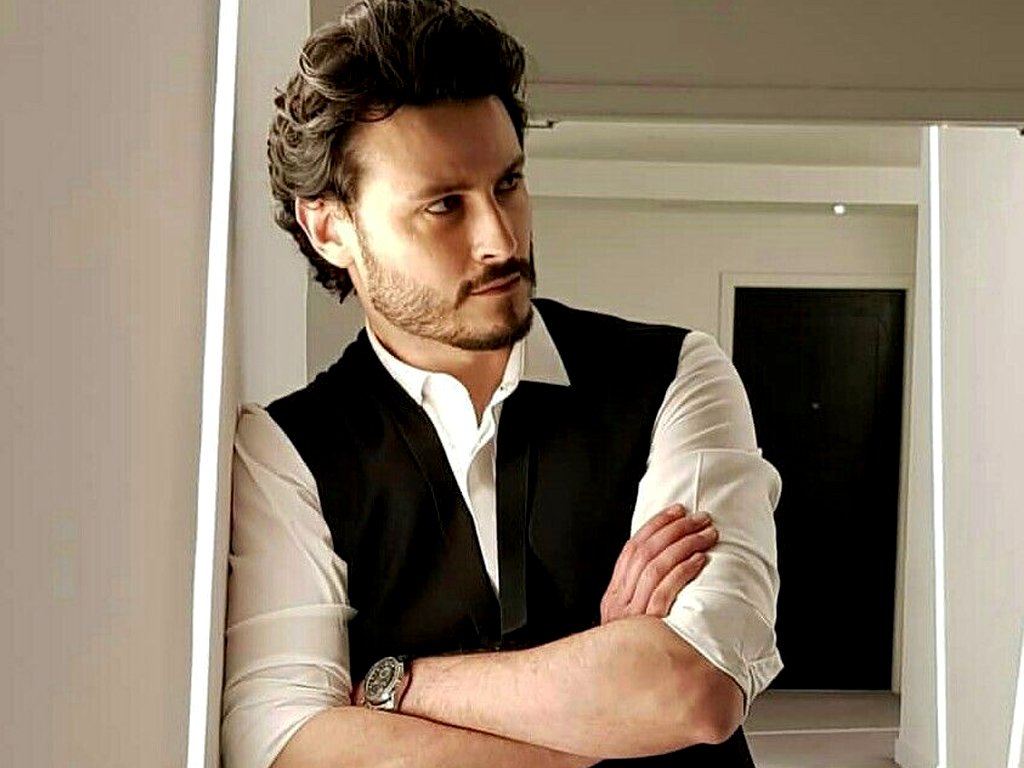 He has requested people to genuinely listen to someone when they are talking about mental problems and be more mindful and concerned about their issues.
When someone is brave enough to talk to you about their mental health issues, their battle with depression & anxiety, 𝘭𝘪𝘴𝘵𝘦𝘯 to them. Really listen.
You can help beyond the performative 'it'll get better.'
Here's how.https://t.co/4K6xIy4sUO

— Osman Khalid Butt (@aClockworkObi) June 14, 2020
Armeena Rana Khan
The actress had recently taken to Instagram dedicating a post to all the people suffering from mental health issues and to those who have left this world because it became too tiresome and burdensome for them.
Read her insta post below:
Mahira Khan
Mahira Khan, the famed actress of the Pakistani industry is adored by her fans because of her humility, kind heart and talent par excellence. In her recent tweets, the starlet as questioned why being 'straight up' is suddenly cool?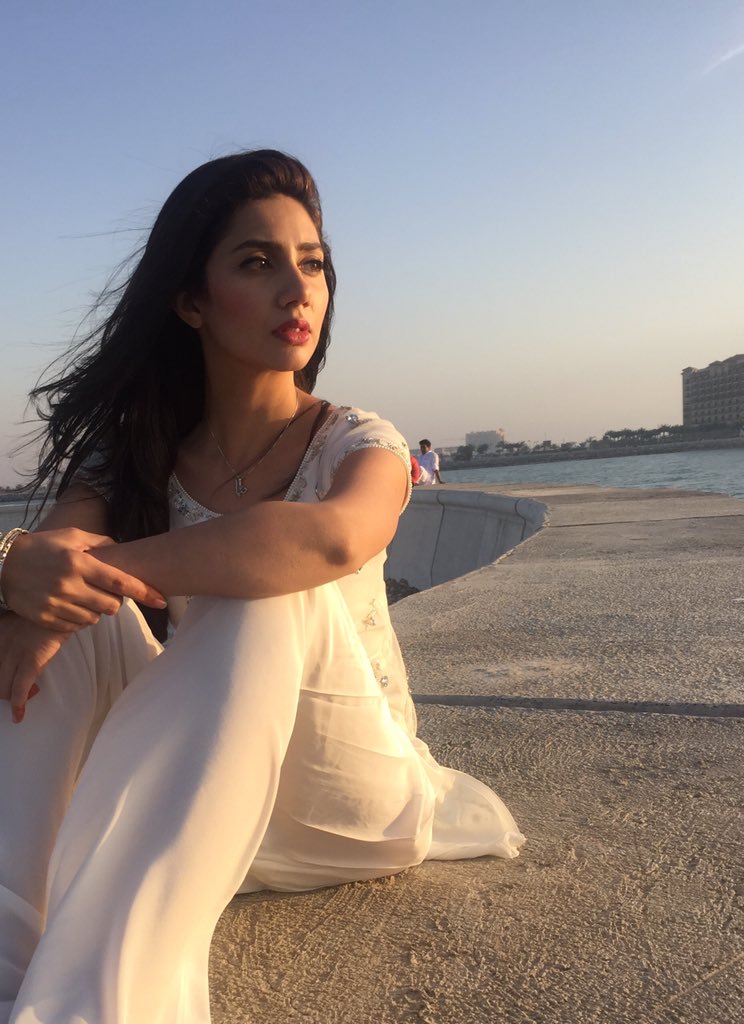 She indicates towards people who are straightforward and blunt. She urges them to be kind to everyone they meet. Here are some tweets shared by Mahira Khan:
Why have we made it cool to be 'straight up'? That isn't called honesty, it's downright apathy! Be kind and proud. Wear it like a badge. Be kind. Be kind. Be kind. There is much more to people than they show. Be kind ffs.

— Mahira Khan (@TheMahiraKhan) June 14, 2020
May your soul rest in eternal peace #SushantSinghRajput

— Mahira Khan (@TheMahiraKhan) June 14, 2020
Mawra Hocane
The Sabaat starlet urged people to be kind and compassionate in one of her recent tweets, after Sushant's death. Being humble and having a big heart is the only thing that will get us through, she says.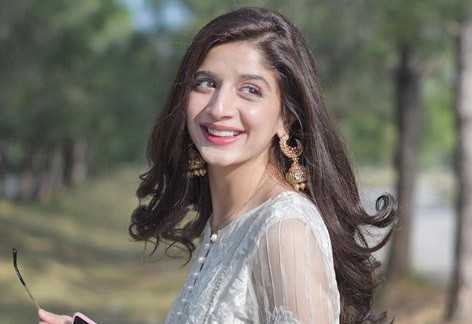 Here is what she had to say:
It's so important for all of us to be Kind, to be compassionate, to be polite. We all have a role to play in each other's life. Let's all have a big heart for one another. Let's please be KIND!!!!! ❤️#SushantSinghRajput RIP!

— MAWRA HOCANE (Hussain) (@MawraHocane) June 14, 2020
Hamza Ali Abbasi
The actor is known to be quite vocal when it comes to social issues and injustices that prevail. He keeps sharing religious quotes on his Twitter, reminding his followers to stay humble and kind towards one another- to know that this world is merely a temporary abode.
One of his recent tweets said, "Be kind to others, to your family, to the weak, to the poor. Give charity. Know that the real-life is about to start after the transition we call death. All peace comes from God."
Every day we see DEATH around us with ppl dying of various causes, some times DEATH becomes a global celebrity when planes crash, tsunamis come, pandemics rule the world….but still… many of us, we live without ever really reflecting seriously on life & death.

— Hamza Ali Abbasi (@iamhamzaabbasi) May 23, 2020
Stars such as Momina Mustehsan, Sanam Saeed, Imran Abbas, Mohsin Abbas Haider, and Juggan Kazim have spoken up about mental health, depression and a need for hotline for suicide prevention in our country, in the past.
Have something to add to this story? Write in the comment section below.
Stay tuned for more updates!