Yet another young, energetic, and amazing woman has lost her life to a sad tragedy that could have been prevented. Pakistani-American photographer Sania Khan was brutally shot and murdered by her abusive ex-husband Raheel Ahmed.
As per the reports, Ahmed who lived in Georgia had travelled from home all the way to Boston, Chicago to do the deed. His family had reported him missing from the Atlanta suburb, where he lived, when the officers arrived at his place for a well-being check, they found him dead.
After gunning down his ex-wife the shooter killed himself. Reportedly, an officer from Alpharetta told Chicago police that Ahmad and his wife Sania Khan, were "going through a divorce".
He was depressed and travelled "to salvage the marriage." As officers knocked on his door, they heard a single gunshot and "a verbal groan," the reports state.
When they entered, the officers found Khan unresponsive near the door with a gunshot wound to the back of the head and blood on her face that had already dried, a source said. According to the reports, Ahmad was found in a bedroom and shot in the head.
Khan was a photographer who specialised in shots of weddings and happy couples. She wrote on her professional website that her work was dedicated to capturing "life's most precious moments." Her Instagram bio reads "I help people fall in love with themselves and each other in front of the camera!"
Khan also made many TikTok videos about her divorce and how she had been struggling to get out of the abusive relationship for some time.
Social Media Reacts of Sania Khan's Murder
Here's what social media had to say: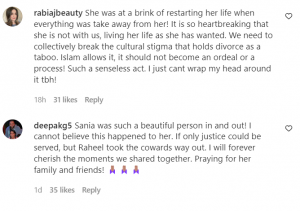 The Mess of Divorce in South Asian Societies
Unfortunately even in the 21st century women are told that once they've been married off, no matter what happens, they are not to come back home. No matter how abusive or toxic the other person may be, they 'need to make it work'. And if a man gets side-tracked into a honey-trap, then it is the woman's fault for letting her husband slip away.
The society and 'Log Kya Kaheinge' concept is given more importance than self-respect, a woman's honour, her reputation, her respect, and her mental and physical health. As a result of a divorce, women are taunted, tortured, labelled as 'bad women' and deemed as black sheep of the family.
Hence, it makes it all the more important to help women who are trying to leave abusive relationships and start a new life.
Stay safe and stay tuned to WOW360 for more news and updates.
Master MoltyFoam's Latest Ad Ft. Mahira Khan Highlights 1 of 4 Ever-Married Women have Experienced Physical Violence Since the Age of 15 in Pakistan