A newly-wedded girl who was identified as Amena Bibi was shot by her husband. She was offering her prayers when this incident took place at Shah Zaman Road, Quetta.
The deceased was a student of Sardar Bahadur Khan Women's University and was studying BS Education at the institute. Her husband, Shahab Khosa shot her with a 9MM gun because she wanted to continue with her studies after marriage.
Moreover, it was reported that the two got into an argument after Amena Bibi expressed her wish to continue her studies. Her husband wouldn't allow it, and following the dispute, she lost her life.
Family sources have shared that her husband is a substance addict and alcoholic and had been torturing his wife for some time.  According to the first information report, the couple had been having quarrels. Later, the victim's body was taken to civil hospital Quetta, where the doctor said the victim was shot in the brain and the bullet, came out from the right side of the victim's head.
The victim's father who is a retired deputy superintendent of the Deputy Commissioner's office lodged a complaint. A copy of the First Information Report has been circulating on social media.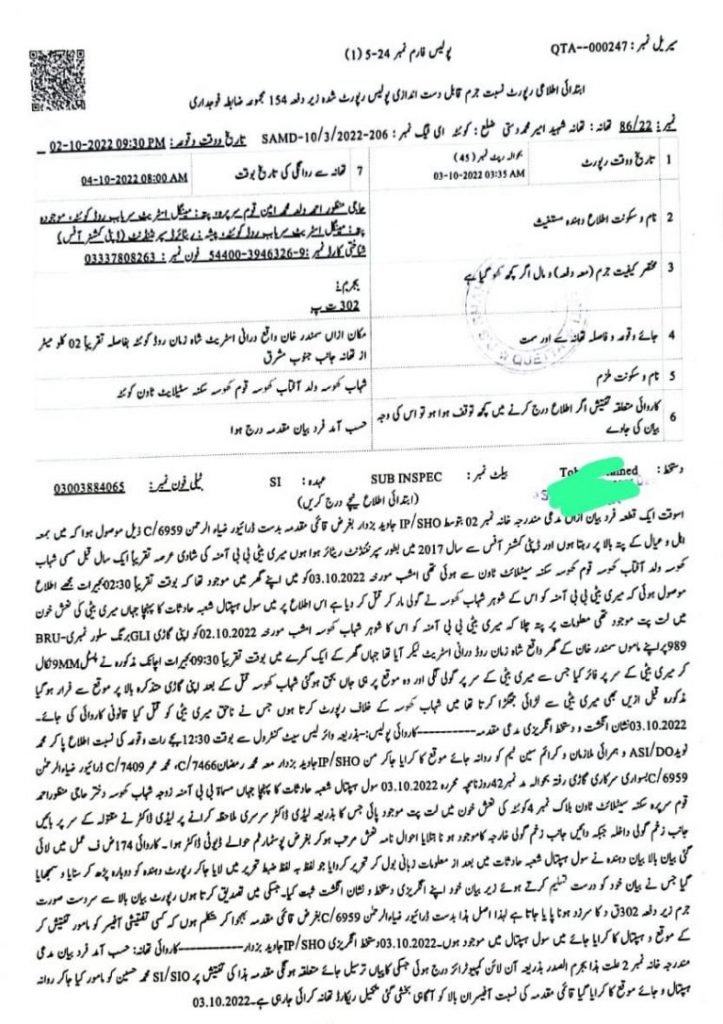 We similarly saw a case not too long ago in which newly-wedded Sara Inam lost her life at her husband's hands. The victim was struck in the head with a dumbbell multiple times and her body was dumped in their bathtub. She was a Canadian national working in Dubai and had arrived in Islamabad a day earlier.
According to her husband's statement, the dispute started because he thought Sara was cheating on him with another man and that she was an alleged spy who had been planted in the family. On the other hand, her friends and colleagues say she was a bring, kind, and lively person who went away too soon.
Why Senior Journalist Ayaz Amir's Daughter-in-Law Sara's Brutal Murder Reminds Us of Noor Mukadam
What are your thoughts?
Stay tuned to WOW360.