A month ago, a Pakistani woman based in Dubai, Naila Kiani, became the first female Pakistani mountaineer to climb the world's thirteenth highest mountain, Gasherbrum-II.
Gasherbrum-II stands at over 8,000 meters above sea level. Before launching her rock-climbing career, in 2018, Kiani got married at the base camp of K2, the world's second tallest peak. Her enthusiasm and love for the mountains were apparent since then as she tied the knot on one of them.  After she posted pictures of her wedding online, the pictures went viral and made her a social media sensation.
Banker by Profession
She told an international publication that she "was planning more mountaineering expeditions in Pakistan and would also travel to Nepal to get more experience." She told the publication, "I am a professional banker and have been living in Dubai for the last five years. I am also a boxer, so I was confident about my ability to climb G-II, though I was a little nervous at the beginning."
Throughout the climb on July 18, Kiani was accompanied by Ali Raza Sadpara and Sirbaz Khan. She raised the Pakistan flag Gasherbrum-II. "Five more Pakistani women, including Samina Baig, were on their expeditions to different peaks above 8,000 meters in Pakistan this summer," she said. "Allah chose me, and I scaled G-II.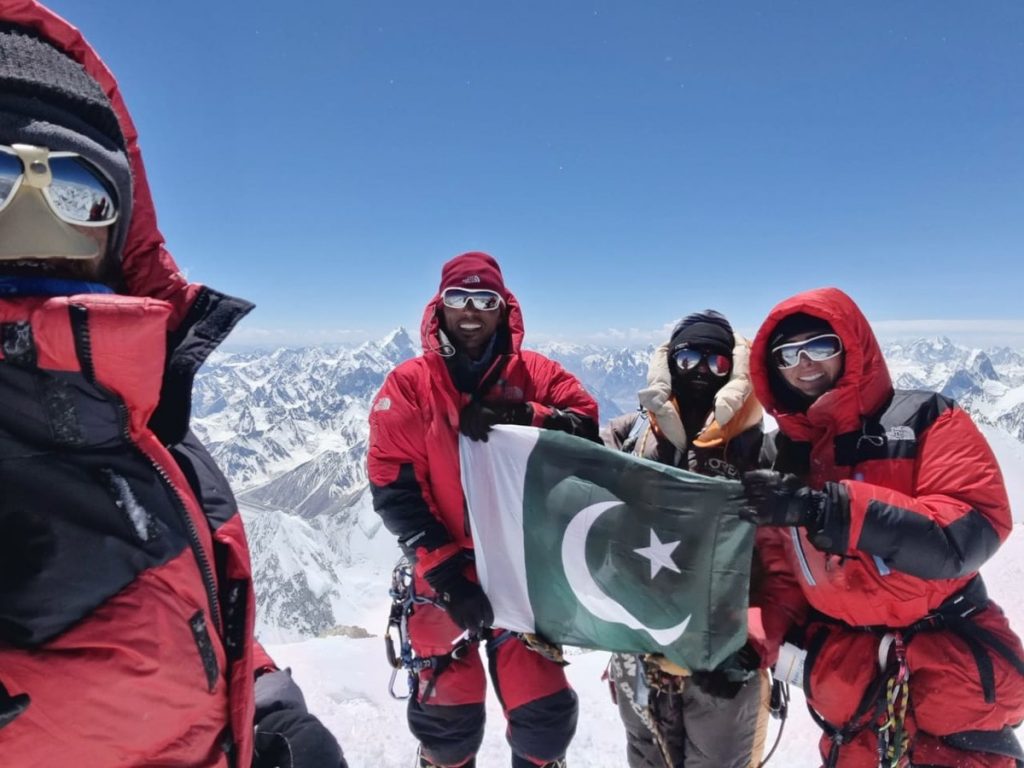 Previous Mountaineering Experiences
Kiani has had previous mountaineering experiences. She has trekked to the K2 base camp. She has also visited Gondogoro La, a 5,585-meter-high mountain pass 25 kilometers south of K2 but never scaled any peak.  G-II was her "first summit."
She said, "I was faced with different options while planning to climb my first mountain. HOWEVER, when I did my research, I realized that both 7,000- and 8,000-meter-high peaks required the same expedition time. So, I decided it would be the 8,000-meter Gasherbrum II Mountain. All my family members, especially my husband, cooperated with me."
Kiani wishes to depict a positive image of Pakistan
Kiani wishes to project a soft image of Pakistan through her adventures. "Pakistan has an image problem which prevents foreign climbers and tourists from visiting our country. That makes it imperative for us to depict a positive image of our country. I am trying my best to address that issue in my own network of friends by carrying out different sports activities."
Shehroze Kashif Becomes the Youngest Pakistani to Make it to the Summit of Mount Everest at Age 19. Read the full story here:
Shehroze Kashif becomes the youngest Pakistani mountaineer to make it to the summit of Mount Everest, which has an elevation of 8,848.86 m. The news was announced by the Chhang Dawa Sherpa, a Nepalese mountaineer, and the expedition manager of Seven Summit Treks.
Shehroze Kashif Becomes the Youngest Pakistani to Make it to the Summit of Mount Everest at Age 19
Have something to add? Let us know in the comment section below.
For more news and updates, stay tuned to Wow 360.