The dark web is a notorious part of the internet that is often associated with illegal activities such as drug trafficking, weapons trading, and human trafficking.
Designer Maria B has applauded Faysal Qureshi for talking about it during his show.
Unfortunately, Pakistan is not immune to the problems associated with the dark web. In recent years, the country has seen an increase in the number of paedophile rings operating on the dark web, leading to a growing concern among law enforcement agencies and the public.
The designer took to her social media to post about it. She also mentioned that while others in the country are spreading an agenda, there are some working towards important causes.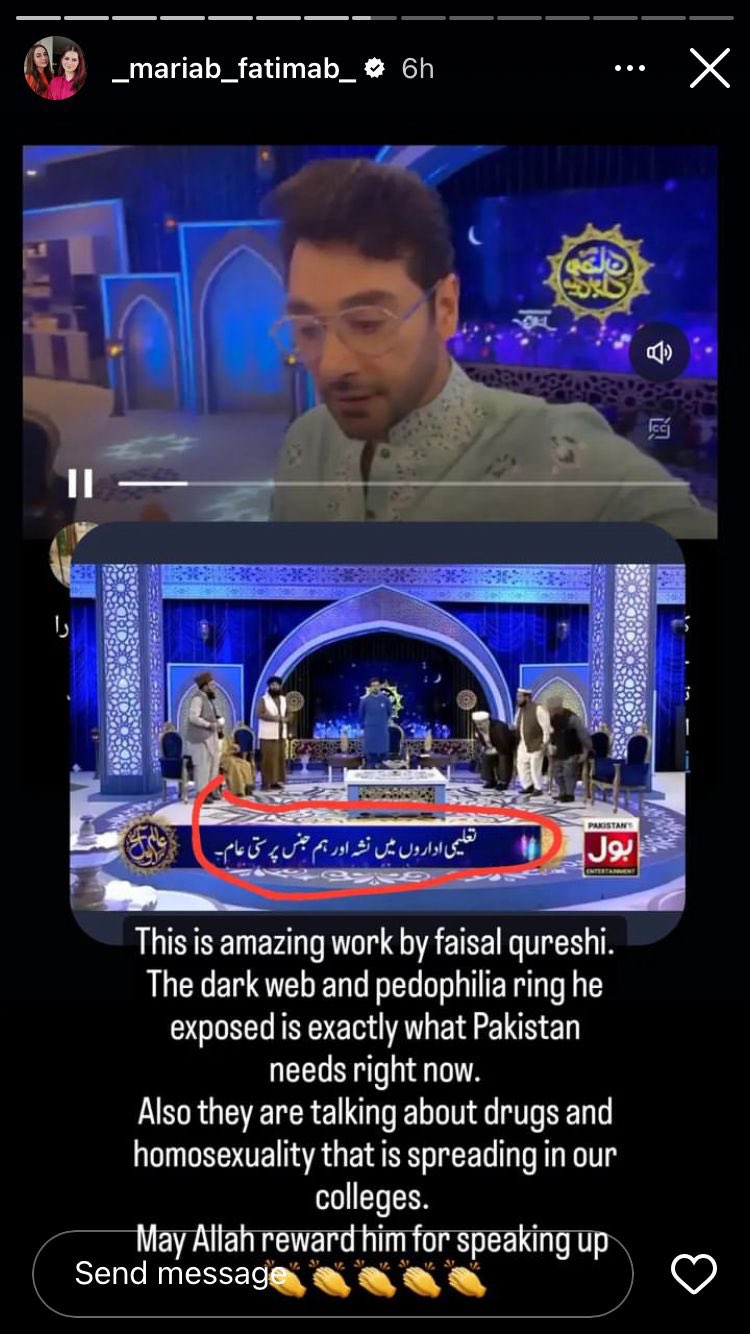 Dark Web & Pedophilia Ring in Pakistan
The dark web is an anonymous network that can only be accessed through special software and browsers, such as Tor. This anonymity makes it difficult for law enforcement to track down criminals and makes it an ideal platform for illegal activities. In Pakistan, paedophiles have taken advantage of this anonymity to operate in the shadows, often with devastating consequences.
According to a report by the Federal Investigation Agency (FIA), there were 4,204 cases of child sexual abuse reported in Pakistan in 2020, an increase of 12% from the previous year.
While not all of these cases can be attributed to the dark web, it is believed that many of them involve paedophiles who use the anonymity of the dark web to target vulnerable children.
The problem of paedophile rings on the dark web is not unique to Pakistan. However, the country's weak cyber laws and lack of technical expertise make it difficult for law enforcement agencies to track down and prosecute those responsibly.
In addition, there is a lack of awareness among the public about the dangers of the dark web, making it easier for criminals to operate without fear of being caught.
To address the problem, the Pakistani government has taken several steps, including the establishment of a Cyber Crime Wing within the FIA, the introduction of new cyber laws, and the training of law enforcement officers in cybercrime investigation. However, much more needs to be done to tackle this growing problem.
One of the challenges in addressing the problem is the stigma attached to reporting cases of child sexual abuse. Many victims are reluctant to come forward due to fear of social ostracism and retaliation by the perpetrators.
In addition, the lack of specialized services and support for victims of child sexual abuse makes it difficult for them to seek justice.
Share your thoughts with us in the comments below.
Stay tuned to WOW360.