The Pakistani folk singer Mai Dhai is an icon of interfaith harmony and culture. A Pakistani singer who belongs to Tharparker, Sindh has a folk band by the name of Mai Dhai Band that has a dhol player Muhammad Fakir and a harmonium player Jamal Shab.
A septuagenarian folk singer of Thar, the woman made waves in the Pakistani music industry with her melodies in Coke Studio Season-8.
The band has also performed at SXSW Music 2015 festival in the United States; her unique style of music garnered massive praise there.
"Although Marwari [the language spoken in Thar and Rajasthan] is not understood by many Pakistanis, Mai's English-speaking American audience deciphered it as the language of love. They equated Mai's melody and the rhythm of her dhol with American great singers like Tina Turner and Betty Lavette," Hassan Mujtaba, the New York-based journalist said.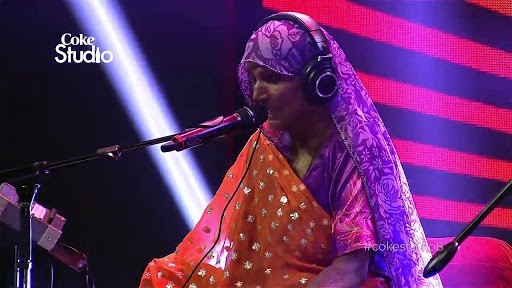 The only sensational female vocalist to come out of Tharparkar, Mai Dhai was born in Barmer district of Rajasthan India and carried forward the musical legacy of her mother, Khand Bai.
Khand Bhai, who was a prominent singer in India, sang beautiful folk songs on tragic tales of love and separation, Marwari music, rain melodies and wedding songs- these melodies were preserved and modernized by Mai Dhai and when she migrated to Pakistan and mesmerized the world with them, reports Dawn Images.
The Tale of Mai Dhai's Life
Born in 1943/44 in Thar India, Mai Dhai does not remember when her family migrated to Pakistan post displacement, but she did recall going to local weddings with her mother where she performed and remembered all her songs.
"During my childhood, I would accompany my mother to local weddings where she would perform in our Thar, hence all the lyrics and tunes are indelibly stored in my mind," said Mai Dhai. She can't even write her name, but remembers all the songs and tunes, that are etched in her mind.
Mai Dhai has been lucky in terms of being recognized as a singing gem; Umerkot's poet-turned- politician Sardar Shah is responsible for promoting her art.
"There are many such artists — or flowers, metaphorically speaking — like Mai Dhai in Thar. Thankfully, despite having blossomed in the desert, its fragrance has not gone to waste," said Shah.
Mai belongs to the Muslim singer community- Manganhar, an underrated, and underprivileged community that is spread on both the sides of the border (India & Pakistan) keeping the cultural link and shared heritage alive.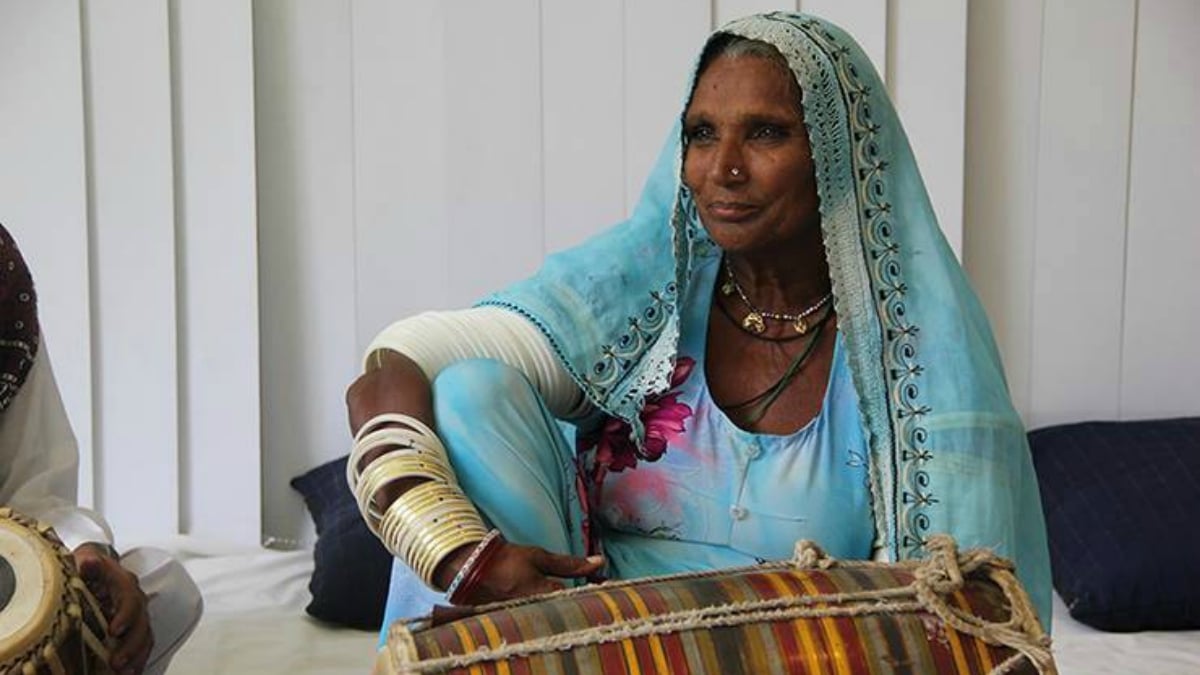 The community is divided- on both sides of the border- based on clans that provide financial assistance and support to them. The Manganhar singers would attend the clans' family weddings and sing songs specially created for that occasion. The meagre financial support has helped preserve so many traditional folksongs.
While talking to Dawn Images in 2017, Mai Dhai revealed her feelings about becoming a nationally recognised singing sensation. Living a poor childhood and not having enough to eat, she had tears in her eyes when she described her feelings.
"The meaning of my name is 'the one who has eaten food' but, ironically, for a large part of my life I have not seen food in plenty. We Manganhars are considered 'uninvited people' here in Thar but now people first invite me then I go to them. For a Thari, it is a beautiful way to make a living," she said when interviewing with Dawn Images.
The reward for singing at weddings for the Manganhar community was either in the form of animal or cash; a little bajra or wheat at the time of harvest is also given as a reward.
Watch Mai Dhai's Full Interview With BBC Urdu  below:
The Future of Folk Music in Pakistan & the Stigma Attached
It's sad to accept that the in Pakistan, the patronage of folk music has almost vanished and members of the Mangahar community are forced to move to urban areas and do other jobs to make a living. Mai Dhai is the last woman to be associated with this music genre.
There are many talented female singers in Thar but due to family restrictions, they are not allowed to sing professionally or make public appearances- Mai Dhai, herself, started performing on stage quite late in her singing career even though she has been singing for the past 40 years.
"Almost every person of my community resisted my public appearance. Had I been performing publicly earlier no one would have married my daughters. And that is also the reason that I sport ghoonghat [hiding the face with a dupatta especially by Hindu women] while performing in Thar," she revealed.
"There are many girls in our tribe who can sing well but cannot go out and make their art public owing to increasing social pressure," she said.
What are your views about Mai Dhai? Share your thoughts in comments below.
Stay tuned for more interesting articles and updates!