On Tuesday night, a horrific incident occurred at the Lahore Motorway in Gujjarpura area where two armed 'robbers' allegedly raped a woman at gunpoint in front of her two children! The woman was seeking help on the motorway after her car developed a fault, reports Dawn News. She was travelling from Lahore to Gujranwala with her children.
The Incident
Around 1.30 am in Tuesday night, the woman who hails from DHA was travelling alone with her children from Lahore to Gujranwala when her car tank ran out of fuel. She stopped the car as soon as she crossed the toll plaza on the Lahore-Sialkot motorway and called a relative for help immediately.
The relative who was also in Gujranwala suggested her to call the Motorway police helpline at 130 while he left home to reach her. However, she was reportedly refused help.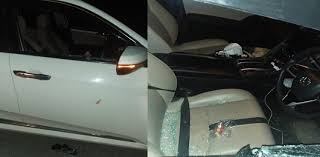 The police official further went to on to say that two armed men saw the woman and kids alone, smashed the car window; they took her along with the children to the bushes nearby at gunpoint and sexually assaulted her repeatedly!
The robbers also took away her purse that had Rs100,000, one bracelet, car registration and three ATM cards. When the relative reached the location, he found the woman terrified with blood on her clothes.
The police reportedly formed teams to trace the culprits and reports are that 12 suspects have been arrested.
The survivor is said to be a resident of the Defence Housing Authority while her husband works abroad.  A case has been registered against the two unidentified robbers upon complaint of her relative.
People Demand Public Hanging of the Rapist
The nation is in shock after the tragic incident and people demand justice! They want the criminals to be held accountable hanged in public like in General Zia's era. Some even want them stoned to death. Twitter is trending since morning with #PublicHangingorRapists #motorwayincident. This is heinous and outrageous! 
The incident made headlines and medical reports confirming gang-rape. General public as well as political leaders are speaking in support of the survivor and against the authorities as they continuously fail to protect the people.
The news comes days after a 5 year old girl was heinously raped and then killed, in Punjab province. 
Amid public outcry, Dr Shahbaz Gill said on Punjab Chief Minister (CM) Usman Buzdar's directives, Lahore CCPO Umar Sheikh will be leading the investigation.
لاہور خاتون زیادتی کیس: CM پنجاب کی ہدائیت پر CCOP لاہور تفتیشی ٹیم کو لیڈ کر رہے ہیں۔

تفتیش میں urban اور rural policing کی تکنیک استعمال کی جارہی ہے-

کھوجی، CCTV فوٹیج اور DNA کی مدد سے تفتیش ہو رہی ہے۔

12 کے قریب مشتبہ افراد گرفتار ہو چکے۔ انشاللہ آپکو اپڈیٹ کرتے رہیں گے pic.twitter.com/HMSPM4Oplv

— Dr. Shahbaz GiLL (@SHABAZGIL) September 9, 2020
Men. Plz shut it with the security tips and advice for today. Or anything else that does not acknowledge the deep and completely justified rage and any take that does not seek basic justice and protection. Your takes are not needed, apart from this. #motorwayincident

— Zarrar Khuhro (@ZarrarKhuhro) September 10, 2020
Raise the Voice.🙌🙌#PublicHangingOfRapists#motorwayincident pic.twitter.com/pTOKUsHBFI

— AWAIS 🇵🇰 (@Pynduu_Xd) September 10, 2020
Retweet or upload on your timeline #motorwayincident#PublicHangingOfRapists pic.twitter.com/s5SHMzYgfj

— Abdul Qadeer (@abdulqadeer03) September 10, 2020
Retweet if u want to #hangrapistspublicly again like Gen Zia era…#PublicHangingOfRapists is the only way to overcome #motorwayincident like crimes pic.twitter.com/vZuokG3bH1

— یَاسِفْ Yasif (@IamYasif) September 10, 2020
A woman gang raped in front of her kids. I cannot believe my eyes.
The trauma they all would have gone through. How many times those kids would have cried, screamed and pleaded for help. This terror will haunt the kids & their mother for rest of their lives. #motorwayincident

— Farhan Khan (@Godmade__) September 10, 2020
Islamic Republic of Pakistan
#motorwayincident pic.twitter.com/RyU1lOE8Q5

— Niba khalid (@nibakhalid06) September 10, 2020
We Need public hang of the rapists#HangRapists#hangrapistspublicly#motorwayincident pic.twitter.com/haPUMPJ02O

— Mian AwAis 🇵🇰 (@progawais) September 10, 2020
3 rapes/murders incidents in last 48 hours.

1) little Marwa was raped and murdered
2) Gul Panra Transgender raped and murdered
3) A Mother raped in front of her kids

The rulers of so called Riyast e Madina are sleeping #PublicHangingOfRapists#motorwayincident#HangRapists pic.twitter.com/tKZlMYi91r

— فیصل خان (@FaisalKP01) September 10, 2020
The only punishment of rapist is stoning
who want Islamic punishment for rapist please retweet#motorwayincident #PublicHangingOfRapists #lahoremotorway @salaarsuleyman @SaleemKhanSafi @ImaanZHazir @hrw @MoulanaOfficial pic.twitter.com/LvonZOfTRN

— Adnan Haider (@_AdnanHaider) September 10, 2020
Would you call this "double standards" too?#motorwayincident pic.twitter.com/0UfcuqA6sd

— Abu Hurairah (@abuhuraira7117) September 10, 2020
Lahore CCPO Under fire for Victim Blaming
Umar Sheikh, Lahore's new Capital City Police Officer (CCPO), who was earlier blamed for the removal of Punjab's fifth inspector general of police (IGP) in the last two years, has been making headlines for blaming a gang-rape victim for the incident. Now that's something! 
While speaking to Dunya News, he said: 
"I am shocked… you are a mother of three and the only driver late at night… [she] should have taken the GT [Grand Trunk] Road instead, which is densely populated."
He went to further blame the victim and said, "at least have checked her fuel before taking the motorway".

This infuriated the public even more who are shaming him for blaming the victim and now demand his immediate removal
THIS MAN NEEDS TO BE REMOVED NOW. HOW DARE HE BLAME THE VICTIM? #Motorway #motorwayincident pic.twitter.com/GVRpjbactx

— Marium Chaudhry (@MariumCh) September 10, 2020
this is absolutely audacious. Shame on him for victim blaming. #RemoveCCPOLahore https://t.co/uevqJqQ53U

— Sania Ashiq (@SaniaaAshiq) September 10, 2020
this is absolutely audacious. Shame on him for victim blaming. #RemoveCCPOLahore https://t.co/uevqJqQ53U

— Sania Ashiq (@SaniaaAshiq) September 10, 2020
CCPO Lahore must be removed for his callous remarks blaming the #MotorwayRape victim. If a top police officer can openly engage in victim blaming imagine how junior policemen treat rape survivors. THIS is why women don't report sexual crimes. #RemoveCCPOLahore

— Ailia Zehra (@AiliaZehra) September 10, 2020
As per report of Intelligence Bureau, Umar Sheikh, just appointed #CCPOLahore is financially and morally corrupt and known womeniser, gambler and drinker, so why we are surprised on his #victimblaming? He is choice of Imran Khan. Right trend should be #RemoveCCPOLahore pic.twitter.com/CHcqfyiJCR

— 𝐒𝐔𝐇𝐀𝐈𝐋 𝐀𝐖𝐀𝐍 (@suhailawan) September 10, 2020
Police arrested 12 suspects  
The newly-appointed IGP Inam Ghani stated that police have secured evidence that will help them catch the culprits.
In conversation with  Geo News, IGP revealed.
"We have done great work so far in the motorway rape case. We have located the village from which the suspects were from"
He even revealed that 20 police teams are working on the case that is being overseen by deputy inspector-general (DIG).
The survivor has shared information regarding age and other identifying features of the suspects. 
Right now, we have a very good clue which will lead us to the suspects directly. However, we cannot share it with the media yet.
He further went on to say that the police have acquired information from the National Database & Registration Authority (NADRA) – the completer voter list of the area where the suspects are believed to be from, has also been acquired.
What's the recourse for women?
Who do women turn to in this society if the government fails to address 'rape culture'? In a country where the CCO hails from 'victim blaming' mentality and tries to justify what happened because 'the woman was travelling alone at night, and therefore she brought this upon herself"- what is the recourse for women in a country like ours?  Who they go to after undergoing a life altering, horrific incident like this one?
We demand answers and justice! 
This is a developing story.
Stay tuned for more news and updates.