Heavy rains lash Karachi for the third day on Thursday, wreaking havoc in the city. Three children have died due to rain related accidents while roads are heavily flooded, causing landslides, and elongated power outages, reports Dawn News.
Emergency has been declared by the Sindh government as rain in Pakistan breaks a 90 year record. 
The water level in Hub Dam, that supplies drinking water to Karachi and meets the water needs of various areas in Balochistan crossed the 338-foot level on Thursday and is expected to fill to its maximum capacity for the first time in 13 years. 
According to Geo News reports, 339ft level can be crossed any time today, and the excess water will start overflowing from the spillways of the Hub Dam into the sea near Mubarak Village.
WAPDA officials informed Geo News that the management of Hub Dam, as well as the body and irrigation officials have started arriving at the dam to deal with the emergency situation following the water spillage from it.
The emergency gates of the dam will be opened before water from the spillways is discharged automatically, reports Geo News
Swan river has overflowed, spilling onto neighboring areas now, entering homes now.
Hub dam in Lasbela approaching its limit after continuous rains. Just six inches short.

— Natasha (@OhTripe) August 27, 2020
Dear All, it is extreme rain today, the Hub Dam has already overflow.Take special care, don't take this rain as fun, Karachi is not capable to deal with it. Stay Indoors, Stay Safe, take care of all people around you ..ALLH pak sab ko apni amaan mey rakhay ameen

— Faysal Quraishi (@faysalquraishi) August 27, 2020
The water level of Hub dam in Karachi has reached the maximum height after 13 years and the water has started overflowing. The administration is opening the spillway gate of the dam as the residents are being moved to safety. May Allah protect Karachi – #KarachiRain #KarachiSinks

— Wajahat 🇵🇰 (@KazmiWajahat) August 27, 2020
Karachi has received 475 mm or 19 inches of rainfall in August – this is the most rainfall recorded in Karachi for any month ever

The previous record was 429.3 mm (17.17 inches) recorded in July 1967

Today a 53 year old record for most rain in any month has been broken

— omar r quraishi (@omar_quraishi) August 27, 2020
Videos on social media painted a grim picture of the flood situation in #Karachi, with rain water entering homes in some areas while most main roads remained flooded and closed.https://t.co/U8sIiXtWjC

— Firstpost (@firstpost) August 27, 2020
Living on an island called Phase8! #KarachiRains 🏖🌴🏖 pic.twitter.com/HaSimKhPbz

— Andleeb Rana #WearAMask😷 (@andleebXPOZE) August 27, 2020
Relief and Rescue Efforts
Relief and rescue operations continue for flood victims in various parts of Karachi, said the Inter-Services Public Relations (ISPR) directorate.
Army engineers have used heavy machinery in an effort to stop water flow from Malir Nadi. "Water in Malir Nadi has reduced and backflow from Quaidabad to Malir Nadi has started. Army engineers' boats are employed in various areas to shift stranded people to safer places," reports, the Nation
The media wing of the military said that cooked meal was provided to the affectees, flood victims stuck due to the heavy downpour in the city.
Over 200 families have shifted to rooftops due to the heavy flooding in Dur Muhammad Goth, Malir Nadi, and Kohi Goth.
Army helicopters will be flying to rescue these families after weather clearance, said the ISPR.
Emergency Relief Helpline
The spirit of Karachi is alive as the people help a police van stuck in the rain in the video below:
People are giving shelter to the affected in their homes and NGOs have started collecting donations to provide relief to the flood victims. Here is how you can help too.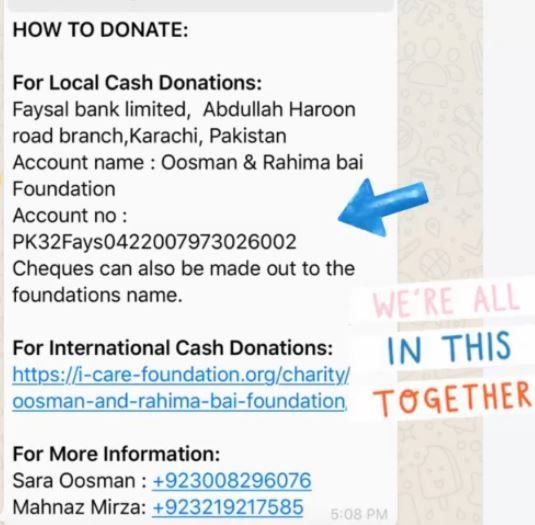 The incessant monsoon spell began before dawn and continued till evening in Karachi, breaking previous rainfall records in the city during the month of August. According to the Met department reports, it has rained 345 mm in August so far in the metropolis, breaking the August 1984 record of 298 mm.
The Met Department warns about the trend continuing for two days, and reports about another system developing over the Bey of Bengal, likely to hit the province at the end of August, with several rainfall.
The Sindh Chief Minister Murad Ali Shah, on account o urban flooding, has declared a rain emergency in Sindh. The government employees have been directed to report to their departments immediately in lieu of this emergency.
Rain emergency has been declared in the province by CM Sindh

— SenatorMurtaza Wahab (@murtazawahab1) August 25, 2020
As Dawn News reports, the CM visited Malir, Airport and Shahrah-e-Faisal witnessing the low lying areas flooded with rain water.
"I have imposed rain emergency, we're with the people in this challenging time," the chief minister said, according to his spokesperson. Sindh CM Murad Ali Shah said that the Sindh government will not leave the people alone in this "time of need".
The CM's spokesperson infirmed that a vehicle mounted dewatering machines is working to drain the water near airport area.
Landsliding in Gulistan-e-Jauhar, areas in North Nazimabad, Azizabad, Surjani Town completely fooded
The road leading to Karachi University, Hassan Square and Safoora Chowrangi was inundated with few feet high rainwater.
Sewage and rainwater has entered people's houses in Azizabad, North Nazimabad Block 2 areas. Nursery Pechs has been majorly flooded with cars literally drowning in rainwater.
Furniture Market, Nursery. #Karachi #KarachiRain pic.twitter.com/xsYdp8mJYQ

— Yusra Askari (@YusraSAskari) August 25, 2020
This is Sakhi Hassan Graveyard Road, Shadman Town Sector 14-B #Karachi #KarachiRain pic.twitter.com/i2Ugkk3VFw

— Usama Qureshi (@UsamaQureshy) August 21, 2020
#KarachiRain Karachi peoples be like. pic.twitter.com/bf9EDqTwgL

— hammyboii (@hammadsohailk) August 25, 2020
This is nursery. Sindh government has failed us all. We need to go out and take back our rights. Karachi needs a seperate government. We never voted for PPP but still got them. It has to have it's own government. @BBhuttoZardari @AliHZaidiPTI #KarachiRain pic.twitter.com/kBAKE8DPfQ

— MUHAMMAD BILAL NASIR (@itsbilal_nasir) August 25, 2020
The heavy showers have caused landsliding in Gulistan-e-Jauhar Block 3, resulting in 23 to 25 cars being severely damaged in the parking of a residential building. Thank fully there were no casualties reported and people in the nearby houses have been evacuated.
#Karachirain and Karachisinks have been trending on twitter since morning with people sharing rain related updates in their region.
More than 80% of the people living in Surjani town have been forced to relocate to safer places as water entered people's homes.
Where is Sindh govt? #KarachiRain pic.twitter.com/sP2HpqhqpS

— Mahwash Ajaz (@mahwashajaz_) August 25, 2020
This is actually the reality. 🙂#KarachiRain pic.twitter.com/ye40hgb2Ol

— Sana Karim (@Isanakarim) August 25, 2020
Thread On Karachi After Rain. Screw You PPP & MQM۔. You both destroyed my city.

1) Sharai-e-Faisal Condition #KarachiRain #Karachi #KarachiRains pic.twitter.com/2vS5rize1q

— Faisi (@Faisi_Says) August 25, 2020
Barbad kar dia mere shaher ko ye do takkay ke contractors ne … #KarachiRain pic.twitter.com/MYfFWbyDYF

— Moنis Muzaففar (@Monissays1) August 21, 2020
Rainwater seeped into cars
Some of the areas in Karachi that have been heavily hit with rain include Malir, Landhi, Korangi, Shah Faisal Colony, Saadi Town, Gulshan-e-Hadeed, Federal B. Area Liaquatabad, North Karachi, Surjani Town, and North Nazimabad.
Almost three-feet deep rain water had accumulated on Karachi's main artery — Shahrah-e-Faisal — as water could not be drained from either side of the road. Vehicles were stranded on the road in water, and many cars broke down as rainwater seeped into their engines.
The rainwater even seeped through at the Agha Khan University Hospital
Every year the rain shows us that Karachi needs better infrastructure planning…. even hospitals such as Agha Khan are suffering… God help us all! #KarachiRain pic.twitter.com/TeIXue4IXV

— Asim Jofa (@asimjofa) August 25, 2020
Karachi right now! 👇😥@BBhuttoZardari – ENOUGH is ENOUGH! Either do something for #Karachi or tell PPP to LEAVE Govt. 😠#KarachiRain#KarachiRains #KarachiSinks pic.twitter.com/MpFcvFAw7W

— Maleeha Hashmey (@MaleehaHashmey) August 25, 2020
People were cliff diving from the roof of their buildings- this is shocking and so sad. Seeing what Karachi has turned into.
Cliff diving facility arranged by #Sindh Government for #Karachiittes during #KarachiRain

Thank You @BBhuttoZardari pic.twitter.com/4ZNcy8jyyd

— Zulfiqar Ali Bhutto (@Bhutto_To_Imran) August 25, 2020
The Sar e Aam famed anchorperson Iqrar ul Hassan came out on the streets to help the people stuck in rain
He is doing a great Job… More Power & Appreciation for him , Allah bless him & give him more ❤️ #KarachiRain pic.twitter.com/xxaoy7QXsD

— Mian Omer 🇵🇰 (@Iam_Mian) August 25, 2020
According to Geo News reports, Pakistan Air Force (PAF) Faisal Base received the highest rainfall, at 125 millimetres (mm), report the Pakistan Met Department.
The PMD further warned that the ongoing monsoon spell is likely to continue till Thursday morning. And a new monsoon system is expected to enter Sindh by August 29-30.
Stay tuned for more rain related updates!