Karachi Eat is one of the biggest family festivals hosted in the City of Lights. Marking 10 years of food, music, and celebrations, this year was supposed to be a milestone in history for the organisers but turned out to be a nightmare.
So what happened? The 3-day event took place at Beach View Park from 6th-8th January 2023. As usual, there were a number of stalls along with live music and some activities for families to enjoy.
However, while days 1 and 2 went by pretty well, day 3 ended on a chaotic note. Here are the reasons why day 3 turned out to be total chaos:
1. Overcrowded
While the turnout is always huge, this year it was just too much. People were bumping into one another, kids getting lost in the rush, men bumping into women, parents fighting over things, food being spilt, trash being thrown, you name it. Those who were walking were bumping into those who were eating, and this was only creating more frustration among the attendees.
Too packed to be on-ground, let's take a view from the top.
08.01.2023.
📍 Karachi Eat Food Festival 2023
Tags: #KarachiEat2023 #KarachiEat #AerialPhotography #DJI #DJICreator pic.twitter.com/jF16LaLjLe

— Salman Nazar Sibtain (@SalmanSibtain) January 8, 2023
2. Limited Security Arrangement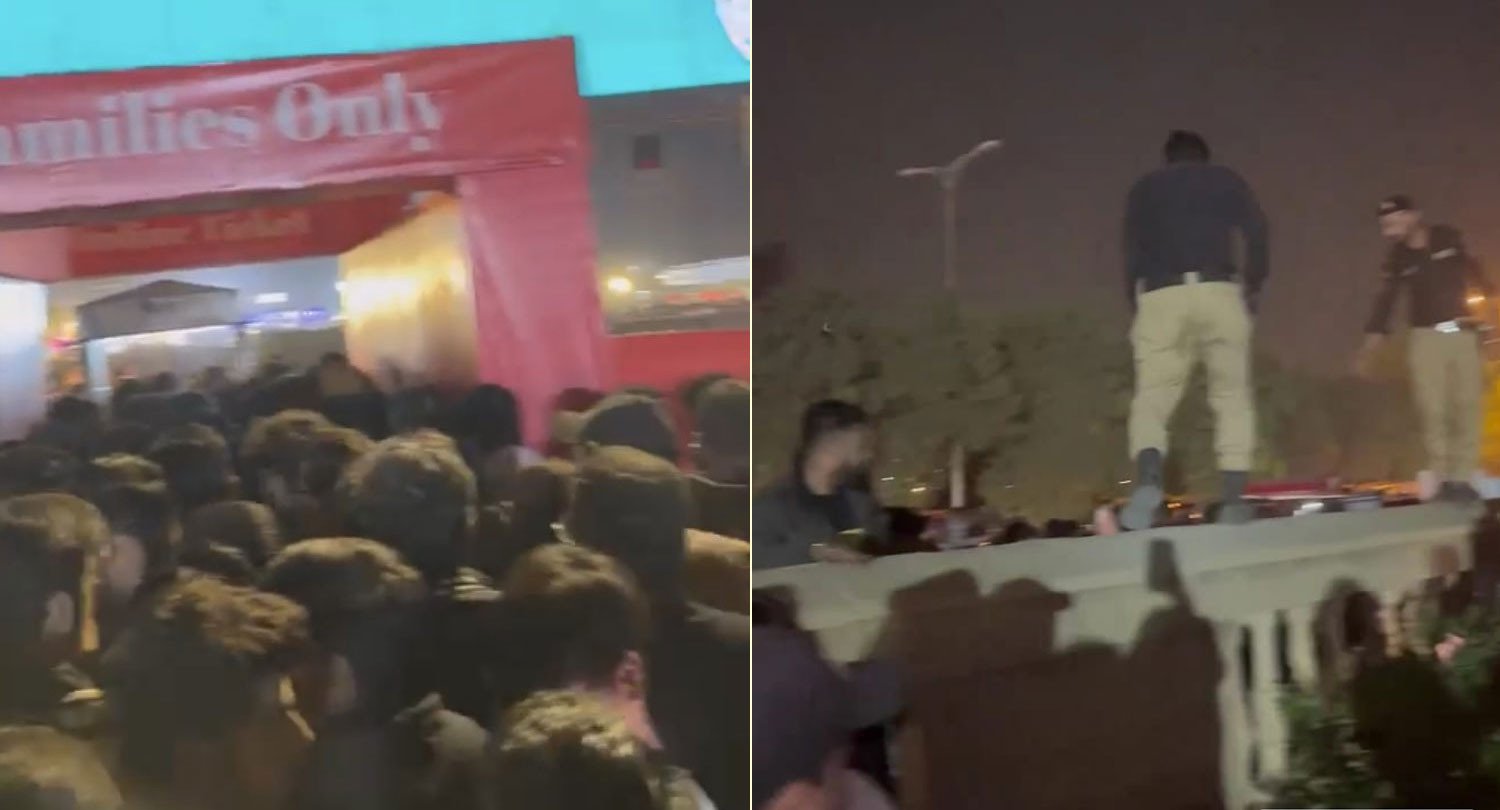 While everyone knows that Karachi Eat is a family event and stags are not allowed, a number of them tried to enter the venue by any means necessary to take advantage of the live music and event. While some jumped over the walls, there were those who broke through the barriers placed by the security, and from a source, it was also found that some even passed on money to get in.
This is extremely disgusting how a family event turned into an all-men event. These men are worse than monsters. And most people are definitely going to say that as these women went outside, it's their fault if they faced harassment. #KarachiEat2023 pic.twitter.com/H3JWkx7Ths

— Aqsa Younas Rana (@AqsaYounasRana) January 9, 2023
#KarachiEat2023 sucked big time. Sorry to say ten years of eat has been spiralling down instead of up. 🤷🏻‍♂️

— Shahzeb Ali Memon (@ShahzebAliM) January 8, 2023
#KarachiEat2023 #KarachiEatFestival miss management @karachieats pic.twitter.com/3rtliuWeHj

— zamzam saeed (@zamzamkhan61) January 8, 2023
#karachieat #KarachiEat2023 pic.twitter.com/lPO2F1chIe

— Amna Adil (@AmnaAdilhussain) January 8, 2023
3. Endless Harassment
Now that the family event was no longer restricted to families and friends, the environment became nasty. Women and children were being harassed by the uncontrollable crowds, so much so that singer Kaifi Khalil had to stop his concert, he even took to social media to highlight the uncivilized behaviour at this year's Karachi Eat 2023.
Hello everyone thank you for your pure love and support. kindly Read this and share. pic.twitter.com/QWLseK2EbN

— Kaifi Khalil (@kaifi_khalil) January 9, 2023
#karachieat #karachieat2023 pic.twitter.com/hkuiKwKkEh

— Amna Adil (@AmnaAdilhussain) January 8, 2023
4. Overpriced Food
As usual, even though some stalls were on-point in taste and price-wise, there was plenty that was over-priced and hardly visible in quantity. Imagine thousands of hungry people standing in line for food that is not worth the hard-earned money.
Waste of money, stuck in traffic, distance parking, then pay 600 to get in, wait for line, then get in line to get over priced food, good for taking pictures for gram, potential couple spots.
Better to visit restaurant directly and get food#EAT #KarachiEat2023

— Nimrah Shiekh (@NimrahShiekh12) January 7, 2023
5. Fights, Fights, & More Fights
Being Pakistanis we of course have a 0-tolerance policy, and these videos are exact proof of that:
The end of karachi eat #KarachiEat2023 pic.twitter.com/m7s0qfqkfr

— vibesoftheday (@AqsaGagan) January 8, 2023
Taking notice, the organizers of the Karachi Eat Festival issued an apology, they wrote:
"Over the years we have taken the brand to Lahore and Islamabad with the same aim in mind. Despite our most stringent efforts, the closing day of our 10th Eat Festival saw unruly crowd behaviour and some very unfortunate and sad incidents occurred.
"This vengeful disregard for rules and regulations gave rise to events that caused much discomfort to innocent people as gate crashers ran amuck. The crowd at the venue on Sunday was less in absolute numbers than on Saturday but because there were no unruly gate crashers, the first two days ended on a civilised note. Regardless, we are collecting the data and conducting a deeper investigation into the matter of surveillance, breach of boundary walls and the need to up the restrictions of what is brought into the arena. Our thoughts and sincere apologies for all who were affected by the unruly crowd and the innocent people who were caught in the crossfire."
South SSP Syed Asad Raza told Images that no case had been registered about any untoward incidents at the event.
SSP Raza said that a huge crowd had gathered and some of them who did not have passes tried to enter but the management and the police closed the doors for a while. However, some people entered it by scaling low walls  "the mismanagement was partly created by physical checking of passes that led to a crowd of people gathered before entry gates," said the officer.
He said that no one was arrested nor had a case or complaint been registered by the management of the food festival.
However, we must ask ourselves, where are we headed? The traumas that the men, women, and children faced, and witnessed, and the horror stories emerging have compelled us to reflect on what we've become as a society. Is the Karachi we all love and know? Pakistanis have always been praised for their generosity, is this how we treat our own people?
We hope that all the individuals are safe and sound who were present at the venue during this chaos.
Stay tuned to WOW360.