Dubai witnessed yet another night of glitz, glamour, and celebrities. The city hosted the Filmfare Middle East 2022 awards and invited Bollywood and Pakistani stars to celebrate movies, actors, and more.
The star-studded event was graced by top actors and legends such as Hema Malini, Govinda, and Anil Kapoor amongst others. On the other hand, Sajal Aly, Humayun Saeed, and Fahad Mustafa represented Pakistan.
Aside from receiving awards, Pakistani actors Humayun Saeed, Sajal Aly, and Fahad Mustafa all spoke on stage about their love for their families and fraternity.
Moreover, Sajal shared a heart-touching moment with Jhanvi Kapoor. Before the prize presentation, Janhvi was seen giving Sajal a big hug. Janhvi said in her remarks accepting the prize, "I'm meeting Sajal after so much time, and I'm thrilled to be here. Thank you for this great evening."
The Alif star famously worked with Jhanvi's late mother Sridevi in MOM. Sajal has also often discussed her bond with Janhvi Kapoor on various international platforms.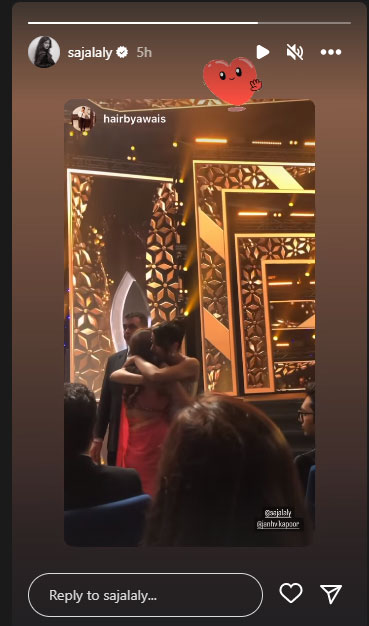 Sajal also expressed her love for the Indian stars present at the event, particularly Jahnvi Kapoor. After receiving the 'Most Popular Face of Pakistani Cinema' award, Sajal thanked "Sir Humayun Saeed" for giving her the opportunity and for undoubtedly believing in her.
When asked what other city of the world would she be willing to settle in, aside from Pakistan, she replied, "Why can't it be in India? It can be in Bhaarat too, I mean, Dubai as well. But this is the kind of event that brings us face to face with people like Jahnvi, Govinda sir is here, Ranveer. So, we finally get the opportunity to mingle with people who may be distant from our country but very close to our hearts."
Amid Divorce Rumours 'The Mirza Malik Show' Leaves Social Media Confused
She also clicked a selfie with Ranveer Singh, and just by looking at the caption, we can clearly tell that Sajjal is a BIG fan.
Fahad Mustafa received the "The Promising Star of Pakistan" award. He shared how Govinda has been his icon, he even said that he "started acting because of Govinda," and got an opportunity to share a sweet moment with the B-town legend.
Fahad Mustafa and was seen touching his feet to be respectful of Govinda's culture. He also met Ranvir Singh and other top actors as well.
Humayun Saeed thanked Filmfare for inviting him to the ceremony. "I have been working [in the entertainment industry] for the last 25 years and you have still been tolerating me which is a huge achievement," he smiled while addressing the audience.
He thanked everyone at the gathering for showing him "tremendous affection" while acknowledging the support of his family.
Humayun was asked why he made London Nahi Jaunga. "Sir I looked you up and came across this film of yours. Why did you not want to go to London? Did you not get a visa or did you not get along with Rakhi?" quipped Bharti.
"I had made a film called Punjab Nahi Jaungi. It became successful and I became greedy. So I decided to make another film called London Nahi Jaunga," Humayun replied.
Bharti went on to express her wish to visit Pakistan someday to get a taste of Pakistani food. She then asked Humayun to never say "London nahi jaunga" again. Humayun replied, "Men tou India bhi jaunga," to which the crowd cheered. They even exchanged a friendly hug.
#HumayunSaeed and #Bharti share hilarious moment on stage at #FilmfareMiddleEast2022Awards pic.twitter.com/Tl2HQAqboj

— WOW360 (@WOW360PK) November 21, 2022
The beautiful night came to an end with smiles and exchanges of hugs and affection. We hope we get to see our stars with Bollywood stars on the big screens soon.
Stay tuned to WOW360.