Sajal Aly and Farhan Saeed criticize Lux Style Awards (LSA) 2023 for lack of transparency.
Sajal Aly points out snubs for Zara Noor Abbas, Mehwish Hayat, and "Jo Bichar Gaye."
Farhan Saeed questions fairness in LSA awards distribution, emphasizing the importance of integrity in the industry.
Model Mushk Kaleem also criticizes LSA's fashion nominations.
---
---
In a bold and unapologetic move, the renowned Pakistani actress, Sajal Aly and singer turned actor, Farhan Saeed have raised their voices against the Lux Style Awards (LSA) 2023, shedding light on the dark underbelly of the Pakistani entertainment industry's most prestigious awards ceremony.
The celebrities stance on the important issue comes as a breath of fresh air in an industry often criticized for its lack of transparency and questionable distribution processes. Farhan Saeed known for his exceptional talent and candid demeanor, did not mince his words when he called out what he perceives as 'award fixing' within the Lux Style Awards. Sajal Aly shared her concerns through her Instagram stories where she asked pertinent questions to the Lux Style Awards governing body.
Sajal Aly's brave stand against the LSA 2023, highlighted the snubs to fellow actresses like Zara Noor Abbas for her phenomenal work in Badshah Begums and renowned actress Mehwish Hayata who did not get any recognition for her blockbuster film London Nahi Jaunga. The actress also pointed out Ushna Shah had not received any recognition for Habs.
The Kuch Ankahi star also spoke up in favour of periodic drama "Jo Bichar Gaye" starring Wahaj Ali and Maya Ali. Here's what she posted,
"Award shows are a great way to appreciate art and artists and to encourage us as actors. I request Lux Style Awards and their jury to at least nominate those who have done stellar work. It is greatly disappointing to me as an artist that LSA routinely ignores other artists who are doing great work. For example, Mehwish Hayat who was great in London Nahi Jaunga. Zara Noor Abbas for Badshah Begum and Ushna Shah for Habs. Who exactly are the jury members, do they watch our shows even? Or do they simply choose who is popular? It is one thing to not win an award but to simply be ignored even if you have done great work is heart-breaking to not just one artist but to all."
She went on to request the Lux Style Awards and its jury to honor the technical teams including the directors of production who make films and tv shows possible by working behind the scenes tirelessly. Lastly she also called out the coveted awards for not recognising the supporting actors who make the plays 'stronger.' Her stance was appreciated by many including Ushna Shah who re-shared it on her stories.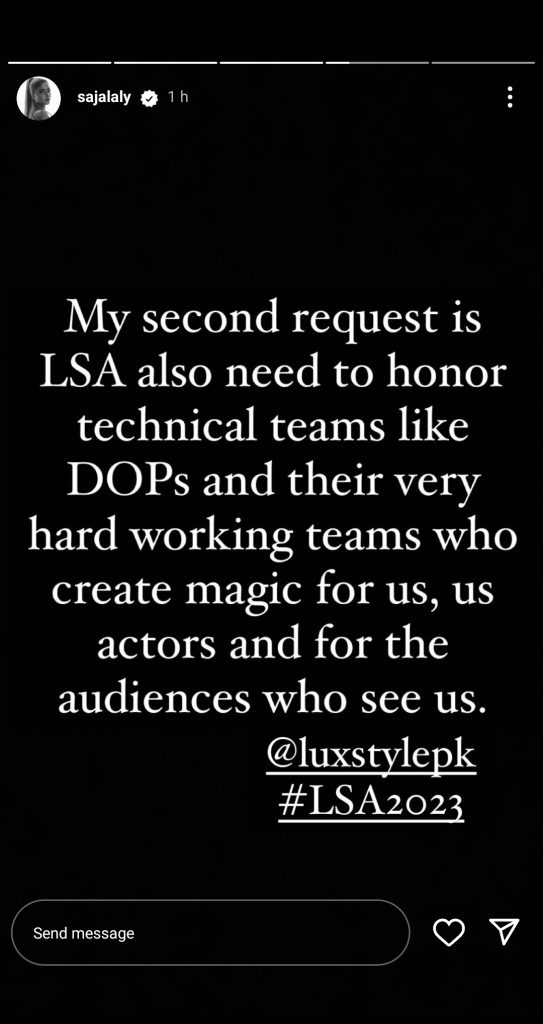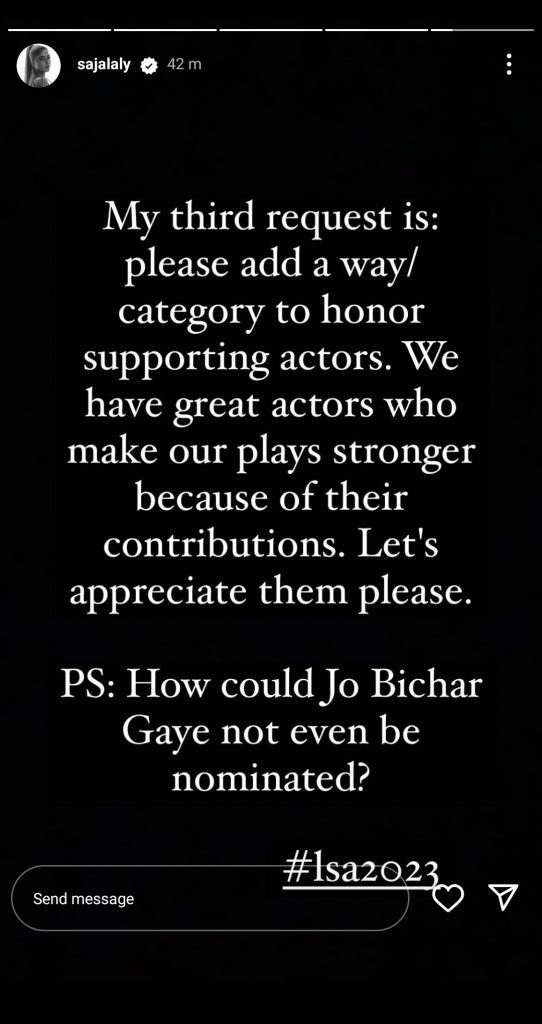 In an Instagram post following the awards ceremony, Farhan Saeed shared his look from the big night and called out the show directors for what seemed to be an unfair awards distribution.
The disgruntled actor was nominated for his stellar performance in Mere Humsafar that received an immense response from the audiences. However, he did not bag the award for the best actor category.
"If you had to fix it , it could have been done intelligently at least #LSA2023 ! I don't say this for myself but for anyone who deserves a fair chance at winning for their hard work at any platform, I say this to encourage ppl who aspire to join our industry! I say this to keep people's faith in us intact!"
 

View this post on Instagram

 
Farhan Saeed then ended his post saying the love he receives from audience is the biggest award.
"Nevertheless, Your Love Is The Biggest Award I Have !!Congratulations to all the winners!"
Looking at this short video clip, one can tell that Farhan Saeed has the vote of confidence from the crowd and host Fahad Mustafa.
 

View this post on Instagram

 
Under Farhan Saeed's post, actress Armeena Rana Khan, Rabya Kulsoom, Zara Noor Abbas, Dania Enwer and Sofia Khan commented in agreement to the actors sentiments and lauded him for speaking out.

The LSA's have been surrounded by various controversies this year, icon from the fashion industry, model Mushk Kaleem earlier called out the awards to have no style sense at all.
Here's what she had shared over her social media;
"Looking at the LUX Style Awards fashion nominations and at this point, they should just completely cancel all fashion awards."
Follow WOW360 for more.