Eid ul Adha 2023 brings an exciting lineup of Pakistani films, including "Teri Meri Kahaniyan" featuring a star-studded cast and the directorial debut of Marina Khan.
"Babylicious" marks the comeback of Syra Yousaf and Shehroz Subzwari, offering a rom-com story of a romantic's quest to win back his ex-girlfriend.
"Allahyaar and the 100 Flowers of God" captivates audiences with an enchanting animated adventure filled with self-discovery and friendship.
---
---
Eid ul Adha, the festival of sacrifice, is not only a time for spiritual reflection and meaty feasts and celebrations but also the time when Pakistani cinema enthusiasts eagerly await the release of new films. As the year 2023 unfolds, filmmakers have prepared a captivating line-up of movies to entertain audiences during this festive season. With a prestigious benchmark set by films like the Legend of Maula Jatt and London Nahi Jaunga, we are anxious to know what the future holds for the Pakistani Films on Eid ul Adha 2023.
Let's explore the 5 Must Watch Pakistani Films on Eid Ul Adha 2023:
1. Teri Meri Kahaniyan
The star-studded film, which is to be released on Eid-ul-Adha 2023, is a collaboration by renowned Pakistani storytellers Khalil-ur-Rehman Qamar of Pyare Afzal, Mere Paas Tum Ho, London nahi Jaunga fame, Vasay Chaudhry with Jawani Phir Nahi Ani 1 & 2 under his belt and, Ali Abbas Naqvi and Basit Naqvi (Lal Kabootar). Teri Meri Kahaniyan will mark Pakistan's latest heart throb Wahaj Ali's debut on the silver screen and he will be joined on-screen by the diva Mehwish Hayat, Ramsha Khan, Hira Mani, Salman, Sheheryar Munavar, Amna Ilyas and many more.
The movie also unites the artistic skills of Nabeel Qureshi (renowned for helming films like "Na Maloom Afrad 1&2," "Actor in Law," and "Quaid-e-Azam Zindabad"), Nadeem Baig (known for his contributions to "Jawani Phir Nahi Ani 1 and 2," "Punjabi Nahi Jaungi," and "London Nahi Jaunga"), and signifies the directorial debut of seasoned actor, Marina Khan on the silver screen.
We are definitely excited to watch this blockbuster in the making!
2. Babylicious

Babylicious sees the comeback of Syra Yousaf and Shehroz Subzwari on-screen together after their divorce. It is a rom-com film directed and produced by Essa Khan under the banner of Coconut Entertainment Pakistan. Babylicious is produced by none other than host and media personality, Waqar Zaka. The storyline follows a hopeless romantic Omer (Shehroz Sabzwari) who was dumped by his girlfriend but is determined to win her back by sabotaging her upcoming wedding. The film is all set to release on the 27th of June.
Also Read:
Eid-Al-Adha 2023: Watch 3 Movies for the Price of 1
3. VIP
A project of HUM Films, VIP is a comic political drama that will introduce fresh faces Zach and Nimra to the silver screen and see the return of seasoned actors including Saleem Mairaj, Ehteshamuddin, Saife Hassan and many more. Directed by Rana Kamran, co-directed by Saqib Zafar, and brought to you by executive producer S. Syma.
Get Ready to have a laugh riot in cinemas this Eid!
4. Allahyaar and the 100 Flowers of God
Allahyaar and the Legend of Markhor is one the most loved animated films of Pakistan, it is all set to release its next instalment, Allahyaar and the 100 Flowers of God. The film is sure to take audiences on an enchanting journey filled with adventure, self-discovery and friendship. We hope the movie captivates audiences of all ages as its predecessor has with a unique story and an overall wholesome watch. The movie was set to release on the 2nd of June but has been postponed to release on Eid Ul Adha 2023.
5. Maadari
This Eid is all set to have a combination of films on the genres of comedy, romance, art, and now a crime thriller, Madaari. Also known as Once a Upon a Time in Karachi, the film seems to be a treat for those who love a good thrilling watch in cinemas. The film is produced and directed by Seraj Us Salikin and features renown theatre and tv show artist Paras Masroor, Hammad Siddiq and Ibad Alam Sher.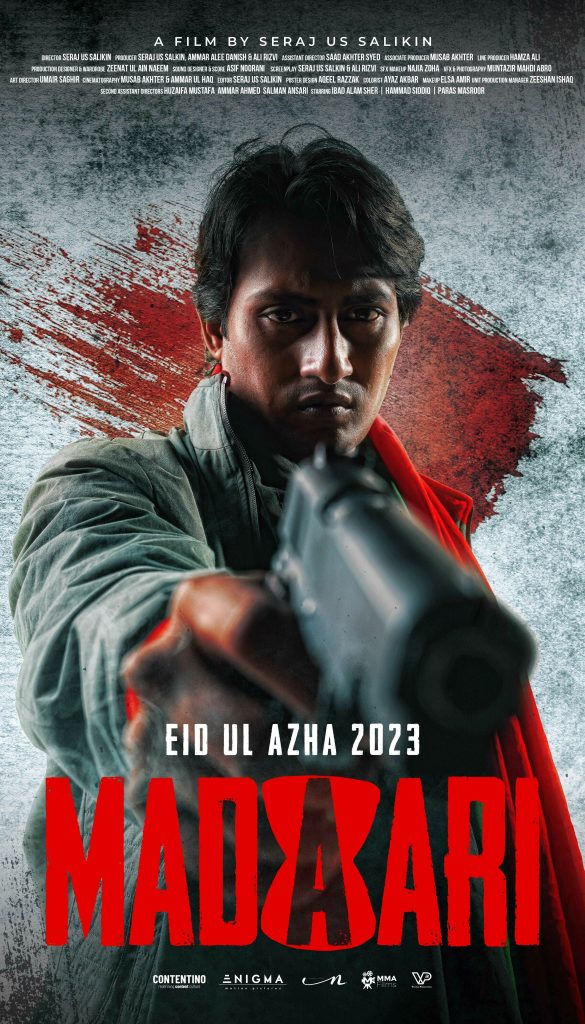 Also Read:
5 On-Screen Pakistani Pairs We Are Excited to See in 2023
Which movie are you looking forward to watch in cinemas this Eid Ul Adha 2023? Let us know in the comments below.
Follow WOW 360 for all the latest news and updates.