Pakistan Advertisers Society held its final round of jury of its Effie Pakistan Award programme on the 12th of February 2021 in Karachi.
Effie Pakistan is the most prestigious award programme of the marketing and advertising industry and is about 'awarding ideas that work' and celebrating the success of the industry. It is part of a global award programme which includes 52 national programs, 4 regional and 1 global award programme. It aims to lead, inspire and champion the practice and practitioners of marketing effectiveness and is a symbol of achievement that is widely respected worldwide.
This year competition was launched in September 2020 and was open to all companies and advertising agencies that ran marketing campaigns between 1 st July 2019 to 30th September 2020.
In the final round, a total of 144 shortlisted cases out of 357 cases were competing for Gold, Silver and Bronze award. The panel comprised of senior professionals that had a mix of veteran and new judges from local and multinational companies and small and large companies across a wide range of marketing companies, agencies, market research organisations and media groups. The members were divided into 6 groups of 10 people who evaluated all the entries specifically matched with cases that do not prove any conflict of interest. Each group was led by a group head/moderator who was experienced in holding a jury before.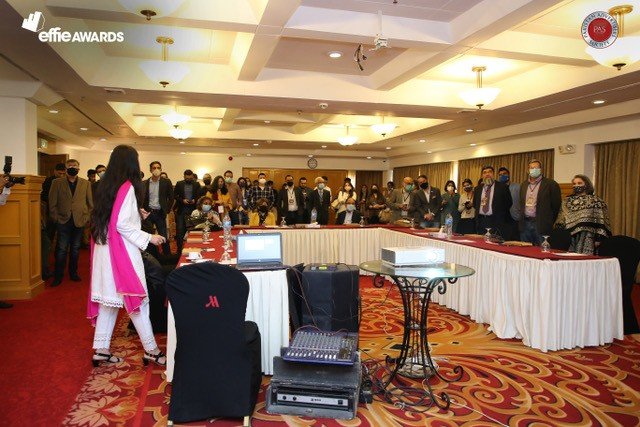 The entries were judged on demonstrated excellence in 4 key areas: challenge and objectives, insights and strategic idea, creative / media execution, and results. Each jury member examined written content and viewed creative reels in order to score a campaign. The scoring was done individually and confidentially.
All the Gold winners will now compete for the grand title Effie Grand Prix, which is best of the best across categories. This case will represent the best in class across all parameters of a marketing effort. The winners will be announced on 10th of April in a grand award ceremony that will conclude this year's awards programme.
The Effie Pakistan finalists and winners will also receive credit in the Global Effie Index, which identifies and ranks the most effective agencies, marketers, brands, networks, and holding companies by analysing finalist and winner data from all Effie competitions worldwide. Announced annually, the Effie Index is the most comprehensive global ranking of marketing effectiveness.