Renowned Canadian vlogger Rosie Gabrielle has announced moving permanently to Gilgit Baltistan, Pakistan, with her husband, Adeel Amer.
She announced the news in a post on Instagram, where she mostly likes to connect with her fans. In a lengthy caption, she said, "WE MOVED TO THE MOUNTAINS!! The long-anticipated wait is over! We are happy to share and announce that we have officially shifted to the north of Pakistan. Neither of us is city people or "fit in" with societal "norms" and the system. We long for wide-open spaces, fresh air, peace, simple life, nature and ADVENTURE!"
Fans were excited to find out that the two had decided to move up north as it is a daunting move. Rosie and her husband Adeel Amer who is a traveller felt strongly about not fitting into the city life, so they decided to take a leap of faith and moved to the mountains permanently.
She added that earlier, both of them had to stay in Lahore for 10 long months. However, once it was no longer necessary, they made a move quickly. "THE MOUNTAINS WERE CALLING. Although the time needed to be based in the city, we couldn't wait to get out of there. After 10 long months living in Lahore, we finally made a move and shifted our entire life up here- indefinitely."
While it sounds dreamy, moving to mountains may seem to be a bit of a task and not everyone is fit for it. This is because people who are used to city life find it difficult to live in the mountains. Additionally, the process of shifting is tough and has its own challenges.
With Rosie and Adeel observing travel restrictions, they had to move somewhere they would thrive a bit better.  "IT WAS A BIG MOVE! With travel restrictions still in force around the globe, making getting around too complicated, we decided to stay put for a while here in Pk. But that meant moving somewhere we both could thrive a bit better."
She concluded, "Looking to take the stressful pressures off ourselves, focusing more on being present, being in nature, having an adventure at our fingertips and generally living a more simple life, this is the PERFECT place to be. We have SO MANY things to share with you about living life in a small village tucked in the mountains. It truly is a DREAM come to true MASHALLAH we are so blessed."
Many came forward to congratulate Rosie and also express their wish to move up to the mountains one day
Popular host, Anoushey Ashraf commented on the vlogger's post saying. "I'm visiting soon!!!"
Blogger Marium Hosein also thought this was an amazing idea. She said in a comment, "May this be a start for an amazing journey."

Award-Winning Artist, Sara Shakeel also plans to move up to Chitral one day.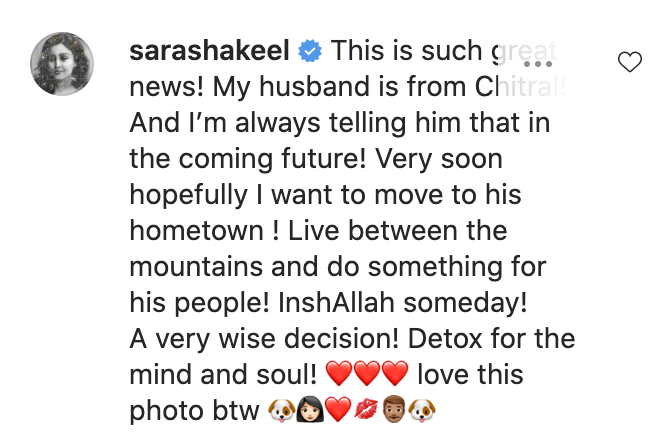 Ushna Shah Scolds YouTuber Rosie Gabrielle Over Judgemental, Condescending Hunza Post. Read the full post here:
On Friday, Pakistani actress Ushna Shah took it to her Instagram to scold YouTuber Rosie Gabrielle over a judgmental and condescending Hunza post. Midweek, Gabrielle took it to her Instagram to post a compilation of videos from a rave party in Hunza and other trashed spots. Gabrielle claimed that these parties are destroying the landscape at large.
Ushna Shah Scolds YouTuber Rosie Gabrielle Over Judgemental, Condescending Hunza Post
Have something to add? Let us know in the comments section below.
For more news and updates, stay tuned to Wow 360.