A sigh of relief breathed by travelling mothers as Civil Aviation Authority (CAA) installs new breast-feeding cabins at domestic airports in Pakistan. This sure is a welcoming move by CAA and one that was long overdue!
Women have been complaining about this issue since a long time and it is commendable on CAA's part to finally pay heed to this significant issue and take a practical action. Breastfeeding mothers would have to look for quiet corners at the airports to feed their infants as the washrooms aren't hygienic enough and the lounges have a high membership fee.  
Considering breastfeeding is such a taboo issue in Pakistan and worldwide, the women in Pakistan have always been uncomfortable feeding their infants out in public.
Many public spaces in Pakistan lack this facility and CAA has set an example for the rest to follow. Incorporating breastfeeding cabins or nursing places in public spaces is much needed.
It isn't just Pakistan but even abroad, there is a stigma attached to breastfeeding and women have raised their voices. A natural phenomenon created by God is looked down upon and women who feed in public are shamed worldwide.
Therefore, the breastfeeding cabins have been installed at both Lahore and Islamabad airports for now, in both international and domestic lounges, said the aviation authority officials.
The same idea will be reciprocated by other domestic airports soon, CAA added.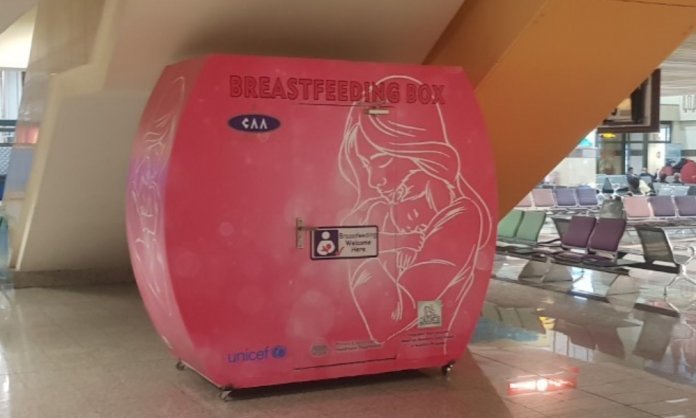 Moreover, at the beginning of this year, 19 new baby care rooms were set up by the CAA at the New Islamabad International Airport.
The baby care rooms are found at both national and international, departure and arrival lounges and are a huge facility for families that are traveling with children.
Islamabad Airport .. 19 Baby care rooms have been set up in all areas of the airport to facilitate mothers pic.twitter.com/c80zQ7ZSEJ

— Aviation Division PK (@AviDivPK) January 15, 2020
New mothers have it especially hard. Travelling with an infant is already stressful and overwhelming. To know that there is a clean, safe, private space to feed the child is a relief for all the new mothers out there.
It is incredible to witness such steps being taken in Pakistan where social issues like these are silently brushed under the rug because there are "more urgent" problems to tackle. A giant leap in favour of women to facilitate them has been a surprise for a lot of people. Many believe this step by CAA is to improve the tarnished image and divert the attention from the recent 'fake license scandal'.
A letter by CAA has been making rounds on social media lately in which they had clarified that none of the pilots flying aircrafts in Pakistan or to foreign countries, have been issued fake licenses. They claim the licenses were all 'genuine' and 'valid' and the issue has been "misconstrued and incorrectly highlighted in the media".
Do you think this is a step in the direction and will it last in a country like Pakistan? Share your thoughts in the comment section below.
Stay tuned for more interesting articles and updates!