Boycott Zara has been trending on Twitter since last night after head designer Vanessa Perilman attacked Palestinian model Qaher with islamophobic comments on social media. The Spanish clothing giant's designer made hateful comments against Palestine in private messages, of which screenshots are now circulating on social media.
During the conversation, the designer defended Israel's war crimes and blamed Gaza for terrorism. She also went and attacked the model's Muslim faith.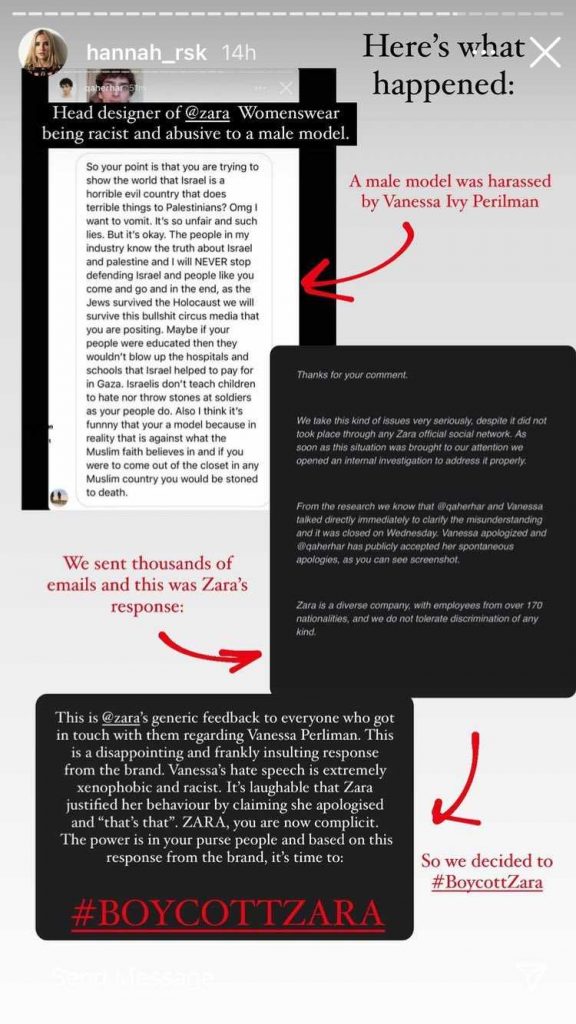 She said, "Israelis don't teach children to hate, nor throw stones at soldiers as your people do." But, she added, "The people in my industry know the truth about Israel and Palestine, and I will never stop defending Israel. People like you just come and go in the end. Maybe if your people were educated, then they won't go and blow up schools and hospitals that Israel helped to pay for in Gaza," wrote Perilman.
"I think it's funny that you're a model because in reality, that is against what the Muslim faith believes in, and if you were to come out of the closet in any Muslim country, you would be stoned to death."
Many users sent Zara complaints, but the brand didn't take any serious action against the designer, such as firing her to prove that Zara doesn't support Israeli atrocities. Instead, we saw screenshots of them replying to everyone with a generic message that said that the designer has now apologized to the model and her apology has been accepted by Qaher.
Vanessa Perliman a head designer at Zara DM'd a young Palestinian model this racist garbage and when she was called out gave a lukewarm apology before deleting all her social media. I emailed Zara to demand that disciplinary action be taken and this was their dismal response. pic.twitter.com/eCJ6FUei2u

— Nooran A. (@nooranhamdan) June 11, 2021
Zara also wanted the model to post screenshots of their head designers spontaneous apologies. Here's what he had to say: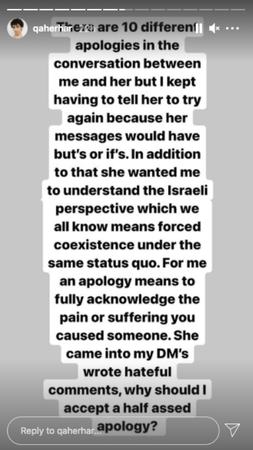 Users on the internet know that this wasn't a real apology; this was a cover-up to save herself from what was coming her way.
"Israeli perspective" that wasn't an apology that was a cover to save herself … she wouldn't have said in the first place.

— Noor 🦋 (@NoorAlmuzaffar) June 13, 2021
In many people's opinion, Zara could have dealt with this matter more responsibly by naming and shaming the one at fault and addressing Islamophobia ignored by European society at large. However, that didn't happen; even a large part of their consumers are Muslims. Instead, the brand tried its best to cover up the matter in some way or another.
Rumours of Bella Hadid Losing Dior & Michael Kors Contracts has Twitter Outraged after She Supports Palestine. Read the full story here:
Supermodel Bella Hadid recently participated in a Palestine protest in New York chanting Pro-Palestine slogans. She supported her ancestral country wholeheartedly and wore a keffiyeh — a scarf with the traditional Palestinian print.
Rumours of Bella Hadid Losing Dior & Michael Kors Contracts has Twitter Outraged after She Supports Palestine
Have something to add? Let us know in the comment section below.
For more news and updates, stay tuned to Wow 360.