Pakistan International Airlines was born as a state-owned airline on January 10th 1955. It was created as a result of the merger between Orient Airways, a privately owned company and the government of Pakistan. The company was nationalized in the same year and also started its international operations.
The airline was the pride of the nation and its performance during the mid 1960's to the early 1980's was exemplary. It was one of the top 10 airlines in the world; the first Asian airline to fly the Lockheed Super Constellation and the first non-communist airline to fly to China.
What makes organizations exemplary has a lot to do with the people who run it.
In a newsletter from the '60s, it was stated that there were a total of 280 women working in PIA of which 78 were air hostesses, 95 receptionists, 35 secretaries and a smaller number in administrative positions.
We were fortunate to speak with Mrs Naseema Kapadia ( formerly Naseema Hamid) who joined as a Market Research Supervisor in 1959. At the time she was one of the few women in Pakistan engaged in this specialized field.
You joined the market research team at PIA as the only woman in the department. Was it difficult to get the job and what was the experience like?
I graduated from the Sydenham College of Commerce & Economics Bombay University with an Honours degree in Public Finance & Administration and was appointed in 1959 as a Market Research Supervisor. I joined the market research department after an interview with Mr. Jimmy Mirza, who was the commercial director, a man of fine intelligence, a gentleman par excellence. He was what anyone would wish to have as a boss.
I would like to mention here, that although we were very few women in the marketing department, we had no problem of working with so many of our male colleagues. In fact, we were given a lot of privileges. I had no transport and PIA had  shifted the head office to the airport. I couldn't come by the bus and at that time I had to ask Mr. Anwar Jamal, the engineering director, and he arranged special transport for me.
What was the reaction of others to your being appointed in this department at a supervisory level?
PIA was at the top and the people working felt as if they were part of a family. We did our best and although we were in the lower strata of the supervisory level we still were given the best of everything. Market research was not easy in those days as it was a new field. When I joined, even the general managers of tariff and sales were not conversant with this area.
Market Research (MR) had to host the annual Sales Conference of PIA. It was a two day meeting, managers from all the stations had to attend the meeting to give their performance of the year. The MR had to provide the estimated revenue of these stations based on past performance, global and current situations. Air Marshal Nur Khan was the managing director at that time, attended the meeting and was vocal in what he saw and wanted to see. He was a man that knew everything that happened.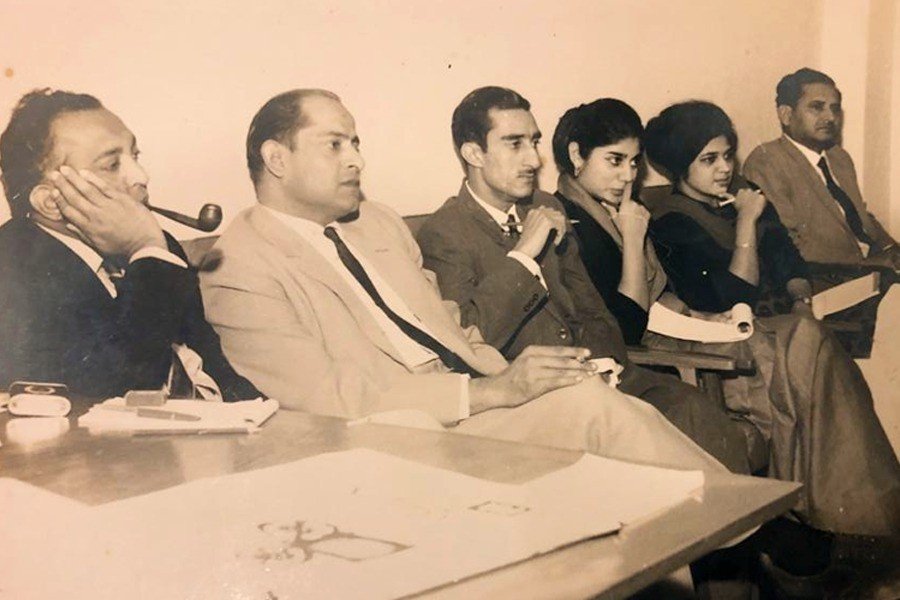 We worked till late at night. Once I told Mr. Aryne the manger "Sir, can I leave earlier?" he said, "Why? You are as much as part of the team as the rest of these boys." That was the last. I worked equally hard with them. They were extremely good and careful and took care of me and even saw that I was delivered to my house safely.
Many questioned how a young graduate was able to perform such tasks in a field PIA had not ventured into. I was in charge of the domestic and regional services of PIA, being responsible meant that I had to take the statistics that came everyday from the civil aviation as to how many people travelled on each sector, and then it was noted with us and we had to keep an account of that. But then I wrote a report and I gave my suggestions. I was not an airline person, so I wrote it from a commercial perspective. The report went to the Tariffs Manager , a very senior official who immediately asked to see me. He said, "Who's written this report?" I said, "Sir, I have written it". " Well, how did you know about this?". I said, " I based it on the calculations of the past figures". And he was so impressed with the report, that that was the first time within 2 months, I was 'given excellent report, must look into future for her'
We worked till late at night. Once I told Mr. Aryne the manger "Sir, can I leave earlier?" he said, "Why? You are as much as part of the team as the rest of these boys." That was the last. I worked equally hard with them. They were extremely good and careful and took care of me and even saw that I was delivered to my house safely.
Any incident that is very memorable ?
During my tenure of 6 years, I made very close friendships with my colleagues. Some of my close friends included Ms. Qamar Hassan in Public Relations, Parveen Qureshi in Advertising and  Silloo Dastur who was secretary to Mr. Jimmy Mirza. The four of us were a very close group and after 2 years we wanted to take a trip abroad. And so we asked our boss who said "Make your itinerary". We made a stupid itinerary that he changed. He helped us out with airline tickets and bookings. PIA at that time was a place where we could work and women were given the highest respect and we in turn worked equally hard.
What kind of training were you given ?
I was fortunate that when I joined PIA we were given training. All those who had joined in May '59 (there were about 15 of us) were given the training prior to them starting their work. I was told that my colleague, Khalid Kureshi and myself would be given a 15 day training in the classroom, where we would be taught about the tariff and the codes, everything about the airline, simulation, a whole lot of things which was theory. But the rest of the 13 people who were there, were very highly qualified in their own fields. We had one of the people of the highest rank, Air Commodore Janjua, Mr Bilimoria, Mr Khalid Hasan, and we had Mr, Gulu Kapadia who was head of (Hyson ) then. So all of them were in very high posts but they had joined PIA at the time. Now, to be an only lady, a fresh graduate in a group of 15, not that it mattered, but I was a bit awkward sitting in the front, and I requested the teacher, the one who was taking us, that " Sir, do you think I could sit at the back?" "Well," he said, " if you feel like".
So I was more comfortable sitting at the back. I happened to be sit next to Mr. Ghulam Ali Kapadia, who I eventually married. I didn't know him much in the class as we barely spoke. All I knew is that when we did the test, and I asked him, "How come you get higher marks than me?" He said, " What you write correct, I write. What you write wrong, I don't. I do my own. That's when I thought to myself, well, this is a clever guy !
Anyway, at the end of the 15 days, Mr Nur Khan addressed us
" Your training has come to an end and you will now be given on- the- job training in different departments of PIA".
My colleague and myself said " We only have two weeks training ".
So he said, " Why?". I said, " I don't know, we've been told that". He then informed the head of the training department that we too despite being at a supervisory level will be given the same training as all these managerial people.
We underwent a 3-month training on the job in every department and I was so grateful to Air marshal Nur Khan for giving me this opportunity. He didn't know me, he came to know me after when he came to my office and saw the work I did.
Any highlights of your career ?
PIA decided to open a service to Japan in the early 70's. In order to do that you had to understand what the market was like and this required knowledge of market research to assess the market potential. Calculations had to be made on how many people would travel, not only from Pakistan but also from the services that we had in different parts of the world.
It was for this purpose that a team of market research would be sent to America to study with PAN AM  to study and determine the feasibility of opening the route.
We were at team of 5 with Mr Nisar Aryne heading the team. The others included Mr. Khursheed Anwar, who was in the planning at that time, Mr. Mohammad Jameel and myself. As I was the only girl, Mr Aryne, my boss and head of the team was extremely careful and protective where I was concerned. He didn't let me go out at night in NYC due to safety reasons at the time (but I did manage to sneak out once!)
We got our training at Harvard University in Boston, for 5 days. There was the New York port, city port where we were shown all the details of Data that was kept. Then we went to MCgill University in Montreal for 3-4 days.
The PAN AM team was with us all the time and they hosted a dinners and the stay was very comfortable.
However, the day we were arriving back President Kennedy was shot. There was pandemonium but I'm extremely grateful because I had Mr. Khursheed Anwar who was flying back with me and he told me "Don't worry, everything will be alright."
Did the training help in achieving your objectives?
In '64, we put all the reports a together. Now can you judge the status that was given to us as young women? There was no discrimination at all. Mr. Jimmy Mirza was very happy with the report. Mr. Aryne made the final report, and what a coincidence of fate that I had to leave PIA in '65 because I was getting married to Ghulam Ali Kapadia, who was in Rome and later transferred to Beirut. But the irony is that Gulu was asked to open the station in Tokyo and I felt an immense  sense of elation and satisfaction that I was part of this.
It made me feel good. Of course I would want to boast of it but I didn't. I felt very grateful when Mr. S. U. Durrani came over on the inaugural flight of the 'Pearl Route' and said .you 'had some part in starting this route'.
We had a lot of guests that came in on the inauguration flight KHI-BKK-MNL-Tokyo including our travel agents from Karachi, Manila and Bangkok. We had a big reception in Tokyo when the plane landed.
It was a glorious experience, my 6 years that ended in November 1965
Reluctantly, I had to give my resignation in Beirut. I resigned 3 months later, but it was the most exhilarating experience. I would say PIA was one of the top airlines. My husband Gulu was very friendly, and anyone who came had to have a meal at our house including all the Captains. I have fond memories of Captain Saleji, Captain Johnny Yaqub, Johnny and Captain Yusuf and Abdullah Baig to mention a few.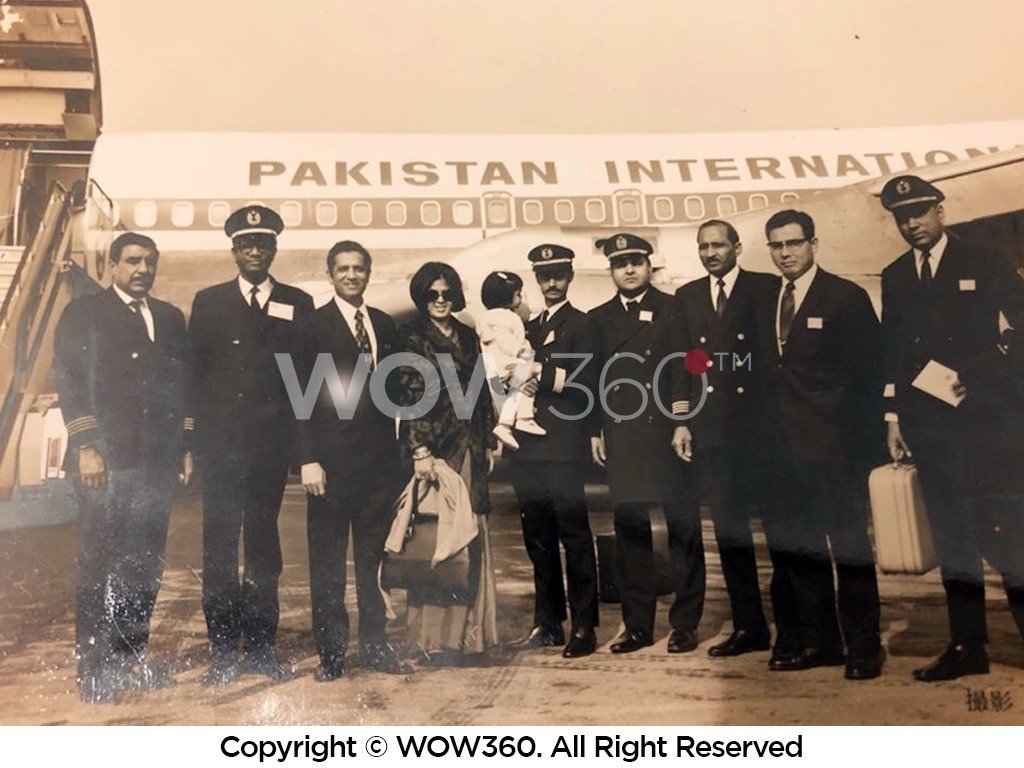 This was my experience in PIA as an employee. Later my association with PIA was as the being wife of the manager and that was a whole different but very glamorous experience.
Ms. Naseema Kapadia is the Headmistress of St Joseph Convent School, Cambridge Section. She pioneered the computer education project initiated by BCCI in 1985 and became the Chairperson of PACES ( Pakistan Association for Computer Education in Schools). She has co- authored a computer science book " Exploring Computer Science " that has been approved by the Federal Government for teaching classes IX and X metric section. The boo was published by Oxford University Press. She has been an educationist for the 40 years with a career that started when she joined the teaching profession in 1980. 
Research and Content Contribution : Amani Mehboob
Amani is currently studying Comparative Literature with Film Studies at King's College London.