Netflix has confirmed the return of the beloved Addams Family in the highly anticipated second season of "Wednesday," featuring Jenna Ortega as the titular character.
Season 1 followed Wednesday's journey of self-discovery, where she used her psychic abilities to unravel a series of murders and uncover a supernatural mystery involving her parents.
While a release date for Season 2 has yet to be announced, the plot is set to delve deeper into complicated relationships, focus on female friendships like Wednesday and Enid, and explore the mother-daughter dynamic between Wednesday and Morticia Addams.
---
---
Netflix has just announced the iconic Addams Family will be back for the much awaited season 2 of 'Wednesday'. Starring Gen Z's official queen, Jenna Ortega as the titular character Wednesday Addams. The news has sent Wednesday fans in a buzz as they await season 2 to hit the tv screens!
Season 1 premiered in November 2022 and if you're just like us who binge-watched it in one go, news on the second season coming to your screen is coming soon is sure to have you excited.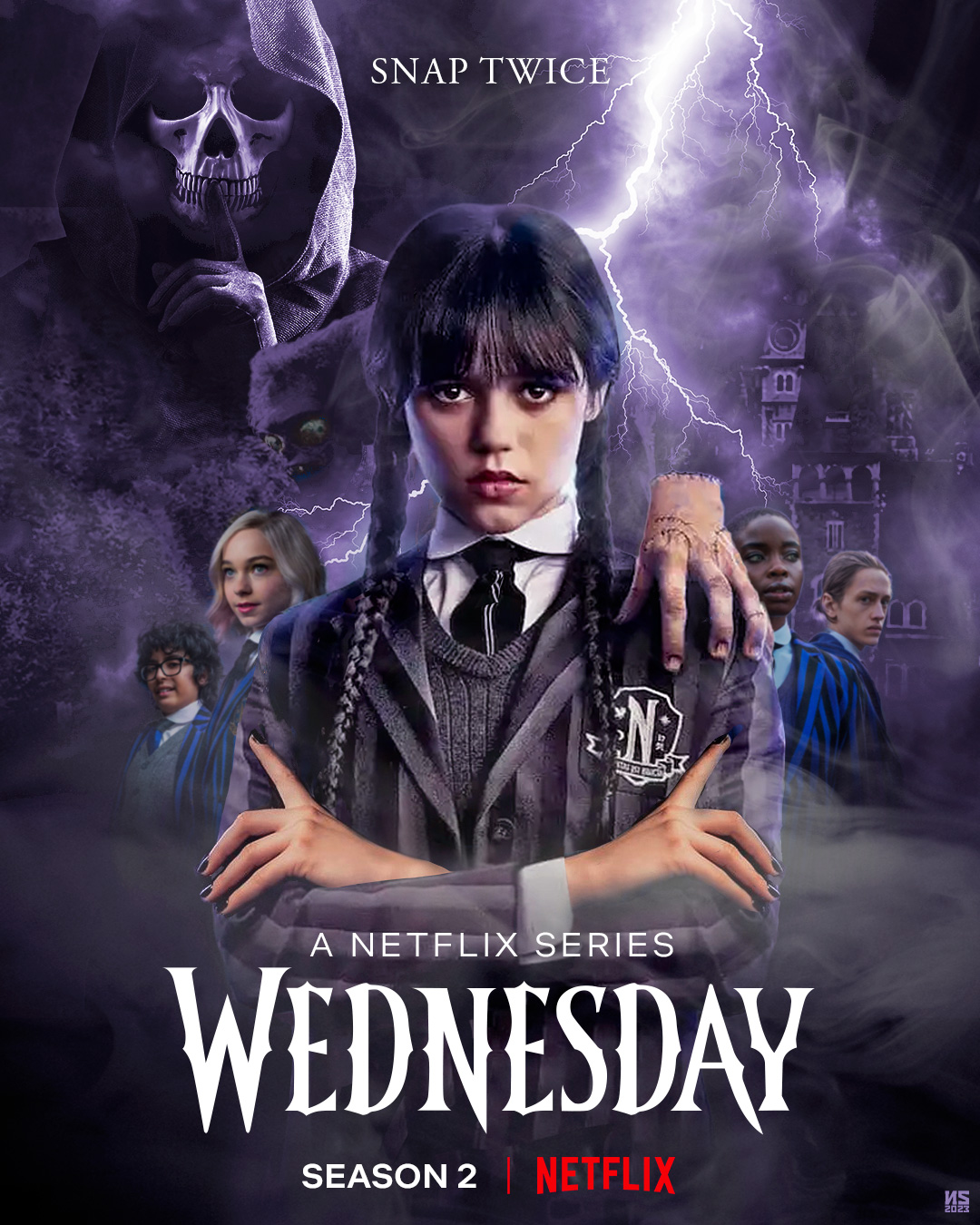 A Recap on Season 1 of Wednesday
In the first season of the immensely popular Netflix series, Wednesday embarks on a journey of self-discovery as she unlocks her latent psychic powers. These newfound abilities become instrumental in her quest to thwart a series of brutal killings that have plunged the town near her school, Nevermore Academy, into fear and chaos. Alongside her investigation into a supernatural enigma surrounding her parents, Gomez and Morticia Addams, two and a half decades earlier, Wednesday forms both alliances and rivalries, encountering a diverse array of friends and foes. We were also introduced to Wednesday's bubbly roommate Enid who is poles apart from Wednesday but ended up becoming her closest ally at the Nevermore Academy.
All You Need to Know About Wednesday Season 2
When is Season 2 Releasing?
Netflix released a short teaser in January telling viewers about the upcoming show, however, the show-makers have not yet announced a release date for Season 2.
An Insight into the Plot
Wednesday Season 1 followed the story of Wednesday Addams and her introduction to Nevermore Academy. The end showed us that her love interest Tyler was actually the killer, however the last episode gave us a clue as to what's coming up on season 2. Wednesday receives a phone from her friend Xavier after which an unknown number sends her a threatening message saying "I'm watching you" with an emoji of a knife going into her head. Looks like it's not over yet even after they got a hold of the person behind the killings.
The showrunners have teased the plot for season 2 saying they will be exploring and complicating the relationships, another hint for the Season 2 storyline is that the show will be centered around female friendships in the form of Wednesday and Enid. The upcoming season will also show Wednesday and Morticia Addams mother-daughter relationship and the possibility of them bonding over their shared powers.
Cast members returning for Wednesday Season 2
While the details are not yet confirmed, this is rumoured to be the cast returning back for another season as of now, yes – including Tyler!
Jenna Ortega as Wednesday Addams
Catherine Zeta-Jones as Morticia Addams
Luis Guzmán as Gomez Addams
Isaac Ordonez as Pugsley Addams
Fred Armisen as Uncle Fester
Gwendoline Christie as Principal Larissa Weems
Jamie McShane as Sheriff Galpin
Percy Hynes White as Xavier Thorpe
Hunter Doohan as Tyler Galpin
Emma Myers as Enid Sinclair
Follow WOW360 for further news and updates.