Pakistani drama Gunah's first episode sparks excitement with its captivating storyline, enigmatic characters, and unpredictable plot, leaving viewers on the edge of their seats.
The disappearance of Malik Hayat Khan's wife sets the stage for a gripping crime thriller, as an honest female police officer enters the scene, unearthing evidence that suggests a deeper mystery behind the vanishing act.
The introduction of Gul Mehar, the younger sister of the missing wife, adds complexity to the story, raising questions about her innocence and potential involvement as the other woman in Malik Hayat's life. With numerous unanswered questions, viewers eagerly await the unraveling of the case by SHO Sabiha.
---
---
Pakistani drama Gunah  has created quite the hype after it aired this week on Express TV. The crime thriller is off to a promising start and has captivated viewers with its enthralling storyline, enigmatic characters and an unpredictable plot that has left us at the edge of our seat. Featuring the phenomenal Sarmad Khoosat, Saba Qamar, Juggan Kazim and Rabia Butt amongst others, the mini-series has the audiences hooked with a story like no-other and strong performances!
The Case of Malik Hayat Khan's Missing Wife
Malik Hayat Khan (Sarmad Khoosat), a powerful landlord in the small town of Malikabad, finds himself in a helpless situation when his wife Gul Noor (Juggan Kazim) has allegedly eloped with Ahmed, their sons' tuition teacher – a much younger man. In an attempt to console Malik, his in-laws who are trying their best to handle the situation, suggest he marries their younger daughter, Gul Meher (Saba Qamar). Malik agrees for his children or that is what he wants everyone to believe.
SHO Sabiha's Entry Turns Heads!
The arrival of an honest female police officer, SHO Sabiha played by the fiery Rabia Butt, changes things in Malikabad. She is approached by Ahmed's old mother who does not believe her son ran away with Gul Noor and is adamant that he thought of her as an elder sister calling her 'Gul Baji'. The SHO decides to take up the case and delves deeper paying a visit to Malik Hayat at his mansion. She then uncovers evidence that suggests there is more to Gul Noor's disappearance than what is being narrated by the family and townsfolk.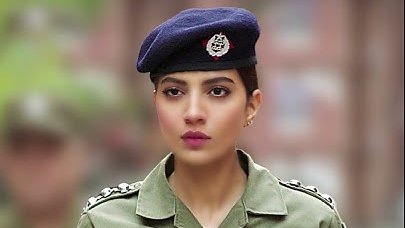 Gul Mehar – The Poor Sister or The Other Woman?
Saba Qamar plays the younger sister of the missing Gul Noor, at first our sympathies are with her as she speaks with tears in her eyes, however as the first episode of Pakistani drama, Gunah comes to its climax we are shown not everything is what meets the eye, the story may be much more complex than what it seems. As Gul Mehar approaches Malik Hayat and reaches out to him in the middle of the night, the audience realises she is not as innocent as she portrays herself to be and may just be the other woman in Malik Hayat's life.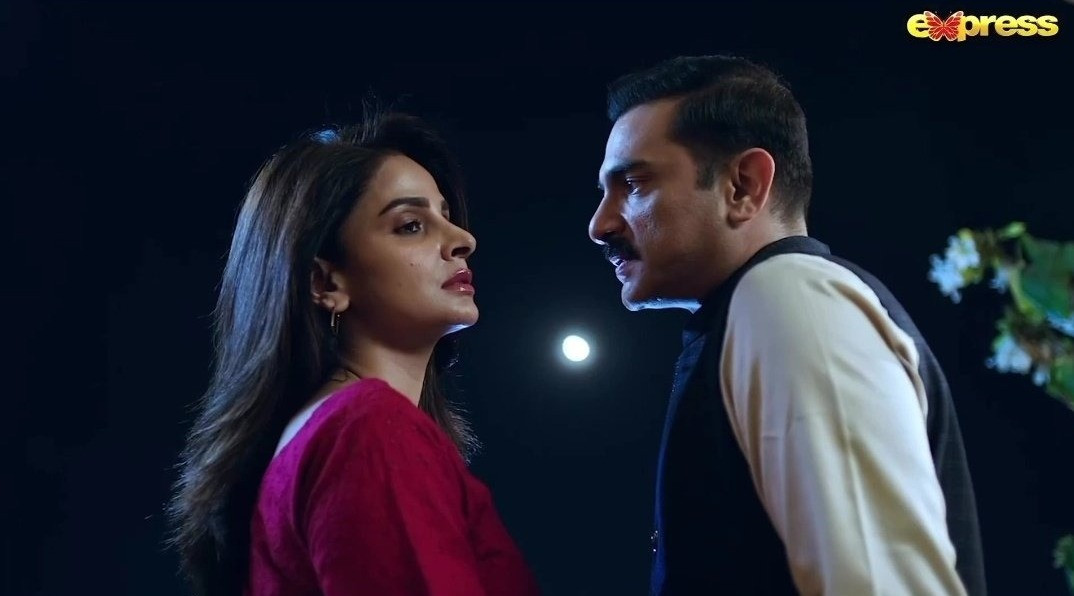 Episode 1 of Gunah Leaves us with Unanswered Questions!
As the thrilling first episode comes to an end we are at the edge of our seats with a million unanswered questions. Were Malik Hayat Khan or his associates involved in his wife's vanishing act? Did Gul Noor really run away with her passport and jewellery and have an affair with Ahmad, who was much younger to her. Was Gul Mehar involved in the entire situation? The final lingering question persists: Can SHO Sabiha triumph in unraveling the case, or will she hit a dead end?
Pakistani drama Gunah's Episode 1 was received with an overwhelming response and viewers are happy to finally have content that is worth watching instead of saas-bahu and romantic sagas that are flooding the tv screens currently.
Here's What Twitteratti Have to Say About Gunah's First Episode:
#Gunah Ep 01 – Brilliant 👏 👌 🔥 Each and every character looks grey and dark! This is exactly how a thriller drama should be! Powerful 🔥 Sarmad Khoosat and Saba Qamar take a bow👏🔥🔥🔥 Also the lady inspector 👌 Bgm is top notch 🧘‍♀️#SabaQamar #sabaqamarzaman @s_qamarzaman pic.twitter.com/hhArTh8DQP

— Angel Anki 🇮🇳 (@angel_ank1) June 15, 2023
It always feels so refreshing to watch @s_qamarzaman Her acting is so phenomenal. Good to see Rabia Butt in uniform she looked so stunning. Looking forward to this mini series#expresstv #MiniSeries #Gunah #SarmadKhoosat #SabaQamar #JuggunKazmi #RabiaButt #AdnanSarwar pic.twitter.com/Px9UUTUOC8

— S (@shamshadshkh) June 15, 2023
Havent watched a drama on @Express_Ent for a long time but this 1 is drawing me in with its genre, cast & plot. So after Jurm, #Gunah is next in line. How can one not watch a crime thriller with @s_qamarzaman #SarmadKhoosat @JuggunKazim @Iamrabiabutt directed by @adnansarwar_1?! pic.twitter.com/fuuJLpBLje

— Fifi Haroon (@fifiharoon) June 8, 2023
Surprising that #Gunah is not receiving the hype it deserves. Starring Sarmad Khoosat, Saba Qamar, Juggan Kazim & Rabia Butt, episode 1 drives home the point that things are not always what they seem. Is this a case of a missing person – or murder? So intriguing! #PakiataniDramas pic.twitter.com/e5SX5LJ6N5

— SophiaQ (@SophiaAQ) June 17, 2023
In her dialogues What is the mystery behind the scandal ? #Gunah boasts what maybe the sexiest SHO on PT in #Rabiabutt & she means business so take away those Corrupt samosas / jalebis & get to work boys ..loving the slight touch of camp in with the grim reality of what looks

— Sadaf Haider صدف حیدر (@tomtomatoe) June 15, 2023
Rabia Butt looks incredibly stellar as a female officer in power. Her body language & tinges of assertive is done so right. She's got that gaze of destructive power. Love it 👏🏻#Gunah

— s (@innerchildalive) June 16, 2023
Tired of the usual shit show on Hum/Ary, I feel other channels have different things to offer once in a while. Express Tv has this suspense thriller for now. The eye-candy trio, Sarmad Khoosat, Juggan Kazim & Saba Qamar. Rabia Butt as cherry on top.#Gunah#ExpressTV

— Wadeiray ki Beti (@kukoominkoo) June 15, 2023
#Gunah is an incredibly complex watch in terms of storytelling. There is so much happening in places in terms of relationship dynamics & status co associations. It's gonna be interesting how it unfolds considering it's a mini series.

— s (@innerchildalive) June 16, 2023
A slow-burn drama that has an old PTV /Lollywood feel to it. #Gunah has a good idea, let's see how it plays out. It should pick up the pace, considering it is a 6 episodes series. #SabaQamar #SarmadKhoosat #RabiaButt

— Sal Ahmed (@TheSalAhmed) June 15, 2023
Follow WOW360 for all the latest news and updates.