Earlier this month, a British-American explorer Vanessa O'Brien made headlines all around the world after becoming the first woman to reach Earth's highest and lowest points and made it to the Guinness World Record.
First #woman to Earths highest & lowest points! #challengerdeep so many people to thank 🙏 that made this a success – just to let you know i made it ❤️ photo by #EnriqueAlvarez pic.twitter.com/rPw2bYP3jM

— Vanessa O'Brien (@vobonline) June 12, 2020
After scaling the peak of Mount Everest in 2012, the 55-year old dived to the deepest point in the ocean named Challenger Deep, at 10,925 metres, in the Mariana Trench. However, on Friday, Vanessa O' Brien took the Pakistani flag in the submersible and now the news is doing all rounds on social media.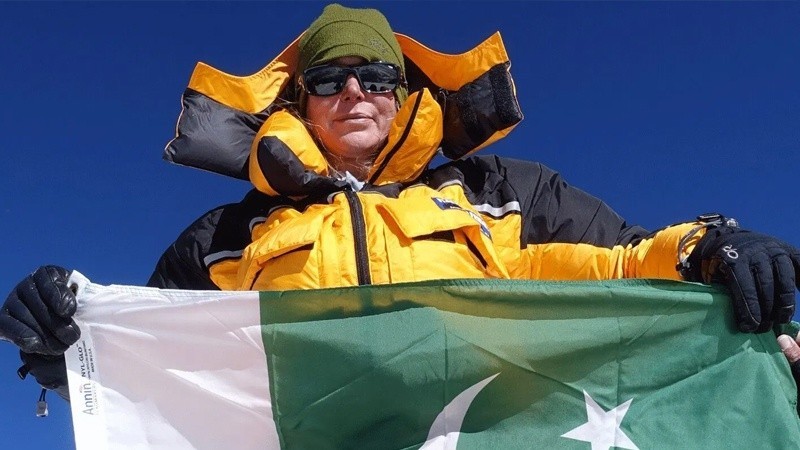 While talking carrying Pakistani flag with her, she said:
It is an honour to carry the Pakistani flag on this journey. Oceans are cleansing, churning, constantly renewing, and incredibly strong. Just like Pakistan. Pakistan Zindabad.
Moreover, a number of pictures were also released on social media in which Durdana Ansari can be seen presenting her the flag on the behalf of the High Commissioner.

Pakistan High Commissioner Nafees Zakaria congratulated Vanessa O' Brien and said:
I feel absolutely honoured to be part of this expedition, and proud to bear witness to this historic event. I hope this flag's incredible journey to this extraordinary place brings good luck for Pakistan.
This is not the first time the Guinness World Record holder shared her love for Pakistan and its people. In 2017, she said that the warmth and love she received in the country was matchless.
She shared:
I love Pakistan's people more than its mountains. I love Pakistan, its people and will like to travel again.
She also added that she would prefer to do something for Pakistan and its youth for a better future.
Moreover, the explorer also carried the Pakistani flag when she sealed K2 in 2017 and released the pictures on social media.
While talking about her experience, she said:
Less than 400 people have climbed K2 and one out of five died while attempting to summit the mountain. As many as 7,600 people have scaled Everest. As far as women, who have climbed K2, I'm officially the 20th to climb K2, just a speck compared to Everest's 489 women.
She further appreciated her supporters and said:
I'm extremely proud of this team for their dedication, perseverance, bravery, and commitment to reach the summit of K2 and to take additional risk.
Watch her interview below!
What are your thoughts about the story? Let us know in the comments section below.
For more updates and details, stay tuned with us.