As we women grow older, our bodies start to dissipate nutrients. As a result, it starts showing up on our skin, hair, and nails among others. Hair, in general, is a huge concern for women worldwide with a range of problems.
While we want to be updated with the latest cuts and colour, we also want healthy-looking hair. Some women love blow-drys, straightening, and curling, so they end up damaging their hair while others lose hair post-pregnancy. Whatever the reason is, it is never too late to take care of your hair.
Your hair repair starter kit must include a hair oil, a hair fall shampoo, a conditioner, and maybe even a serum for people with dry hair. Below are 5 shampoos available in Pakistan that can be used to treat damaged falling hair and to maintain a healthy scalp:
Natural Hair Care
CoNatural Hair Repair Shampoo
CoNatural's Hair Repair Shampoo is one of a kind. It is SLS Free, Paraben Free, Silicone Free, Sulphate Free, Allergens Free, and Triclosan Free. It helps build the body in the hair while showering, moisturizing, and sealing split ends. It is a great shampoo if you are looking to protect your hair from UV rays and also wish to grow your hair any longer.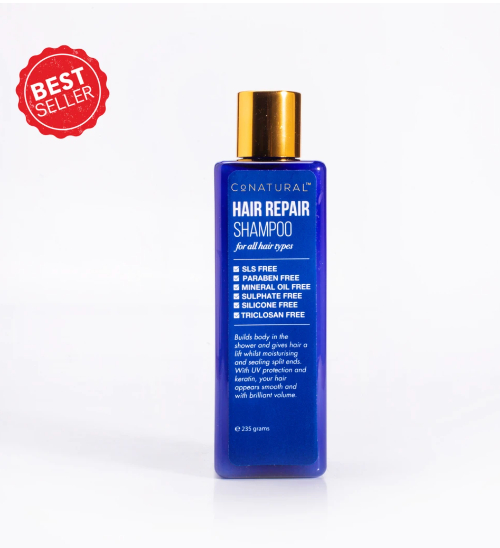 Hemani Herbal Hair Loss Shampoo
Hemani's Anti Hair Loss Shampoo comes with a Herbal formula which means it has no harmful chemicals that can further aid your hair loss. Instead, the formula maintains and encourages the growth of healthy hair. This shampoo has 3 in 1 action, and a mixture of plant extracts, vitamins, and amino acids works as a complete hair nourishment shampoo.
Amino Acid Complex: accelerates the hair cycle, converting activity of the follicles. Natural Herbal Complex: balances, heals, and stimulates the scalp with valuable ingredients.
Caffeine; Vitamin B3 Complex: Prevents hair loss Helps revitalize and regenerate the hair Makes your hair look fresh and shiny again. Suitable for all hair types and stimulates the microcirculation around the hair follicles.
Saeed Ghani Gaysu Mughziat Shampoo
Saeed Ghani is a known brand in Pakistan for natural and herbal products for the past 150 years. Their products work like magic! Mughziat shampoo is a great blend of botanical to invigorate and revitalize the scalp and hair. Its formula of shampoo is gentle. It is designed to clean the hair and scalp by nourishing them. It helps them become healthier and shiny. Even though the shampoo is great, the true results show well with their oil with this shampoo. Beware: The oil's colour may stain all your sheets; tie hair in a cloth to avoid that.
Alowis Organic Aloe Vera Shampoo
The Alowis Aloe Vera Shampoo is a 100% organic product that helps cleanse and moisturize your hair and scalp. This shampoo is known to reduce hair fall and make hair shinier, and in addition, maintains the PH value of your scalp to boost a healthy environment for hair to flourish.
Available Off the Counter Shampoos
OGX Anti-Breakage Keratin Oil Shampoo
The OGX® Keratin Oil Shampoo is infused with argan oil and is available at any leading supermarket. The shampoo helps defend against split ends and hair breakage. The Anti-breakage shampoo helps fortify strands, increases elasticity to resist breakage. Often women with dyed hair prefer using the product as breakage is common after applying intense chemicals.
TRESemmé Hair Fall Defense Shampoo
TRESemmé Hair, Fall Defense Shampoo is a crowds favourite due to the benefits it perseveres versus the price point. The shampoo mainly helps reinforce your hair strength and prevents hair fall due to breakage. It is available almost at all shops; you don't necessarily have to make your way to a supermart.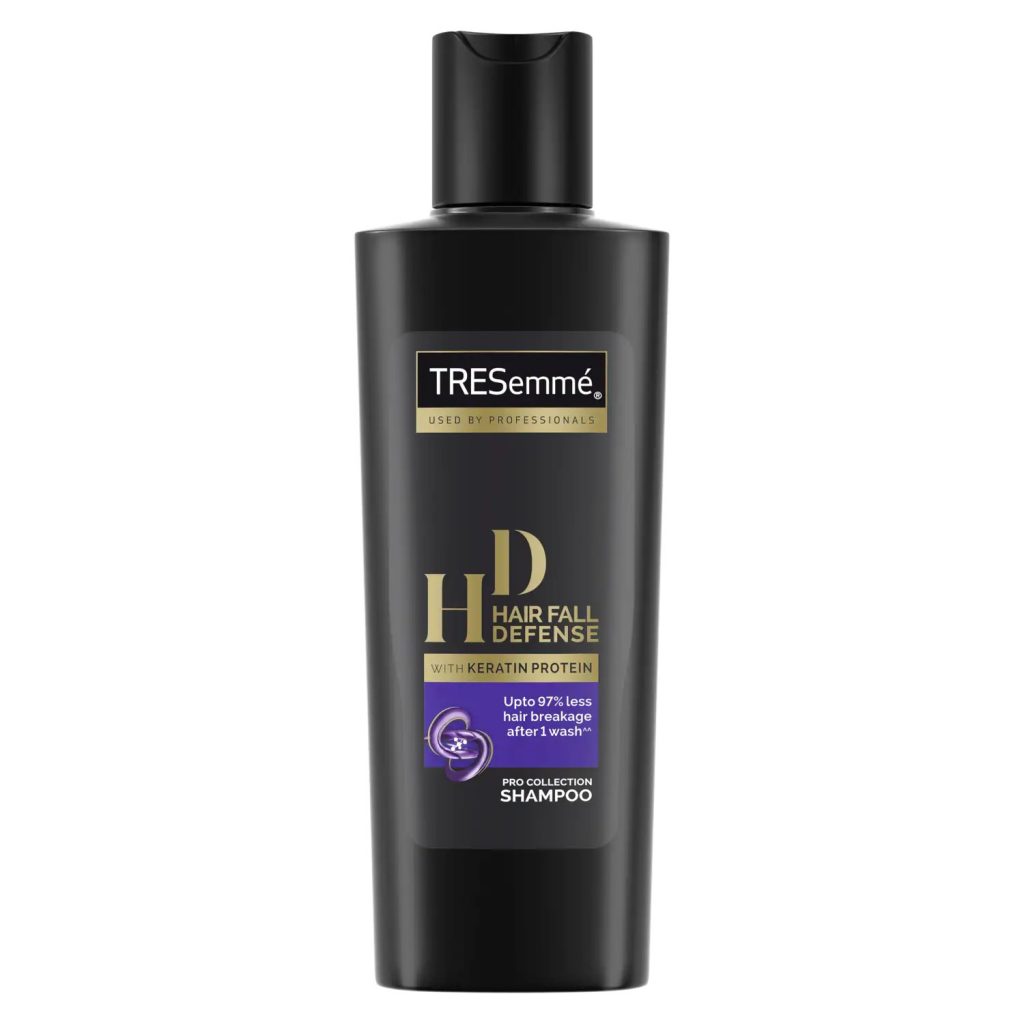 L'Oreal Paris Fall Resist 3x Anti Hair-Fall Shampoo
The best hair product for dry and brittle hair is Loreal Fall Repair 3x Anti Hair Fall Shampoo. The shampoo is priced reasonably and is available at many general stores. In addition, the shampoo's formula delivers a triple anti-hair fall action which means that it quickly detangles your hair making it more resistant from root to tip.
Ayurvedic Shampoo
Himalaya Herbals Protein Shampoo Repair And Regeneration
The Himalayas offer 100% natural and safe products worldwide. These products are made keeping in mind the great science of Ayurveda. This is why these products are a worldwide favourite. The shampoo is known for protecting hair damage from heat and chemical treatments, which helps decrease hair fall. These products are generally priced moderately and are available off the counter.
Luxury Hair Care
Kérastase Genesis Anti Hair Fall Shampoo
Anti-hair-fall fortifying Kerastase is a luxury shampoo deemed fit for weakened hair, prone to falling due to breakage. The formula of the shampoo is created to gently clarify and reinforce fibre to reduce the risk of hair fall due to breakage while maintaining a healthy environment for hair to flourish. The shampoo is available in leading salons in Pakistan and some online sites only.
Label.m Thickening Shampoo by Tony & Guy
Label.m Thickening Shampoo is available at Tony & Guy only and can be ordered online from their website. The thickening shampoo is a volume-building, gentle cleansing shampoo for any hair type. The formula is prepared with the exclusive NRG Complex™ and Time-Release Technology for long-lasting body and lift.
The shampoo may be a little heavy on your pocket, but it creates instantly thicker hair from root to tip with long-lasting results. In addition, the shampoo strengthens and protects hair while promoting growth to leave hair looking healthier, repaired and full of luxurious body.
Health & Fitness Tips For All Brides-To-Be. Read the full story here:
Wedding season's around the corner, and we're pretty sure all of the brides-to-be are stressing over their wedding preparations, including their outfits, venue, and decorations. Unfortunately, however, a lot of girls miss out on the fact that how important it is to focus on their health before the wedding as well.
Have something to add? Let us know in the comment section below.
For more news and updates, stay tuned to Wow 360.