The famous café named Coffee Wagera, that opened its first branch in 2018, has lately opened its outlet at Maskan, Gulshan and has recently caught the attention of a lot of ladies on social media.
The Maskan outlet has a 'women empowerment discount' going on for any female who rides a bike and shows up on it at their café! Isn't that amazing.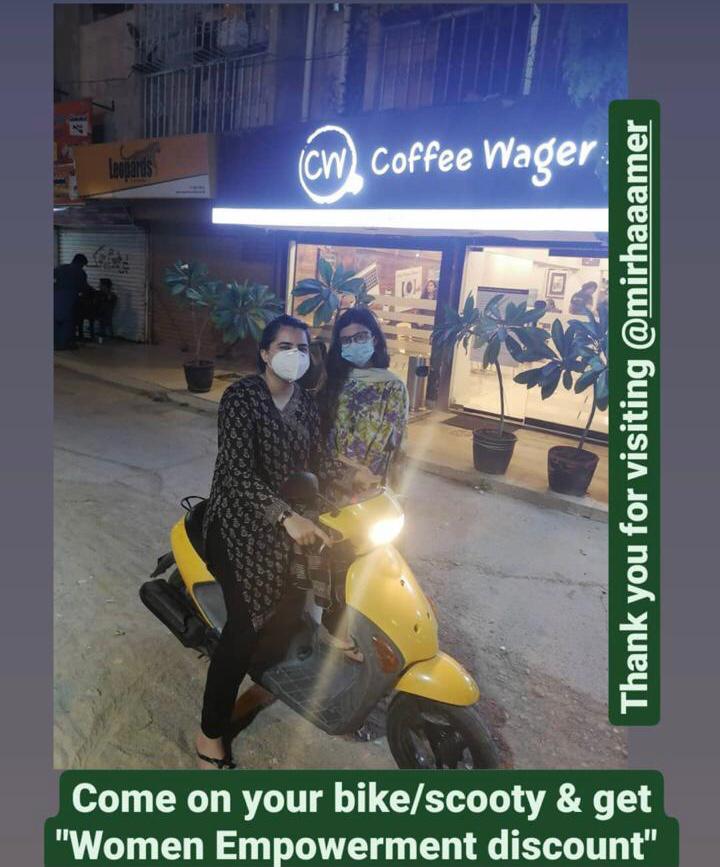 In a country where women get harassed on the road while riding their bikes- where it requires loads of courage for females to even get out on the roads on a bike or a scooty, knowing how they'll be judged and how men will ogle and stare, this is an encouraging move that'll motivate women. It's a great way to let them know how they are an inspiration for so many women out there.
So if you are a lady and own a bike, head to the Coffee Wagera maskan branch on your two-wheeler and don't miss out on this opportunity of enjoying freshly brewed cup of amazing coffee in the cozy ambience of coffee wagera. 
The best part about the menu at Coffee wagera is that all the savories and snacks are homemade, by women entrepreneurs who want to set up their own catering or food delivery businesses.
The management wishes to support these women achieve their dreams which is why their food is stocked at the cafe, and once a month there is a brunch, called Brunch Wagera, where 10 chefs are selected to come and sell their food items.
Mush Panjwani has been a sales, marketing and training expert for over 30 years who has worked with corporates, leaders and entrepreneurs in 20 countries. Mush launched Coffee Wagera on 1st April 2018, with a dream of opening five outlets in Karachi and 20 across Pakistan within five years.
If you are tired of working from home, or just want to relax and have a cup of coffee while perusing your emails, or want to catch up on your reading without being stared at in random cafes- if you are done with ordering expensive food items merely to justify your sitting alone and working, this place is for you!
This is what cafes should be like in Karachi. Friendly service, relaxed ambiance, great coffee, and totally female friendly who aim to not only let them have a safe and secure co-working space to finish their assignment or work, but also uplift them, encourage and motivate their passion. Maybe more cafes should learn from them too. The coffee culture isn't only for the elite, it's for the common man. And everyone should have the right to enjoy it, freely.
Have something to add to this story? Share in comments below.
Stay tuned for more interesting articles and updates.