doctHERs  is digitally transforming healthcare infrastructure in Pakistan by launching its "First Rural Telepharmacy" In Pakistan.
 It is all set to integrate female pharmacists into the telemedicine healthcare delivery system. This continuity of care model will enable a more coordinated care approach to healthcare.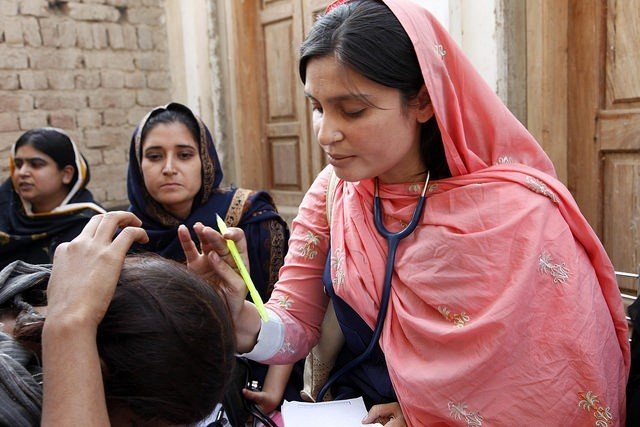 The service will offer access to authentic, quality assured medicines in majority of the underserved rural areas of Pakistan. As of today, to meet the healthcare demands of an emerging economy of nearly 220 million with 65% of rural population, it is paramount for Pakistan to strengthen and build the capacity of digital healthcare solutions.
Watch video below:
Chief Pharmacist at doctHERs and Global Gender Equity Lead at International Pharmaceutical Federation (FIP) Nadia Bukhari expressed her views about the project. She says,
With an objective to create awareness about the role of the pharmacist in the healthcare system and to highlight the importance of drug experts in patient safety, Project Transform focuses on the rural community having access to quality patient care and preventing the use of substandard and falsified medicines. We will be providing easy access to essential medicines.
Celebrating World Pharmacist Day with the theme of Transforming Global Pharmacy, she emphasized on the crucial role of engaging the under-utilized pool of female pharmacists within the health workforce. Nadia further endorsed the cause and said:
As pharmacists we are the experts in medicines, and we are trained to deliver services such as safe use of medicines and medicine management.  At doctHERs we are expanding the role of the pharmacist by engaging them in a seamless virtually integrated e-health system. This will in turn generate more patient health awareness and better drug adherence by bridging gaps within the primary care setting.
Poor quality drugs and medicine supply shortages are recognized as crucial barriers in distributing essential medicines in the public domain. This initiative is to escalate this role to the district level for mass public assistance. Our contribution is for a greater spread of telepharmacy services in the maximum benefit of communities and our own people." Bukhari further added.
Dr. Asher Hasan, Founder and Executive Chairman at DoctHERs and Naya Jeevan had the following to say:
First phase of this model will cater the patient pool from 8 districts of KPK, Punjab and Sind. Our locally hired female frontline health workers (FHWs) trained/equipped with 4G-tablets will connect health-seekers to our network of remotely located, licensed female doctors and female pharmacists across Pakistan. Over the next 6-8 months, these FHWs will provide their communities with access to essential medicines, health & hygiene supplies, monitored, regulated and dispensed by online female pharmacists in real-time.
Delivering quality healthcare to masses can be incredibly challenging, as the scarcity of healthcare professionals particularly pharmacists, is a substantial hurdle for healthcare institutions in Pakistan.
The use of technology and bringing telepharmacy in existence can be a promising and viable opportunity to prevail over these obstacles. Transforming this vision into reality requires highly skilled pharmacists who can become a part of this global digital innovation Pakistan.
doctHERs is a novel healthcare marketplace reintegrates female healthcare providers (HCPs) who have been excluded from the workforce by using a digital health platform that connects remotely-located female doctors, pharmacists, nurses and health workers to health consumers in need via trusted intermediaries.
Also read:
doctHERs: Asia's First Ever Digital Health Venture to be Selected for Fortune 500's Impact 20 List
Stay tuned for more interesting articles and updates!