When they say talent runs in blood, there's no doubt about the fact that it can be passed onto your children and their future generation. Pakistan's martial arts expert from Karachi Muhammad Rashid holds over 50 records and has trained his seven year old daughter Fatima Naseem well enough to break a record as well. 
Considering her age, Fatima has all that it takes to reach the Guinness World Record, she is determined, confident and trained just the right way to achieve her goals, which she did.
This year, Fatima Naseem fulfilled her dream by breaking the record for the most full contact elbow strikes in just one minute, using her alternate elbows with an exceptional 242 on August 16 2020.  What has the entire world amazed is her just being seven years old to achieve such an astounding target. Such an impressive achievement and a proud moment for the parents.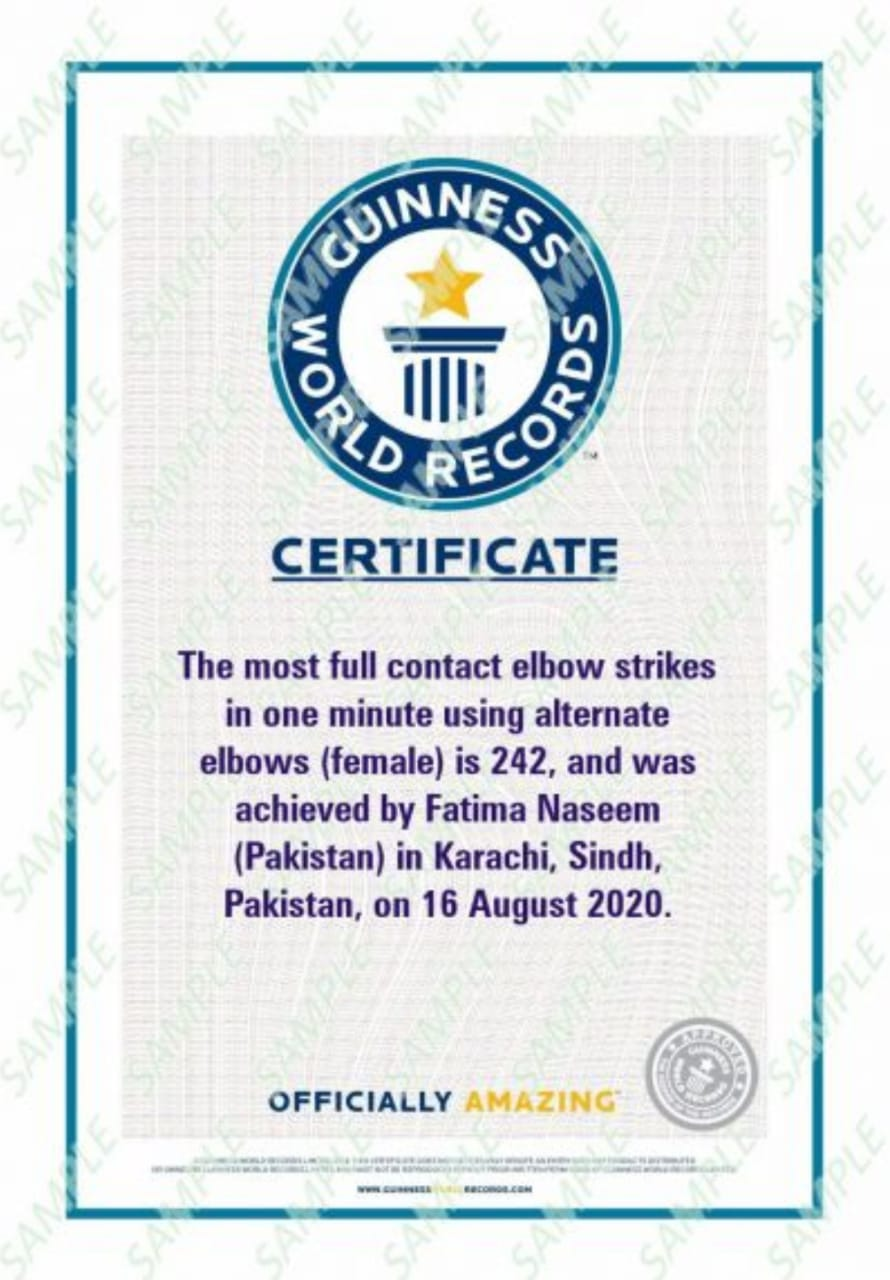 However, Muhammad Rashid doesn't just train her daughter.
The black belt holder is the president and founder of the Pakistan Academy of Martial Arts.  Under his training, many of his students have now become record holders. After breaking 50 records, Muhammad Rashid's energy is unstoppable and he is now on his way to to startle us with his astonishing talent even more. He says he'll complete the benchmark of breaking 100 Guinness World Records in the future.
He also went on an Italian television show Lo Show Dei Record to break his own record and achieving 61.
Most of his smashing records include:
most watermelons crushed with the head in 30 seconds (49)
most drinks cans crushed with the elbow in one minute (77)
most walnuts crushed by the hand in one minute (284)
most spins of a fire staff in one minute (188) – yes, he can spin as well as smash!
most drinks cans crushed with the elbow in one minute (77)
Muhammad Rashid also holds several records using a Bo staff and nunchaku, both are traditional martial arts weapons.
The martial arts expert's record-breaking journey began in the year 2013 when he  first broke the record for the most bottle caps removed with the head in just 1 minute at the Punjab Youth Sports Festival in Lahore, Pakistan.
Have something to add to this story? Share your comments below.
Stay tuned for more interesting articles and updates!