Pictures of a nine-year-old Balochi girl, surfing on the waves in Chahbahar are making rounds on social media and winning people's hearts.
The name of the girl has not been identified yet, but the fearless way she is skateboarding and surfing the sea is commendable and praiseworthy. This is just another example of how uniquely talented Pakistanis are, but they are highly underrated and hardly ever never brought to the limelight.
It's so encouraging to see a young girl showcasing an athletic skill so beautifully and enjoying her heart out!
Have a look at her pictures below:
Social media is a strange and a wonderful thing! So many people gain instant popularity by posting a few pictures online. The parents of this young girl would not have imagined their child gaining such fan following in just a few days. 
We hope this child gains the local media attention soon so that the world knows her name and becomes aware of her talent, like other similar child surfing prodigy internationally.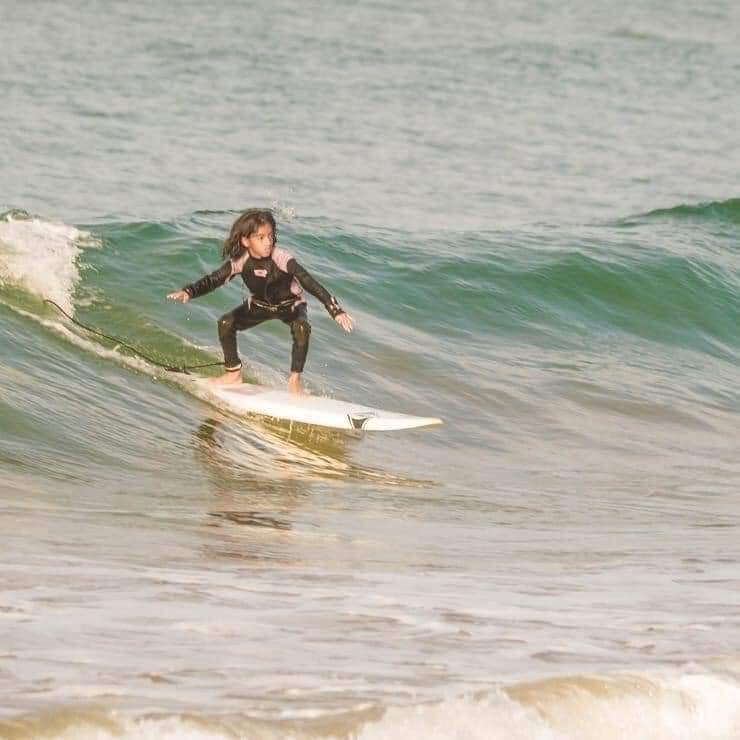 Once her pictures went viral on social media, netizens could not stop lauding the little surfer
A nine year old Baloch girl surfing & skateboarding on Waves. 💓💛💚 It would be a huge shame, if we didn't tap & harness this raw & sheer talent!

Posted by WOMEN Sports on Monday, July 6, 2020
A 9-year old Baloch girl surfing & skateboarding on waves 🌊 #BeautifulPakistan
Via Stephen Manuel pic.twitter.com/MdV5bsPbew

— Danyal Gilani (@DanyalGilani) July 6, 2020
PAKISTAN ZINDABAD: 9 year old Baloch girl Surfing And Skateboarding prodigy with waves battles in Chahbahar 😍

PC: Online#Skateboarding #Surfing #Balochistan #Pakistan pic.twitter.com/D4By81Lwn2

— Khel Shel (@khelshel) July 6, 2020
Some of the Twtteratis wished her to represent Pakistan worldwide
She is nine years old Baloch girl spotted sprinting through waves at a local beach. Hope she makes to the World Surf League someday. InshaAllah… More power to her 🙌
🇵🇰🇵🇰🇵🇰🇵🇰🇵🇰😍😍😍😍 pic.twitter.com/pxjymqHchL

— گوھرعلی 🤴✍👉 (@GoharSpeaks) July 6, 2020
Nine year Baloch girl spotted sprinting through waves at a local beach. At least I've never seen anyone surfing in Pakistan. Have you? Little champ. Never ever stop. Keep pushing till you make it to World Surf League someday. InshaAllah! pic.twitter.com/s7cpfT9nLO

— Ali (@AleyFarooq_) July 6, 2020
Women sports in Pakistan is still underdeveloped. Girls in are society are encouraged to either learn to cook and get married at an early age, or study hard and join fields like medicine, business arts or engineering; but it takes true support from family and parents to polish raw athletic talent. We wish this girl all the best and hope she becomes a surfing prodigy, recognized globally.
Surfing is a difficult skill and only a few have mastered the art, let alone females and young girls. Nine years is a very young age, and if the girl has talent, she can soon become a surfing sensation, provided her skills are polished by professional trainers, starting now.
This young and gifted child will be the first hailing from Pakistan, showcasing such amazing talent.
A famous kid known as a surfing prodigy is a fearless first grader Steve Roberson who has been riding waves since he was just 2 years old. Watch this video report by ABC News below to know more about him!
Here is more power to this girl!
What do you think of this news? Comment below and let us know.
Stay tuned for more interesting news and updates!