Singer Taher Shah has announced his debut Hollywood movie titled 'Eye to Eye', which serves as a tribute to his popular debut song released a decade ago. The film, based on the theme of eternal love, is set to begin shooting soon, with the release date yet to be disclosed.
Taher Shah is taking on multiple roles in the movie, including lead actor, musician, scriptwriter, and director. He has described this as the beginning of a new era in his career.
Filming will take place in Canada, America, and the UAE, with the first phase scheduled in Canada. The movie will be released in both Urdu and English languages.
---
---
Singer Taher Shah has created quite the buzz after announcing a comeback earlier on during the week, fans and followers had been anxiously waiting for him to reveal what his new project will be and finally, the secret is out! Taher Shah has just announced a brand new Hollywood movie!
Yes, you heard that right, while we were expecting another song along the lines of Angel or Farishta, Shah has revealed he is all set to release a Hollywood film titled, 'Eye to Eye', a tribute to his debut song released a decade ago.
The film is said to be based on the story of eternal love and is all set for shooting to begin soon. The release date for the film is yet to be announced.
More About Taher Shah's Hollywood Movie, 'Eye to Eye'
Taher Shah is a multitalented artist and has taken on various roles for his debut film which is also produced by his own production house, Eye to Eye Ltd. The film's dialogue, screenplay, script, and music have been written by himself and he will be featured as the lead actor and musician too.
Shah also decided he will be directing the film after facing difficulties during covid19 – talk about a one-man show! The movie, however, will also showcase some fresh faces from Canada, America and UAE. In the statement issued on Twitter by his management team, Shah also mentions that the movie will be filmed in Canada, America and UAE.
The first phase of shooting will begin in Canada and the movie will cater to audiences in Urdu and English. The phrase go big or go home definitely applies perfectly to Shah!
Taher Shah Issues Statement Announcing Debut Hollywood Movie
In a statement posted over social media, Taher Shah gives a detailed statement on the upcoming film which he believes is the beginning of a new era. While the song 'Eye to Eye' broke multiple records in Pakistan and across the world, we are yet to see how his debut Hollywood movie does at the box office.
Read the complete statement here: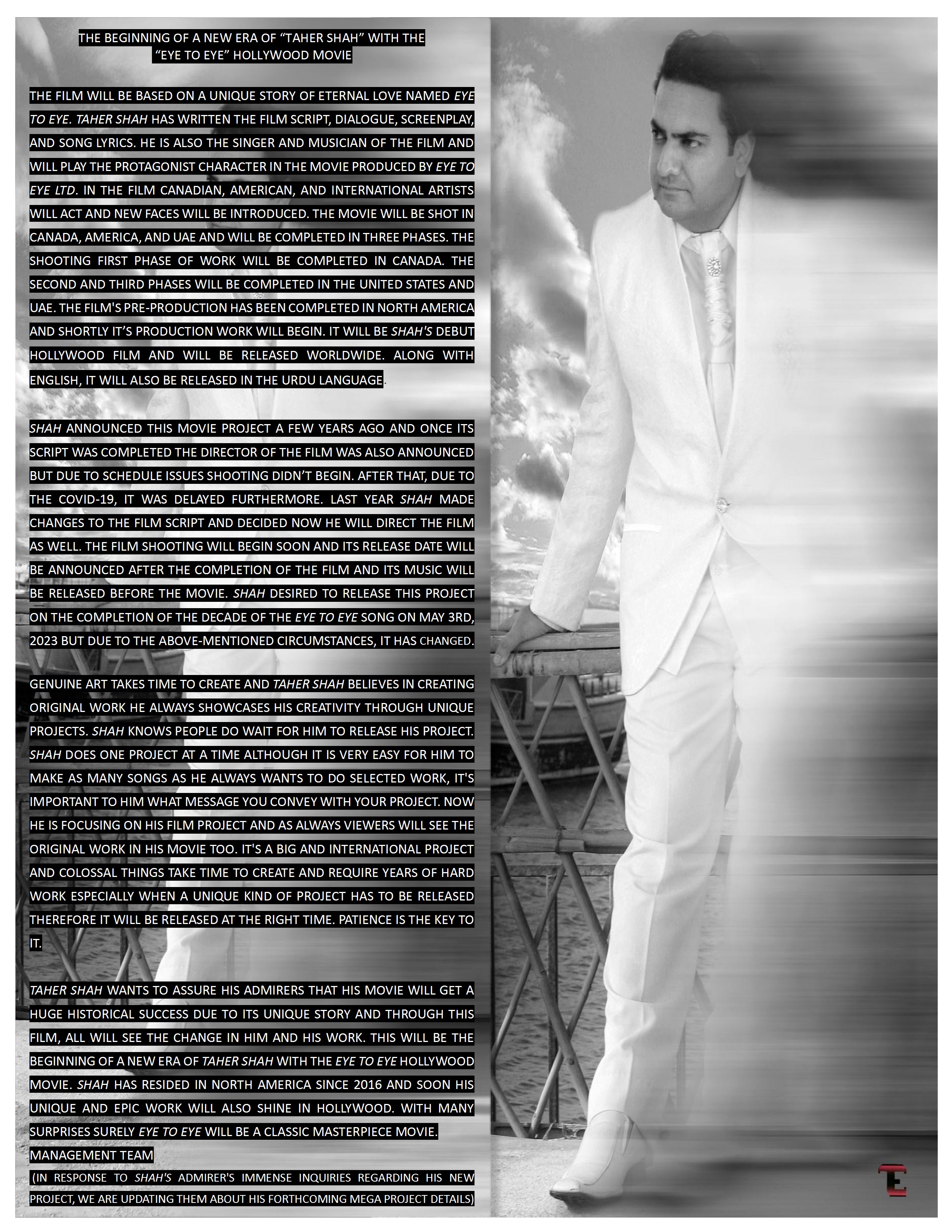 The sensational Taher Shah's musical comeback has left netizens buzzing with excitement, his management took to Twitter to announce what seems like his musical comeback after a long hiatus.
The upcoming project is possibly going to be released on the 10th of June ushering in the musical artist's much-awaited return to the music scene. The news has sent a wave of curiosity amongst fans and followers of the musician and netizens are looking forward to Shah's latest masterpiece.
Taher Shah gained global fame and recognition after his song 'Eye to Eye' broke records across the world in 2013. Not only Pakistan but he gained fans across the border in India too. Apart from the lyrics, the music video for Mankind's Angel has its own fanbase.
Taher Shah took to Twitter on Sunday and shared a tweet signalling a new song, while the singer did not share any further details, the conspicuous tweet left followers buzzing with excitement.
THE BEGINNING OF A NEW ERA OF TAHER SHAH…
Project update 10-06-2023
Management team

"EYE TO EYE" SONG VIDEO (2013)
(The song is about expressing and conveying feelings of love eye to eye) https://t.co/vIa7ZIgbBe

"ANGEL" SONG VIDEO (2016)
(The beauty of life is love hence all… pic.twitter.com/QP0WS4tEOj

— TAHER SHAH (@TaherShahh) June 3, 2023
The tweet shared by the artist's management mentions the new song to be the 'beginning of a new era' and includes details of all his previous songs and the date of their release. Shah's music journey started off from Eye to Eye which was released in 2013, followed by Angel in 2016. He further continued with another soulful video on Humanity Love in 2016 and the last song released was Farishta in 2020 which was based on children as angels of the earth.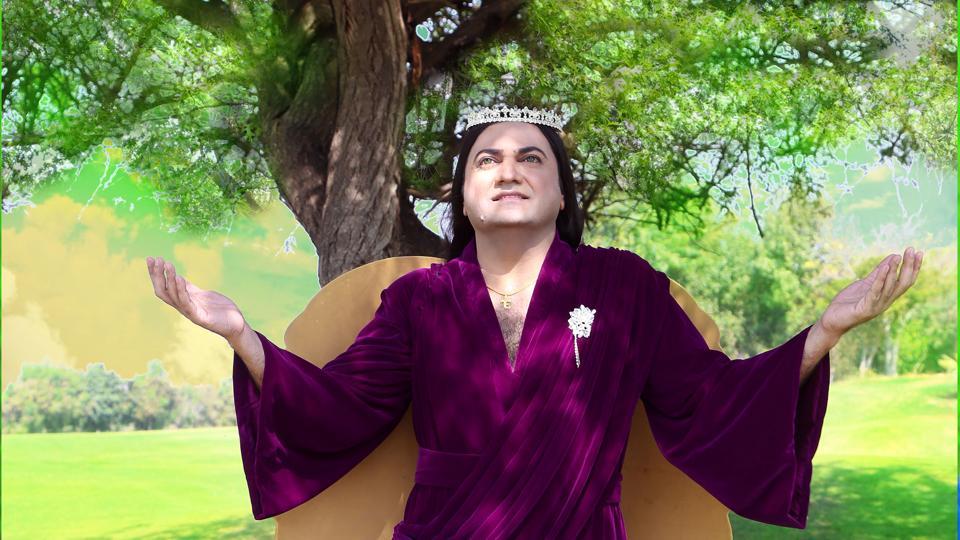 Shah's devoted followers are filled with anticipation as they await the unveiling of his latest project, eager to know more about the upcoming release. The enigmatic nature of the announcement has piqued the curiosity of fans, giving rise to various speculations about what the project might entail.
While some may find his songs unpleasant, others have enjoyed his music and he has gained massive popularity with each music video that has been released. Shah's songs are known to have a distinct message of love, humanity and peace. He is known to share his unique philosophies and views with the audience through each masterpiece.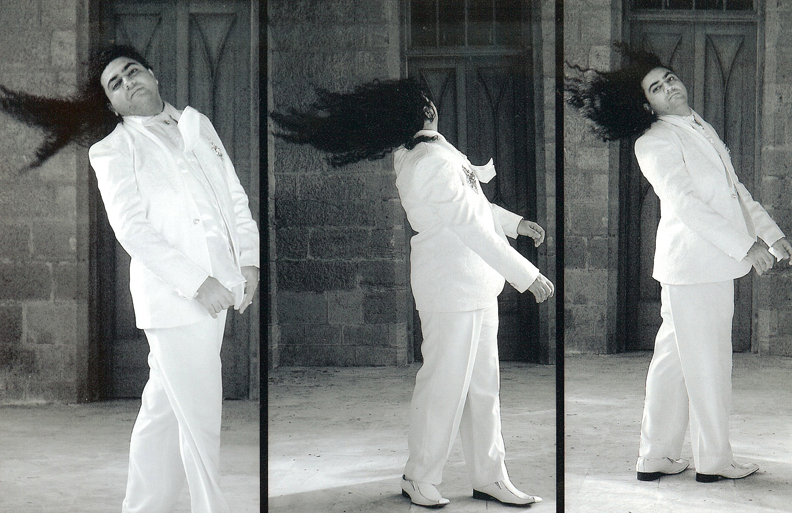 While Taher Shah has been missing in action from the music scene, Bollywood singer Jubin Nutiyal's latest song Mast Ankhain by music label T- Series was said to be highly inspired by the classic Eye to Eye by Taher Shah.
Indian composer Mayur Jumani highlighted the issue in a video uploaded to his social media accounts. Looking at the comments, it would seem like Mayur was right in his findings as the majority of the audience agreed with his claim.
Are you looking forward to Taher Shah's musical comeback? Let us know in the comments below.
Follow  WOW 360 for further news and updates.