The on-screen chemistry between Yumna Zaidi and Wahaj Ali in the drama serial "Tere Bin" has captivated audiences, leading to a strong fan following for the duo, known as YumHaj.
A fan-fight has erupted between Yumna and Wahaj's fandoms as the show reaches its climax. Yumna's fans have blamed Wahaj for the declining storyline, while Wahaj's fans have accused Yumna's fans of promoting her at the expense of other actors.
A real-life clash between Yumna and Wahaj occurred on the set of "Tere Bin" during the filming of a specific scene, resulting in a heated dispute.
---
---
The latest hit-jodi gracing our television screens, Yumna Zaidi and Wahaj Ali have had netizens hooked on with their electrifying chemistry and on-screen rapport since the first episode of drama serial Tere Bin. The YumHaj trend and Meerasim hashtag has taken over twitter every week when the new episodes have released. Playing Meerub and Murtasim in the drama, Tere Bin has grabbed eyeballs across the world, raking in tremendous views and TRP's on every episode.
The show has been a blockbuster hit but has had quite the bump after the 47th episode aired on television. While Yumna and Wahaj have always being in the news for their on-screen presence and performance, this time around a fight seems to have broken out between Yumna Zaidi and Wahaj Ali fans, the two stars have a cult following as YumHaj but also have separate fandoms that share their love for them via social media outlets, Instagram and twitter.
A Fan-Fight between Yumna and Wahaj Breaks Out
With the last episode airing tomorrow, 6th July, Wahaj and Yumna fandoms have been actively tweeting their opinions. While doing so, a fight seems to have broken out between the two fandoms where Yumna fans have blamed Wahaj for bringing down Tere Bin's storyline as it lost its charm. Some fans say Wahaj's PR has been working against Yumna while other fans advised her not to sign any season 2 of the show with Wahaj or any further projects with him.
On the other hand, Wahaj's fans got angry on Yumna fans and there was quite the uproar on social media with both sides coming at each other. Wahaj fans blamed Yumna's fans on promoting Yumna under the guise of Wahaj and also blamed them for bringing down Bilal Abbas during drama, Pyaar Ke Sadqay.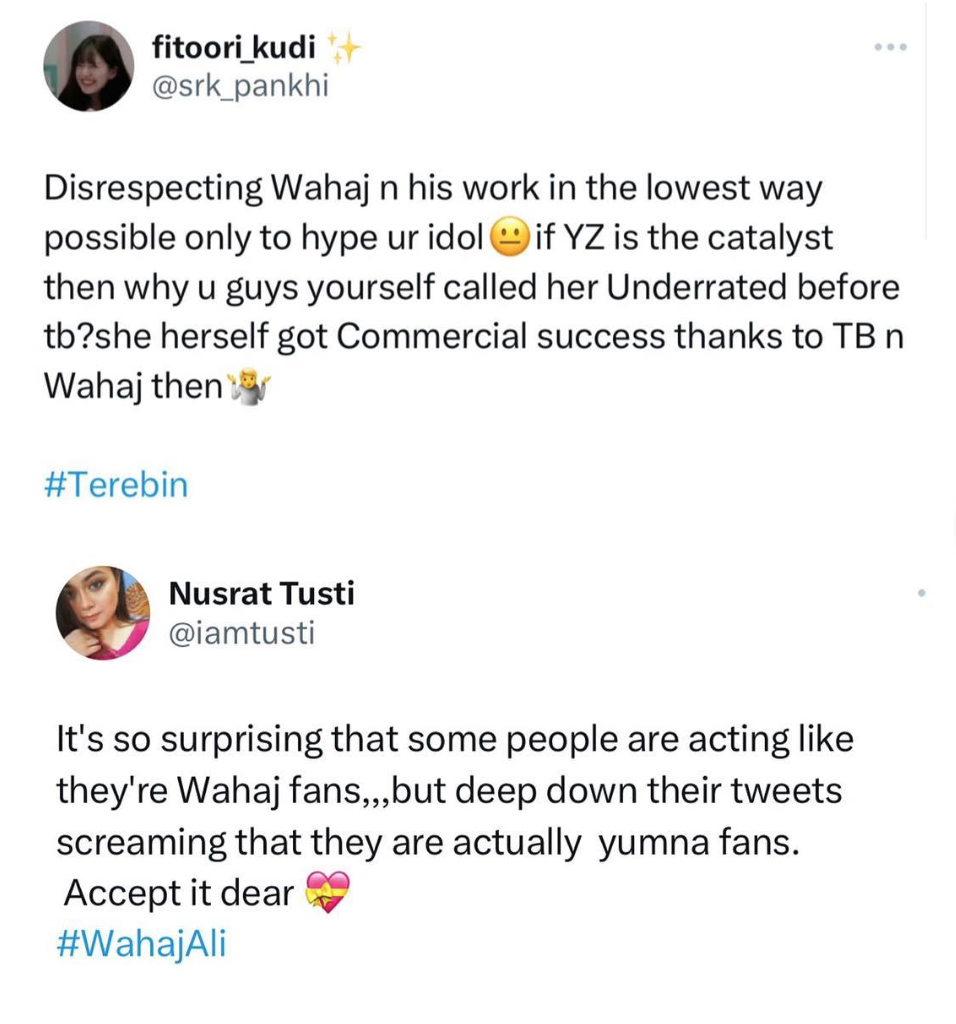 Yumna Zaidi and Wahaj Ali's Real- Life Clash!
While it has always been reported that the two stars have always shared a cordial relationship, a recent interview shared by a fellow cast member from Tere Bin shed light on a clash that took place on the sets between Wahaj Ali and Yumna Zaidi. Tensions escalated during the filming of a specific scene, resulting in a heated dispute between the two actors.
Yumna is renowned for her commitment to her craft and favours shedding authentic tears rather than depending on artificial methods for emotional scenes. In this particular scene being filmed, she faced difficulties in delivering her lines due to the unease provoked by Wahaj Ali's acting. As the scene took too long to shoot, the continuous weeping took a toll on Zaidi, heightening the conflict between the two. The conflict was then resolved after Wahaj spoke about a medical predicament that was causing him back pain. The two actors resolved the issue and re-shot the scene showing the professionalism in their work.
Follow WOW360 for all the latest news and updates.