The PSL anthem 2021 came out just recently featuring Naseebo Lal, Aima Baig, and Young Stunners. Very quickly, the song, 'Groove Mera' came under fire for odd reasons. While many were appreciating the song, some also expressed their disapproval.  Pakistani cricketer, Shoaib Akhtar posted a review of the song, where he wasn't giving out his constructive criticism but personally attacking artists involved in the song.
He said on Twitter:
Really disappointed by the anthem this year. Is this how you're taking PSL brand up? Going down every year. Kon banata hai yeh.

Full review: https://t.co/WozlCcSSrg#psl6anthem #PSL6 pic.twitter.com/zfcQrNvruu

— Shoaib Akhtar (@shoaib100mph) February 10, 2021
If you are curious what Akhtar said exactly,  watch the full review here:
"Aren't you ashamed?" he asked the makers of the song. "My kid hasn't spoken in three days because of this song. The people who sang this song have no idea what groove even means."
Anoushay Ashraf and Farhan Saeed, two celebrities from the industry, pointed out how this was purely in "bad taste" and "a stupid opinion".  Everyone is allowed to criticise, only if the criticism is creative and doesn't attack people involved. This was indeed a low blow coming from someone like Shoaib Akhtar.
"Oh dear, this is in bad taste. One thing to not like a song, another thing to run down artists, musicians this way," she commented on Akhtar's video."Big fan of Shoaib Akhtar but not the way he's bashing the new anthem. Some people, including many of your friends, fans and family, like the track. Difference of opinion is welcome, degrading someone's work isn't. Don't like the track, cool. Hating on it this way? Not cool."
A stupid opinion indeed!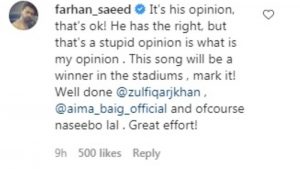 Even Twitter Users Were Mad at Him:
itni protest harasser ke gaanay pe kardete toh thorda sawaab kamaa lete

— Mehar (@curlistani) February 11, 2021
People emphasised that Ali Zafar was History. We need to move on and embrace the future.
Naseebo Laal is a legend! The song is amazing, Ali Zafar us history, get over his song now & while you're doing that, get a life!

— Mustafa T. Wynne (@mustafa_wynne) February 10, 2021
Some questioned his quintessential existence.
Tumhayn itni chawal existence pe sharam naheen aati

— Sabahat Zakariya (@sabizak) February 11, 2021
lmaooo this is such an entitled headass criticism of the song, if one can even call it a criticism🙄. cricket and cricket culture don't belong only to you. it's time to move over and make space for others. naseebo lal is amazing, and her style is straight fire🔥

— ☁️ (@mspaintbox) February 11, 2021
True! Not cool at all
Degrading and insulting someone's work isn't cool Shoaib Akhtar……..🐐
Shame on u……😠 pic.twitter.com/Eeyshi5Clm

— کراچی والی (@Karachi__Wali) February 11, 2021
Straight up a "Ridiculous Review"
Ridiculous review.

You know what most ppl have a problem with? A mature lady ruling the song over young ones. It's the ageist attitude that's speaking loud, not to forget our need to mock those who can't pronounce certain English words well.

Loved Naseebo Lal.Don't diss her pls

— Maria Sartaj (@MariaSartaj) February 10, 2021
Some suggested Akhtar should grow up!
English lessons may be? For your benefit here is one of the meanings of Groove " dance or listen to popular or jazz music." It's a brilliant song catering to three different audiences , job very well done . U just can't take it that your friend didn't get a gig . Grow up man

— AzharMeo (@AzharMeo) February 10, 2021
Have something to add? Let us know in the comment section below.
For more news and updates, stay tuned to Wow 360.