Did you know that Queen Elizabeth II ruled Pakistan for 4 years? In 1952, she was crowned queen of 7 countries and dubbed Pakistan as 'one of the powers in the world of Islam'.
The British Royalty visited Pakistan twice throughout her lifetime, once in 1961 and once in 1997, according to the official website of the Monarchy.
She visited Karachi, Quetta, Peshawar, Lahore and the northern areas in 1961 with her husband Prince Phillip for 2 weeks. In her honor, Pakistan staged a torchlight tattoo and fireworks as per The Guardian.
The British media house had added: "Into the blackness of the huge stadium a set piece of firework display burst into light to open the tattoo: 500 men in white uniforms, each bearing two flaming torches, marched, counter-marched, moved in intricate formations, and built up patterns and shapes so that at one moment the darkness was alight with flaming centipedes and the next with blazing birthday cakes. Lahore has certainly provided a full weekend for the Queen and Prince Philip, and both the Queen's love for horses and her husband's interest in polo have been remembered."
August 1974. Queen Elizabeth II is introduced to Imran Khan by his captain Intikhab Alam #Pakistan #Cricket pic.twitter.com/r3N8hhz6EM

— Saj Sadiq (@SajSadiqCricket) October 17, 2014
#FromArchive Queen Elizabeth II meeting Pakistani Cricketers in Rawalpindi. This is @AzharMahmood11's debut test 1997 pic.twitter.com/4pu78PSxSv

— Faizan Lakhani (@faizanlakhani) April 27, 2014
During her 1997 trip, she used drove through the street of Lahore in a vintage 1984 Black Rolls Royce (LXQ 2200), owned by the Ex-Punjab Governor, Makhdoom Syed Ahmad Mahmood and used an address to the parliament in Islamabad to call on Pakistan and India to settle their differences. it is reported that the British Monarch visited the famous Faisal Mosque.
#GoodOldDays Queen Elizabeth II visiting Karachi, 1961. #Pakistan #Karachi #Archives pic.twitter.com/gMng476SGj

— Faizan Lakhani (@faizanlakhani) April 7, 2015
On October 8, 1997, another eminent British newspaper, The Independent had reported: "Accompanied by the Duke of Edinburgh, she visited the grand Faisal Mosque and, in keeping with Islamic traditions, she draped a scarf over her head and took off her shoes before entering the white marble building."
Pakistan is part of The Commonwealth and Their Royal Highnesses will meet people from all walks of life. Her Majesty The Queen first visited the country in 1961 and again in 1997. pic.twitter.com/NMmx8jkLnw

— The Royal Family (@RoyalFamily) October 14, 2019
The royal visit marks the 50th anniversary of Pakistan's independence from Britain. The Queen will stay in the country for six days — visiting Karachi and the resort area of Murree, where the British elite went to escape the sweltering summers during British rule — before heading to India. Today, she will meet Premier Nawaz Sharif and former Prime Minister Benazir Bhutto, an event which has created considerable controversy as relations between the two adversaries are at an all-time low."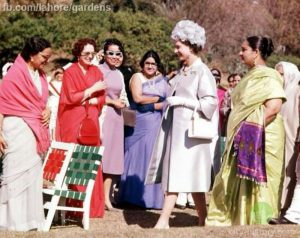 What do you think about her iconic visits?
Stay tuned to WOW360.