Update: Dania Malik asks police to give her permission and security to attend Aamir Liaquat's funeral rites.
---
---
Update: 
According to sources, the police have written to Chippa welfare association to hand over Aamir Liaquat's body to the officers from the Brigade police station in Karachi.
Moreover, the letter mentions that legal action would be taken against the organization if the body is handed over to anyone asides from the said officers.
The police added that the police wishes to continue with an autopsy as he had passed under mysterious circumstances, moreover, the family has now agreed to move forward with the request.
---
---
Update:
Aamir Liaquat's funeral prayers are to be held today in Karachi. His first wife shares that their children have refused for an autopsy to be performed on his body.
#AamirLiaquat pic.twitter.com/a7ZGA8uHLw

— Dr Bushra Iqbal🇵🇰 (@DrBushraIqbal) June 9, 2022
---
---
Update: Dania's mother Bushra Bibi reveals that almost a week prior to his death, Liaquat had reached out to the family in hopes of improving ties.
As per her statement, he said " I want to come and apologise to everyone. Send my wife Dania back to my house."
Moreover, she shared "just 3 days back he sent an emotional 'I love you' message to Dania and was planning to visit Lodhran in a couple of days."
---
---
Update: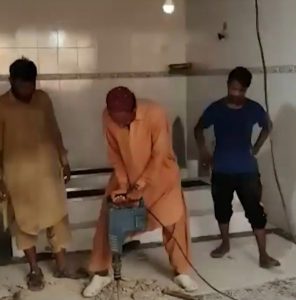 Aamir Liaquat had booked 5 graves in the graveyard on Abdullah Shah Ghazi shrine's compound in 2007 according to the assistant manager and focal person Punnu Khan.
---
Update:
Aamir Liaquat's third wife Dania Malik opens up about receiving the news of her husband's death through social media. She also shared clips from her Nikkah with the deceased Aamir Liaquat Hussain.
---
---
---
Update:
Aamir Liaquat's first wife, daughter and son arrive at his residence.
---
---
Update: 
According to sources, Liaquat's door was locked from the inside, his staffers tried to knock on the door, but received no response. The staffers added that the anchor wasn't feeling well the night before and had complained of chest pains.
Furthermore, it is being reported that his driver had heard a scream coming from his room a day before.
---
---
In a shocking turn of events, Pakistan Tehreek-e-Insaaf MNA Aamir Liaquat Hussain who went by Aamir Liaquat passed away at 49.
He was found unresponsive at his house and was rushed to Aga Khan Hospital immediately in critical condition where they couldn't resuscitate him as per a source.
The police officer shared that the initial reports indicate there was no foul play behind his demise. However, he added that a post-mortem examination of the politician will be conducted at the Jinnah Postgraduate Medical Centre (JPMC).
On the other hand, it was reported that National Assembly Speaker Raja Pervaiz Ashraf had adjourned the session after news of the MNA's death. Aamir Liaquat had joined PTI in 2018 and was elected as the MNA the following year but had a falling out with the party.
Recently, he was in the spotlight after a private video of Liaquat had been leaked on social media, he had tweeted that he will 'leave Pakistan'.  He tweeted:
After a while will release my last statement regarding the filthy fiasco from the land of Pakistan and then leave forever.
After a while will release my last statement regarding the filthy fiasco from the land of Pakistan and then leave forever. #aamirliaquat#allahhafizpakistan#regrettobekind pic.twitter.com/HCEz1AucXW

— Aamir Liaquat Husain (@AamirLiaquat) May 14, 2022
Aamir Liaquat Hussain was a Pakistani politician, columnist, television host and comedian. He was one of the most successful hosts working in the media industry for over a decade. He was most famous for his show titled Aalim Online.
He had been listed three times in The 500 influential Muslims worldwide and was among 100 popular personalities of Pakistan.
Social Media Reacts to News of Aamir Liaquat's Death
Here's how social media reacted to the news of Liaquat's demise:
The official account for the President of Pakistan wrote, "The President expressed sympathy and patience towards the family of the deceased," in an official tweet.
صدر مملکت ڈاکٹر عارف علوی کا ممبر قومی اسمبلی عامر لیاقت حسین کی ناگہانی موت پر اظہار افسوس

صدر مملکت کی مرحوم کیلئے دعائے مغفرت، بلندی درجات کی دعا

صدرمملکت کا مرحوم کے اہل خانہ سے اظہار ہمدردی اور صبر جمیل کی دعا

— The President of Pakistan (@PresOfPakistan) June 9, 2022
"Dr Aamir Liaquat Hussain led a dynamic life from journalism to politics. He proved his mettle in various fields of life from writing and speech," tweeted Foreign Minister Bilawal Bhutto Zardari.
پاکستان پیپلزپارٹی کے چیئرمین اور وزیرخارجہ بلاول بھٹو زرداری کا رکن قومی اسمبلی ڈاکٹر عامر لیاقت حسین کے انتقال پر اظہار افسوس

ڈاکٹر عامر لیاقت حسین نے صحافت سے لے کر سیاست تک ایک متحرک زندگی گزاری، چیئرمین بلاول بھٹو زرداری@BBhuttoZardari

— PPP (@MediaCellPPP) June 9, 2022
Former interior minister Sheikh Rashid offered condolences to the family.
عوامی مسلم لیگ کے سربراہ اور سابق وفاقی وزیر داخلہ شیخ رشید احمد کا عامر لیاقت حسین کے انتقال پر گہرے دکھ اور رنج کا اظہار۔ اللہ تعالیٰ عامر لیاقت حسین کی مغفرت کرے اور لواحقین کو صبر جمیل عطا کرے۔

— Sheikh Rashid Ahmed (@ShkhRasheed) June 9, 2022
PTI Senator Faisal Javed Khan also offered condolences and shared prayers for the family.
اللہ تعالیٰ عامر لیاقت کی مغفرت فرمائے اور انکے خاندان اور عزیز و اقارب اور چاہنے والوں کو صبرِ جمیل عطا فرمائے آمین pic.twitter.com/h3kEp3b8Am

— Faisal Javed Khan (@FaisalJavedKhan) June 9, 2022
Politician & religious scholar Dr Aamir Liaquat Hussain has died, according to police, hospital & staff at his home. The televangelist was recently at the centre of a controversy surrounding his third marriage & accusations he used drugs. He had announced he would leave #Pakistan

— Mehreen Zahra-Malik (@mehreenzahra) June 9, 2022
When alive #AamirLiaquat hurt and insulted too many people but now since he is gone, he can't hurt anybody anymore. Those who feel hurt should forgive him and pray for him since all of us have to go one day.

— Murtaza Solangi (@murtazasolangi) June 9, 2022
Putting the controversies aside, Amir Liaquat was one of the biggest names in Pakistan's television history. A great entertainer ! This is what he posted last week…. A moment for us to realize how toxic and harmful social media can be. R.I.P #amirliaquat #AamirLiaquat pic.twitter.com/R6JCeEnqmj

— Osama Saleem (@osamaaa007) June 9, 2022
This was the last voice note @AamirLiaquat sent me at 6.32 PM yesterday.

We are all responsible for his death.

He was a victim of revenge porn, his mental state was deteriorating but we continued to bully him for our own pleasure.

🇵🇰 lost a son today. #AamirLiaquat pic.twitter.com/epnTzK0FET

— Hamza Azhar Salam (@HamzaAzhrSalam) June 9, 2022
This was the last voice note #AamirLiaquat sent to a journalist at 6.32 PM yesterday. pic.twitter.com/TfMzDzOWr2

— Irum Azeem Farooque (@Irumf) June 9, 2022
Dr Amir Liaqat Hussain died at the age of 52.#amirliaquat #amirliaqathussain #AamirLiaquat pic.twitter.com/YXlbHi9Mdk

— Shehzad Gul Hassan (@ShehzadGul89) June 9, 2022
Liaquat married thrice and has two children from his first wife Syeda Bushra Aamir.
This is a developing story.
Stay tuned.