Trends are pretty crazy and they constantly change, take the 'matka' trend for example. We all have heard about the famous 'matka chai' and even 'matka biryani' soon the trend for 'matka fries' started to make its way and now 'matka pizza' has taken over.
The 'matka pizza' trend is highly popular in Lahore, as compared to its popularity in Karachi, but it is still making waves. However, not everything belongs in a 'matka'!
While some are loving the unique taste this dish has to offer, others want restaurants, eateries, and food enthusiasts to stop experimenting with food.
Foodies are sensitive people, their sentimental values toward food have no bounds, and experimenting with classic and iconic dishes can only hurt the gut.
From strawberry samosas to samosa ice cream, chocolate pain puri to pain puri on fire, we have seen some of the most bizarre trends go viral for far too long.
Here's how social media is reacting to 'matka pizza':
Social Media Reacts to 'Matka Pizza'
Twitter user Biya Ali Zaib says that Pakistanis have now discovered 'matka' and are putting every food inside it, be it tea, coffee, biryani, or pizza!
Saad Javaid claims that Pakistanis now have a new 'matka' fetish and they now need to stop!
Almas Khan also took out their anger by asking people to stop insulting pizza.
Other netizens had similar thoughts as they lashed out on the concept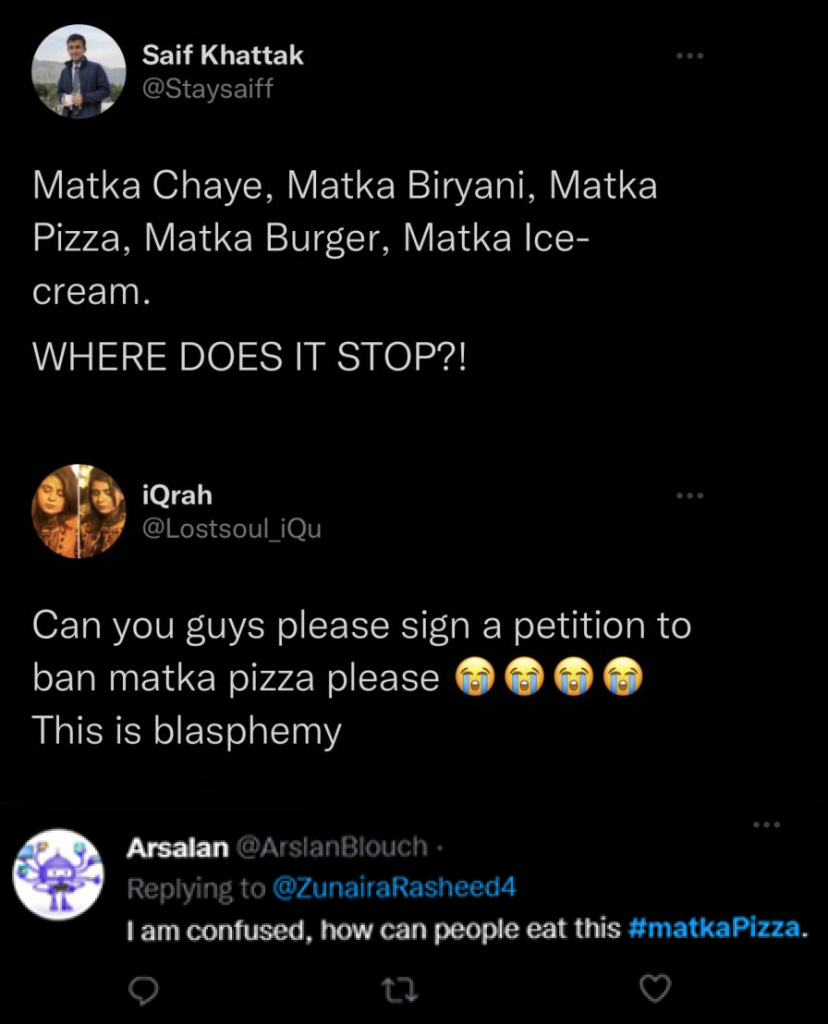 Have you tried 'matka pizza'? If not, do you still want to try it? Share your two cents with us in the comments below.
Stay tuned to WOW360 for more new and all the latest updates.
4 Antioxidants That Your Skin Needs if you Live in Pakistan!