Pakistani actress and social activist Nadia Jamil criticizes Geo Television's drama "Hadsa" for its insensitive dialogue about rape survivors, expressing her deep offense and disappointment with the choice of words used in the storyline.
Nadia emphasizes the need for sensitivity and responsible storytelling when addressing sensitive topics like rape. She calls for thorough research and collaboration with survivors and experts before portraying such subjects in dramas or films.
Despite her criticism, Nadia encourages a positive approach to the situation, suggesting that the industry learns from these instances and works collectively to create content that respects survivors' experiences and promotes healing instead of perpetuating harmful stereotypes.
---
---
Pakistani actress Nadia Jamil is known to be vocal about prevailisng issues in the society, children rights, women rights and is a social activist who works tirelessly for the underprivileged in Pakistan.
With the ongoing debate on social media about Geo Television's latest drama on air 'Hadsa' featuring Hadiqa Kiani, Nadia Jamil a survivor of rape and child abuse has shared her thoughts over social media on the drama Haadsa.
She states she is left disgusted and offended at the storyline and script writing the drama is following. She believes the words spoken on national television should have been chosen carefully and are hurtful to those who like herself have gone through this trauma and have lived through it.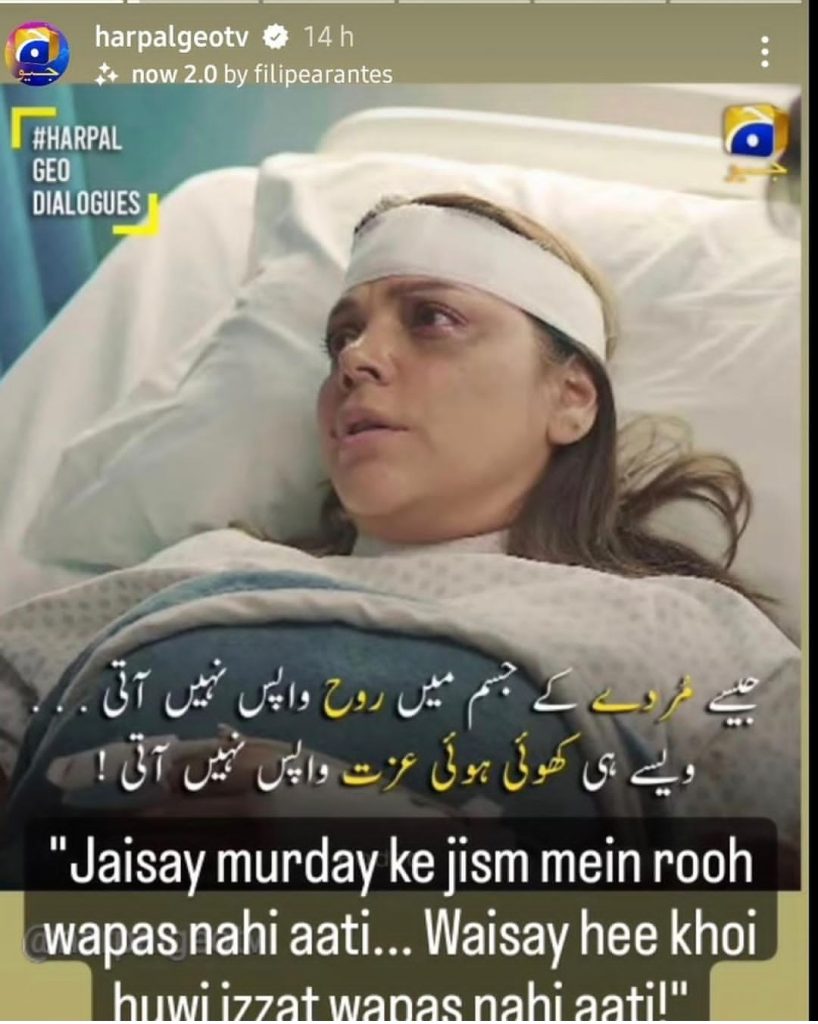 Here's what she has to say about the drama Hadsa:
" This is disgusting. As a survivor I am offended & disgusted by this comment. For non Urdu speakers the dialogue basically says:

"Like a corpse cannot come back to life,lost honour can never come back." The disgusting words used 4 rape in Hindi/Urdu is "Izzat luT jaana" "Robbed of one's Honour"need to be BANNED!

NO HONOUR OF ANY RAPE SURVIVOR IS ROBBED. THOSE WHO RAPED HAD/ HAVE NO HONOUR. THEY are the ones who should feel/be in shame. The narrative of SHAME that is dumped on rape survivors is horrible.

Today movements like #notmyshame Shatter the Shame that survivors of abuse/rape carry. Allowing us to belong to a safe place,a tribe that recognises,the shame was never ours to carry,or suffer,to begin w. Please do not encourage this ugly narrative of shame 4 survivors @harpalgeotv.I respect @hadiqakianiofficial a lot but I believe saying these words was a mistake,that hurts!

Many people watching this May have been raped & its the last thing they need to hear AND its a lie. Izzat hamari hamesha se Mahfouz hee thee aur hain. Our honour/dignity is NOT lost. It is the perpetrators who lost honour/dignity by their ugly act of Rape. Survivors are shattered physically,mentally & emotionally by rape. Their capacity to trust the world or even themselves is shattered. Their ability to live in their own bodies is shattered. Statements like this cement the painful humiliating shame survivors of rape are left with.
The actress also added that showmakers need to ensure that the dialogues their characters are delivering do not hurt the sentiments of people who may have been in that position. She stressed on the deep inustice this dialogue on honour has to rape survivors and asked producers and directors to work with people who have survived such ordeals and conduct thorough research before taking on such projects.
Allow survivors to shatter the shame. Allow them to heal. Please I beg of you,do NOT use such ugly lines in your dramas. You are not only doing a deep injustice to rape survivors but also teaching & spreading ugly values.

Please remember this woman is honourable. She is not dirty or "used" because violent men forced themselves upon her. She is already feeling violated & dirty,do not retraumtise her. Because let me tell you she is real, she is me,& millions of other men,women,children & people of other genders.
People who want 2 make films or dramas on sensitive topics like Rape, PLEASE research & work w survivors & people facilitating healing in survivors, before throwing crap like this out.

Deeply offended & disappointed
Respectfully Nadia J
After her statement on the choice of dialogue in the drama, Nadia Jamil once again took to Instagram to urge her followers not to bash the actor or the channel and instead encouraged everyone to learn from their mistakes. Jamil instead spoke about this being and important learning curve for the industry, its actors, directors, writers and producers.
 

View this post on Instagram

 
Follow WOW360 for more.