Pakistani actress Nadia Jamil was diagnosed with breast cancer/grade 3 tumor in April last year.  She reminded us that regular self-checks are important and must be taken into consideration by all. The actress is finally feeling better. In a post, she announced that her hair is growing back, which she is grateful for.
Last week I ws diagnosed w cancer. Nw 4 days in2 treatment. In th last few days hv felt all sorts of feelings frm apprehension,fear, unbeatably huge love 2 calm,acceptance,patience,overwhelming gratitude & a deep sense of responsibility 2 my children,parents,loved ones,myself,you

— Nadia Jamil (@NJLahori) April 3, 2020
She was rather actively informing her fans of her condition.
Its been an unforgettable struggle.Chemo is a battle.But Im without fear,in solitude held tight,cocooned in Allahs Love.Every lesson sent I try 2 learn.Pain,sickness is all a journey 2 healing,& Patience.Bad Sepsis,sugar 600,nearly wnt in2 coma. Alhamdolillah now getting better💪🏽 pic.twitter.com/6RaQx1t6dP

— Nadia Jamil (@NJLahori) July 10, 2020
She wrote in a post:
Getting my hair back. I guess I'll be needing it 2 get back in2 acting on desi TV again. So Shukar Alhamdolillah But I will never 4get facing & overcoming the fear of being bald, of feeling beautiful w no hair. Bald Nado taught me how 2b my own best friend. She fought Cancer, suicidal depression, debilitating arthritis, diabetes, during Covid lockdowns and she fought knowing she had to fight alone. What a blessing I have been to myself. May you be a blessing to yourself as well. Here's rejoicing you and me, our resilience and every breath that brings with it the miracle of being alive. Love love love you! Always Your Nado#selfesteem #journeytowellness #yougotthis #hairfall #baldness #cancer #survivor
On the contrary, one would think after fighting cancer, and depression, and having arthritis, and diabetes one would feel super low. However, Jamil looks rather fresh with little hair on her head with her joking about growing them back to make a come back to TV where she originally belongs, on our screens, playing remarkable characters. This might as well be a hint for screenwriters to write a play that fits Jamil's appearance for now.
Fighting cancer is not easy. The treatment shakes you inside out. Regardless, Jamil has her spirits high and looks forward to welcoming what is ahead of her with open arms.
Pakistani dramatist, playwright, and scriptwriter Haseena Moin also commented on the post. She then said she started her journey with Haseena Moin's drama and might also restart again with it.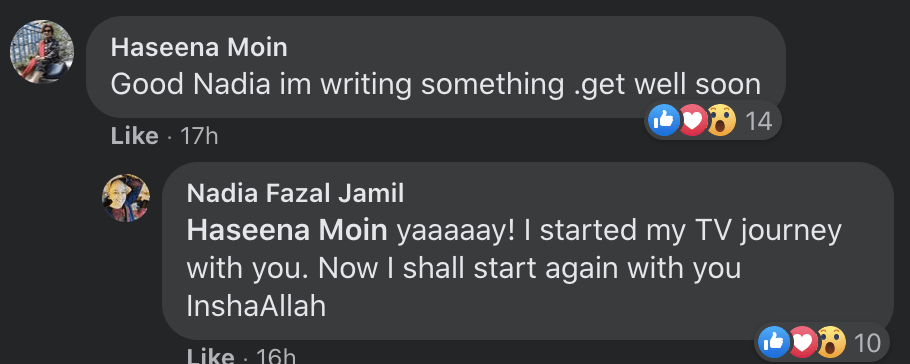 We love how positive she is, and we wish her health. Looking forward to seeing her on TV.  Have something to add? Let us know in the comment section below.
For more news and updates, stay tuned to Wow 360.