Pakistani actor Muneeb Butt and Feroze Khan have resolved their differences over the controversial "leak of personal details" of several other actors, including Butt's wife Aiman Khan, by Khan.
The Habs actor had made public the contact details of various celebrities, including mobile phone numbers and addresses, who accused him of being an "abusive partner in marriage."
Butt had lodged a complaint against Khan with the Federal Investigation Agency's cyber crime cell. However, after a long-standing dispute, Butt announced that he had dropped all charges against Khan.
He urged people to respect their privacy as it was their "private matter" and shared a picture with Khan, saying they have resolved the matter per their elders' advice and will keep a "mutual relationship of respect and love" in the future.
Meanwhile, Khan clarified that he had failed to notice that the legal notice contained the personal details of the respondents, and he deleted the post as soon as he realized that he had made a mistake.
Sarwat Gillani, Yasir Hussain & Others Call Out Feroze Khan for Leaking Their Private Numbers
Taking to social media, Muneed Butt wrote:
"I Muneeb Butt and family hereby state that to give us pain and mental distress wasn't FK's [Feroze Khan] intention, it was a mistake. I announce to drop all the charges." He added "Honorable judiciary is still hearing Feroze Khan & Syeda Aliza's case, we have full faith in our judicial system the verdict court will give we will stand by that it's their private matter and everyone should respect their privacy and restrain from commenting'
The actor also shared a picture with Feroze saying that they have decided to resolve the matter between them as per their elders' advice and they will keep a "mutual relationship of respect and love" in the future.
The Khaani actor also shared a post on Instagram clarifying that he had "failed to notice" that the legal notice (against the celebrities) contained the personal details of the respondents when it was posted on his Instagram earlier this year.
"As soon as I realised, I deleted the post immediately within minutes," he wrote. Feroze further stated that he knew the importance of privacy and he was extremely sorry "if any of my colleagues had to go through any inconvenience".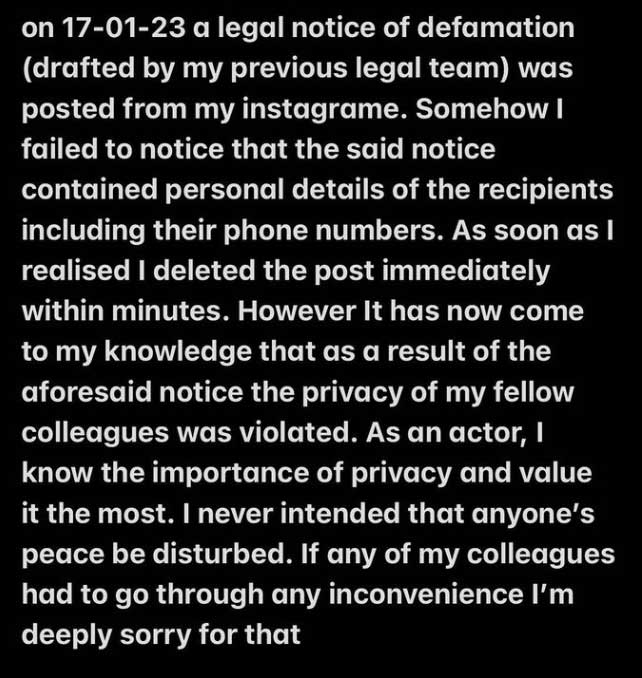 What are your thoughts on this? Share them with us in the comments box below.
Stay tuned to WOW360 for all the latest news and updates.
Feroze Khan Files Defemination Against Sharmeen Obaid Chinoy