ARY Digital's latest drama titles 'Mujhe Pyar Hua Tha' has recently started, however, the memes have already taken over social media.
Starring Hania Aamir, Wahaj Ali, and Zaviyar Noman Ijaz the story is about a love triangle. Hania is a rebellious girl who comes from a conservative family, Wahaj who plays her cousin is crazy in love with her and is over protective about her.
While Zaviar who plays Areeb , is Hania's cousin's friend who we can say falls in love with Hania at first sight. Hania also takes a slight liking towards Areeb, but plays hard-to-catch.
Following this cliché triangle, social media started blowing up with some hilarious memes involving love triangles and other relatable POVs.
'Mujhe Pyar Hua Tha' Memes We Loved
Here are some of the Mujhe Pyar Hua Tha memes we enjoyed reading and sharing.
Employees waiting to get paid on salary day, meanwhile the situation be like: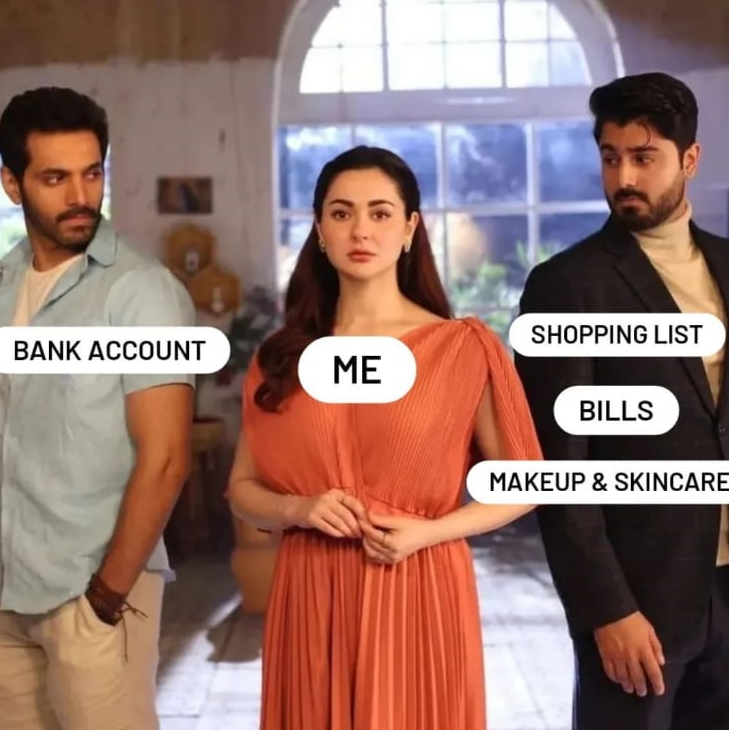 Just when you think there is finally a Friday where you won't have to be stuck i between these 4-walls, reality hits once again: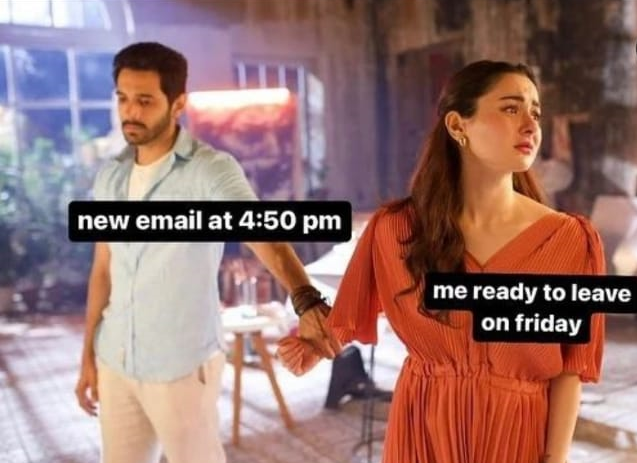 When your cousins, you house help, friends, dur-ke-rishtedar ke mamu ke taya ke bache and the entire eco-system is getting married but your single AF:
When you know they're needy and have seen you online and you try to find an excuse to convince them that you fell asleep while using the phone:
When you're on a roll and social media has you caught up with fluffy kittens ringing doorbells and little babies splurring their first words:
When its Friday, you really want to cheat on your diet with Biryani and your heart be like 'Itni Shiddat se maine tumhe paane ki koshish ki hai, ke har zarre ne mujhe tumse Milane ki saazish ki hai' 
Us, every single day, specially during the winters: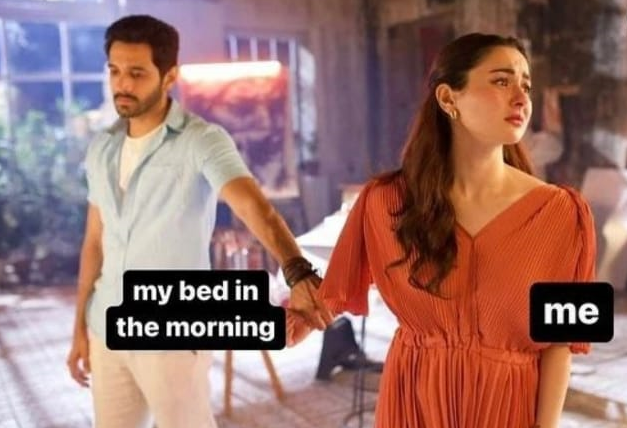 Mujhe Pyar Hua Tha Drama Review: Cringe, Cringe & More Cringe
While these memes have been enjoyable, it is also important to remember a very important lesson that sometimes, the other person might not feel the same way about you as you do for them, and that is okay.
You can not force someone to like you or love you, no matter what actions you do, sometimes those actions are not noticeable or understood in context.
Yes it might be painful the first few days, but eventually you will realize that you have pulled yourself through a lot of agony and pain, and have done something nice for the person too without bragging them in a complicated situation.
Have you found any other Mujhe Pyar Hua Tha memes you could relate to? Share them with us in the comments below.
Stay tuned to WOW360 for more news and updates.