In April last year, a rumor that the Pakistani sweetheart Mahira Khan was secretly engaged began doing the rounds on social media.
It all started when a number of Indian publications claimed that the Raees actress exchanged rings with a Pakistani entrepreneur, Salim Karim, in the presence of close family and friends.
Moreover, a number of pictures of the duo were all over the internet in which the diva was seen standing with her alleged beau.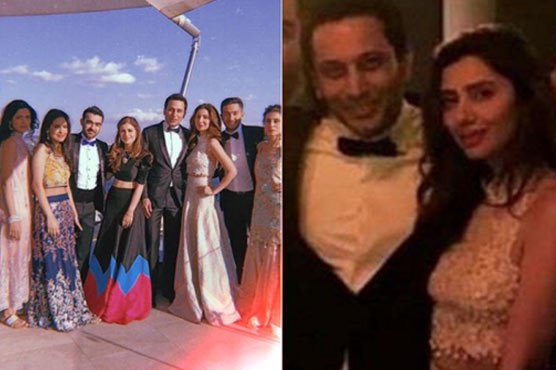 However, the news was later rubbished by one of the close family members of Mahira Khan who said:
"It's just a rumor. She was there for a friend's wedding and that's all."
Last weekend, Mahira Khan finally opened up about her relationship with Salim Kalim and now people are impatiently waiting to see her as a bride. During an interview, the internationally known designer Hassan Sheheryar Yasin, often referred to by his initials, HSY, asked her about the love of her life and said:
You are in love now, his name is Salim. When you look deep into his eyes, what is the first thing that comes to your mind?
After a little hesitation, the Humsafar actress said:
There's a line in Humsafar, which I thought was beautiful, where Ashar says to Khirad, 'Pata nahi tum mujhe kis naiki kay badlay main miley ho (I don't know what I did right to deserve you.) I think the same about him.
Take a look at the video below!
She also added:
I don't know what have I done in my life, [but I] must have done something good because of which Allah blessed me with." Then the HSY completed her sentence and said, "Because of which Allah blessed you with Salim."
She further said:
"I feel like this for my child too. My child is someone I feel super grateful for. He is the centre of my world, everything revolves around him, but I feel the same way about him, the people I love; that there is something that I must have done [to deserve them]. I was such a heart breaker but I realized Allah will not be too happy with my prude behaviour. I hope that we can protect this because I feel like is you want any relationship to work long, you have to work at it and strive to make it better."
According to news sources, Salim Karim is the CEO of Simpaisa located in Karachi.
What are your thoughts about the story? Let us know in the comments section below.
For more updates and details, stay tuned with us.