Karachi Biennale Trust (KBT) in collaboration with the Sindh Culture Department, Government of Sindh, held a full-day PechaKucha workshop on August 26, 2023.
Artists under 30 years from Hyderabad, Sukkur, Jamshoro, Naushero Feroz, Khairpur and Karachi participated in this workshop held at Mehran Arts Council, Hyderabad.
Senior students from Institute of Art & Design, University of Sindh, Jamshoro and thesis
students from Shaheed Allah Buksh Soomro University of Art, Design and Heritage, Jamshoro ((SABSU) also got an opportunity to be a part of this workshop.
This event was organized by KBT to help 38 artists starting out in their careers to understand the vital link between art and effective communication for future success, and learn practical skills from leading art experts. The workshop also promoted networking and teamwork.
During the workshop, participants focused on learning how to present their art practice
via PechaKucha, a system developed in Japan in keeping with the concise communication needed in today's competitive time.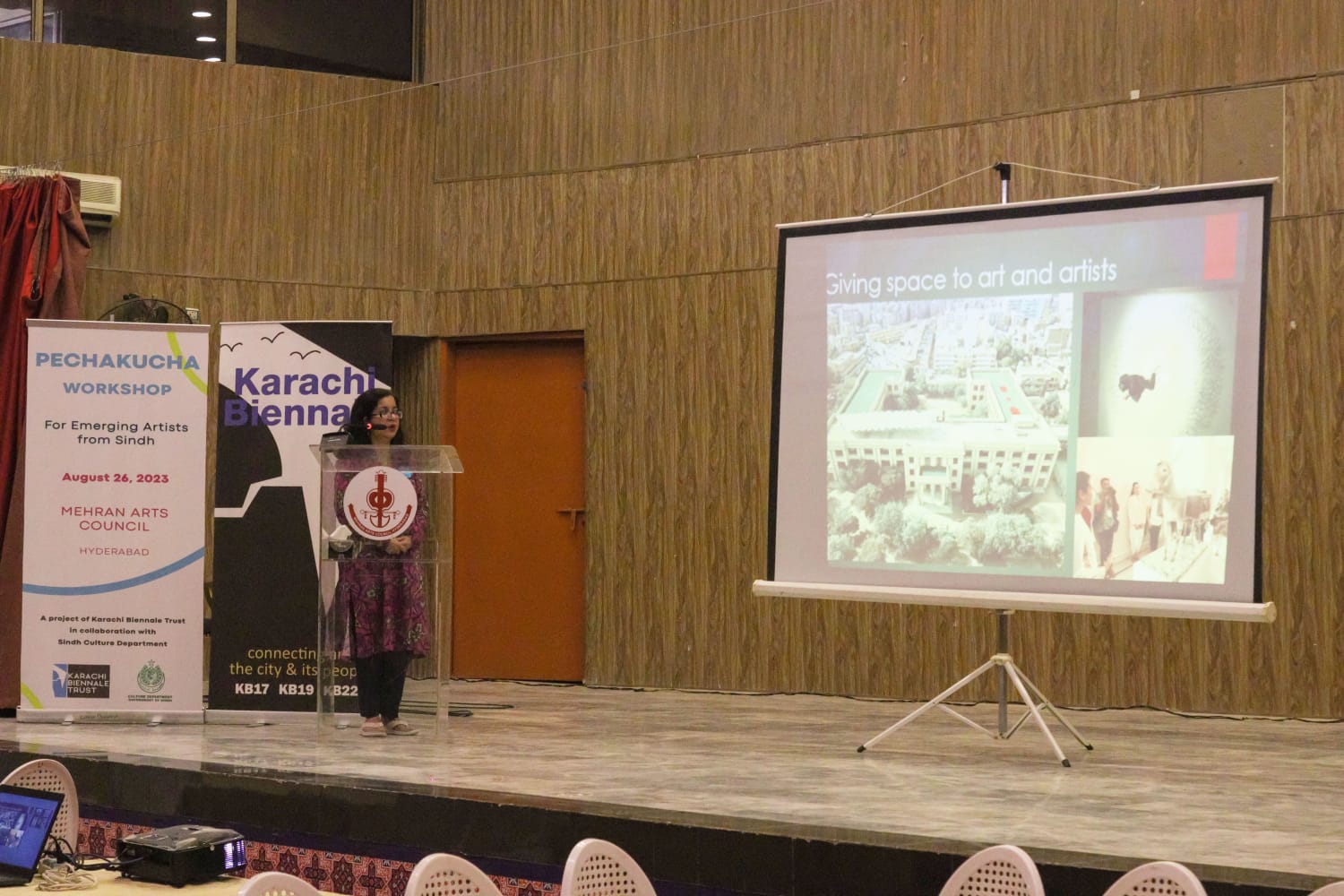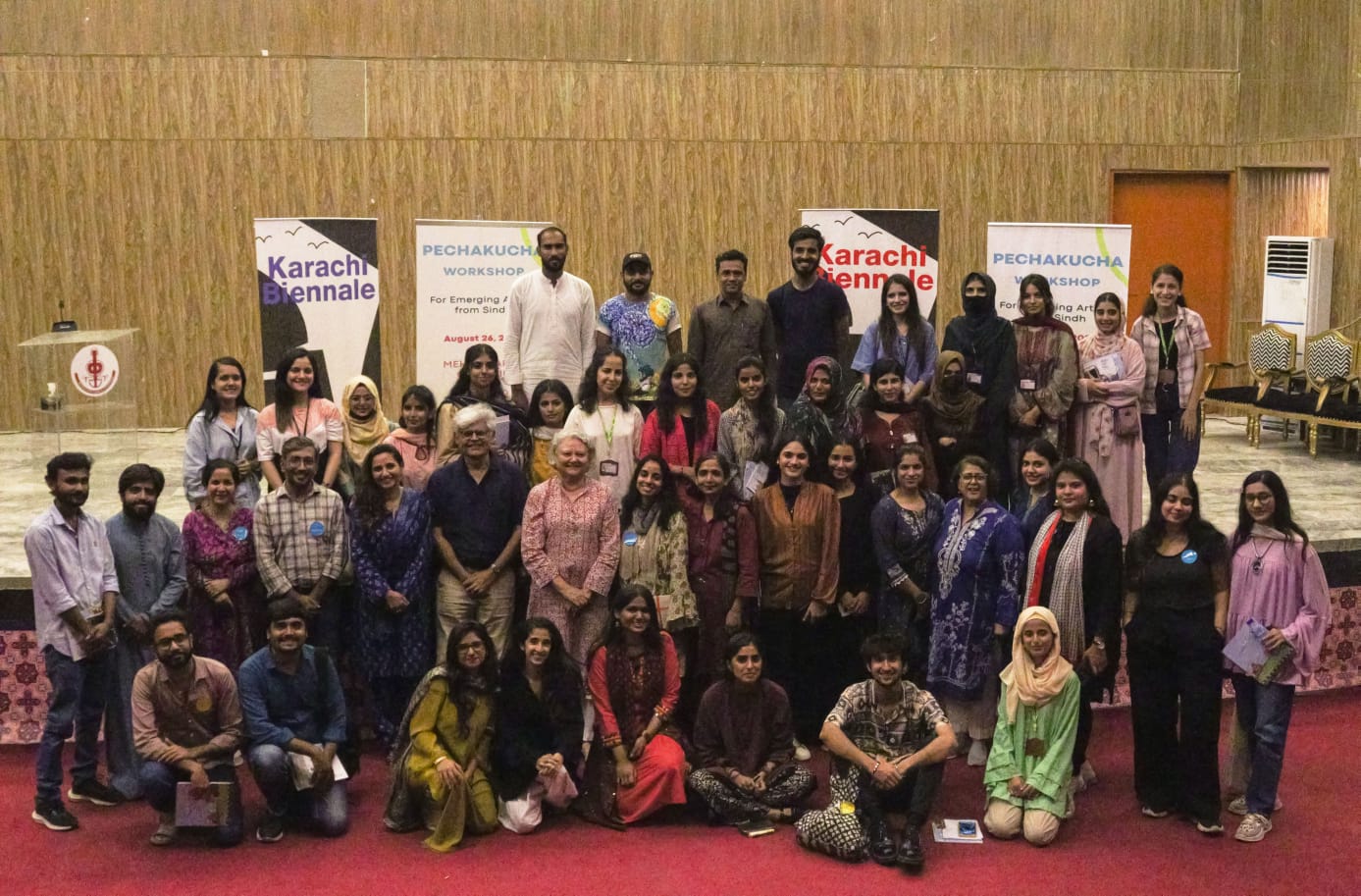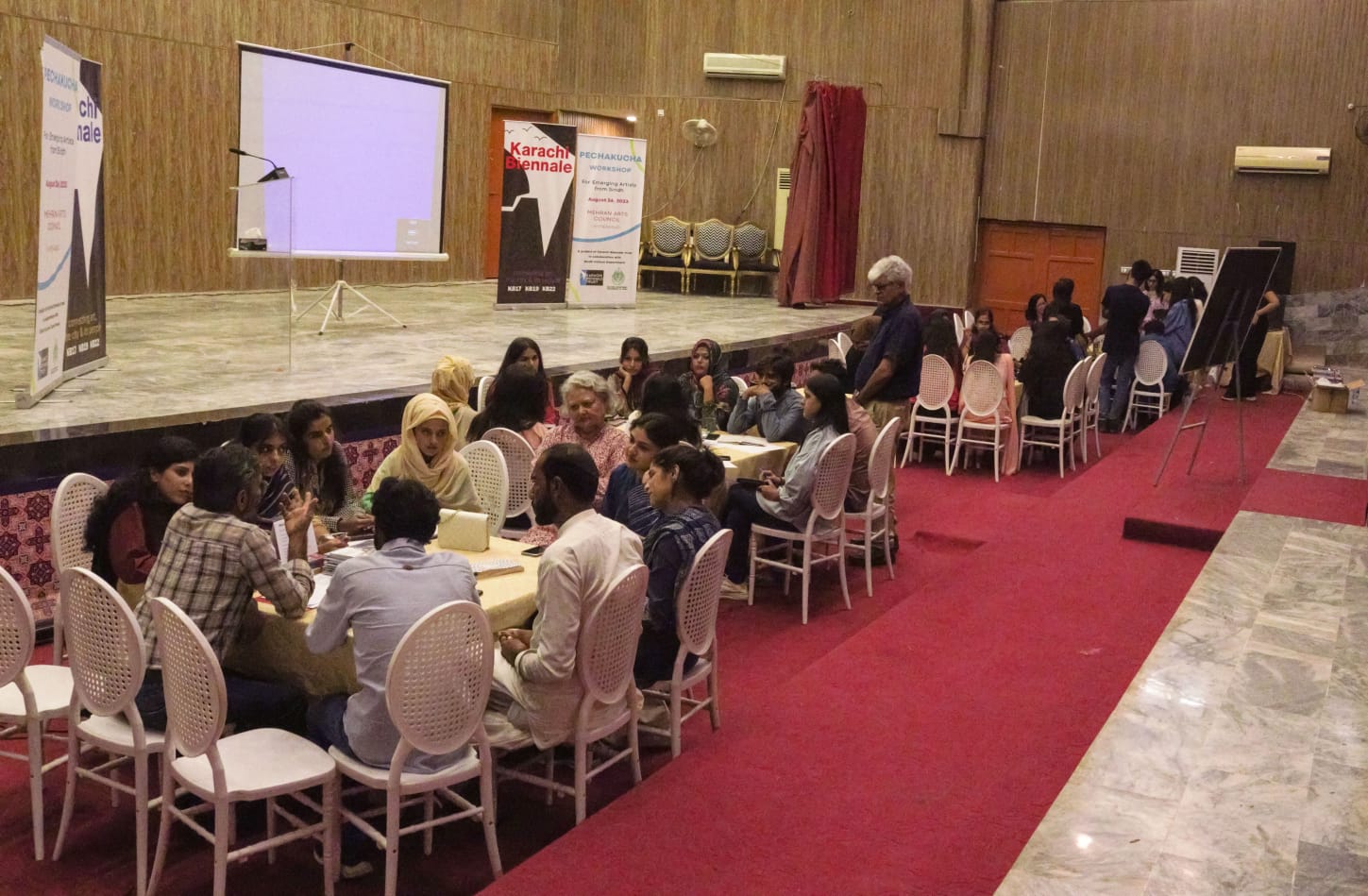 In the introductory session Almas Bana Chairperson of KBT spoke on the mandate of
Karachi Biennale, Pakistan's largest international contemporary art platform and how it
supports young artists.
In the next session, Niilofur Farrukh, eminent art critic, author and Managing Trustee of KBT discussed the importance of communication and tools to create a narrative around
art practice and cultural context. In the final session, four established art professionals and educators Romilla Kareem, Raheela Abro, Abdul Malik Channa and Saira Danish Ahmed mentored the artists on how to adapt their images and information to the PechaKucha format, followed by a detailed discussion.
The last part of the workshop will take place in September when the participants will
make PechaKucha presentations in Karachi to a jury and compete for the coveted KB
PechaKucha Prize.
Sher Muhammad Mahar, Director Sindh Museum Hyderabad and Saleem Solangi, Deputy Director Culture attended the workshop and recognized the mentors on behalf of the Sindh Culture Department.
Karachi Biennale Trust and Sindh Culture Department, Government of Sindh that share the objective to create opportunities for young artists of Sindh; were collaborating partners for the PechaKucha Workshop and will extend their partnership to other art projects in future.
For queries and photographs please contact Ms. Ambreen Saleh communications@karachibiennale.org.pk