The hashtag #JusticeForFatima is trending on social media, drawing attention to the alleged torture and death of 9-year-old housemaid Fatima Fariro by her employers, Asad Shah Jilani and his wife Hina Shah.
A viral video has surfaced showing severe abuse inflicted on Fatima Fariro, prompting outrage and demands for justice. The distressing video reveals the young girl's last moments.
Following public outcry and rights activists' demands, the accused Asad Shah Jilani has been arrested and detained.
---
---
Social Media is trending with yet another call for justice for a 9 year old housemaid, #JusticeForFatima. The child identified as Fatima Fariro was allegedly tortured to death by the employers she was working for named Asad Shah Jilani and his wife Hina Shah.
The accused is an influential personality and a local Peer (spiritual leader) of Ranipur Town where the incident occurred.
In a span of two months, this is yet another case that has come to light after the torture and abuse of 14 year old Rizwana. While justice has still not been served to Rizwana, the public is now asking for Fatima's perpetrators to be punished.
#JusticeForFatima: Viral Video Exposes Shocking Abuse
The incident came to light when a video of the 9-year-old housemaid, known as Fatima Fariro, went viral on social media, displaying evidence of severe abuse inflicted on the young girl.
The video clip is a distressing sight to see in which you can see the child's last moments where she is shaking uncontrollably and withering in immense pain.
The child in question was the daughter of Nadeem Ali and Shabana, residents of Naushahro Feroze district in Sindh. Initially, despite the unmistakable signs of torture on the minor's body, as evident in the viral video, Fatima's parents labelled her demise as a 'natural death' as their two other daughters also work as domestic workers with another employer.
"We had sent the girl to Peer Fayyaz Shah and she was employed at Peer Asad Shah House 9 months ago. My other daughters were also employed at Peers' houses."
During nine months, the mother said, they only met their daughters three times, adding that Fatima wasn't ill as emphasised by the accused.
The parents of the child have requested the authorities for a post mortem and justice to prevail for their slain daughter. The mother further added that they had made the natural death statement for the safety of their other children. She also mentioned about the numerous visible torture marks on Fatima's body,
"My daughter had torture marks on her neck, waist, stomach and arms"

 
The accused and his family had mentioned that Fatima was ill and that was the cause of her death, the family's family doctor also listed abdominal pain as the cause. In another statement the employer Shah also added that Fatima had been diagnosed with Hepatitis and people were spreading lies in order to malign their reputation.
Perpetrators Arrested for Torturing Fatima
The accused Asad Shah Jilani has been arrested and put behind bars after the video clip of Fatima's demise went viral on social media. Apart from the main culprit, Asad Shah, the doctor from Ranipur who wrote the false report was also arrested for aiding and abetting in a murder case.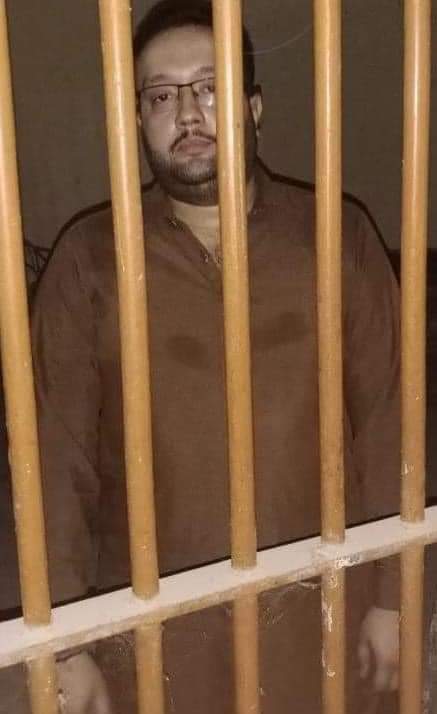 Pir Asad Shah arrested for raping and torturing nine year old Fatima to death.
I hope he rots in hell.
#JusticeForFatimaFariro pic.twitter.com/ZnVl885tW7

— Nadia Jamil (@NJLahori) August 16, 2023
Investigation Team Appointed for serving #JusticeForFatima
The registration of the First Information Report (FIR) against the influential spiritual leaders occurred following the swift response of DIG Sukkur Javed Soonharo Jiskani. This prompt action was possible after the video went viral and rights activists demanded justice.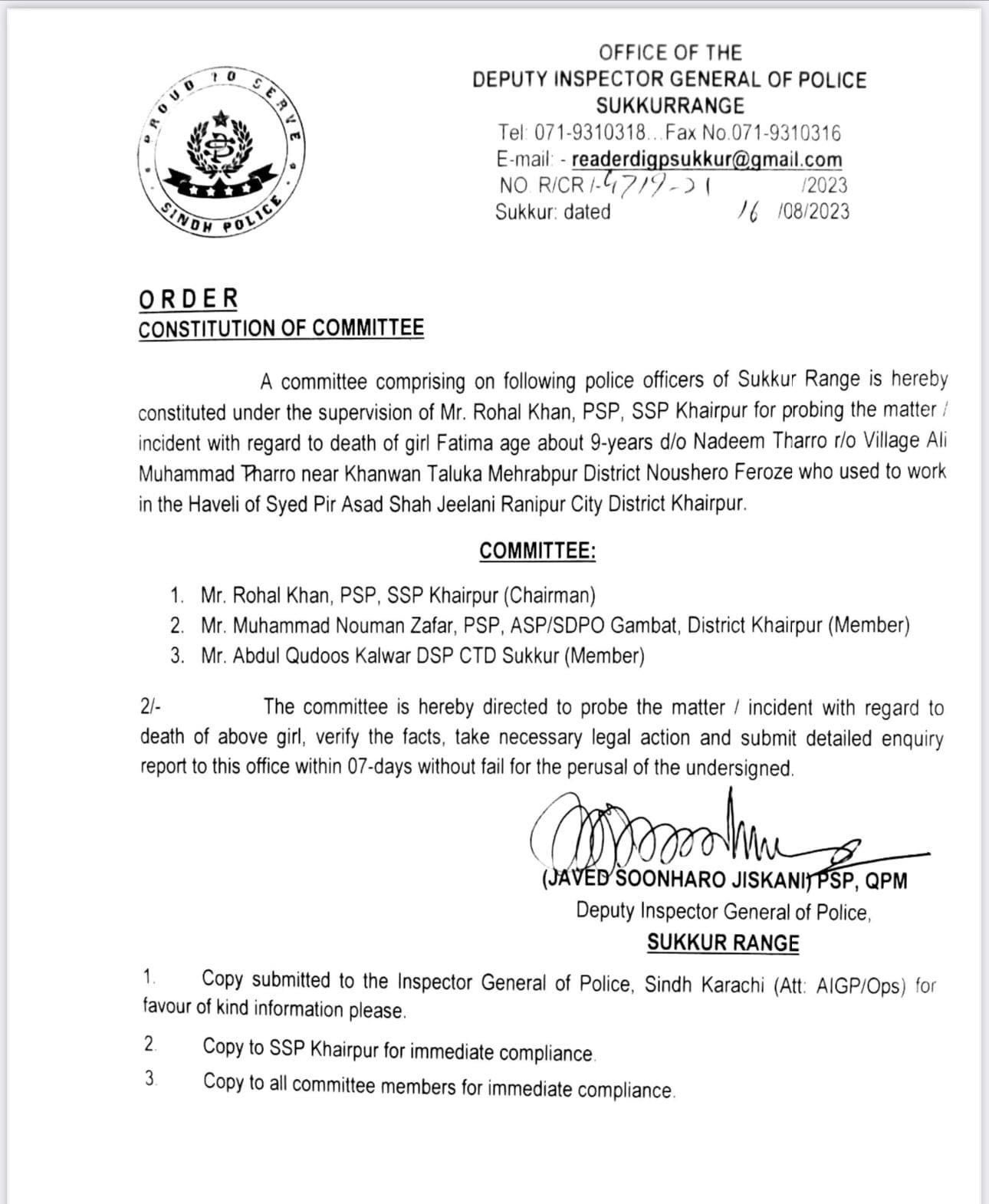 In light of these events, DIG Jiskani took decisive measures by instructing SSP Khairpur Ruhail Khoso and ASP Mohammad Nuaman Zaffar to conduct a thorough investigation into the matter. Drawing upon initial statements from the victim's mother and other relevant sources, ASP Zaffar submitted a preliminary report to his superiors. Subsequently, these authorities directed the recently appointed SHO of Ranipur Police Station to officially file the FIR, in alignment with the request put forth by Ms. Shabana Fariro.
SSP Khoso mentioned,
"The body will be exhumed in the presence of a magistrate to ensure all required legal procedures are followed, including taking DNA samples to determine suspected sexual assault on the girl."
It was also mentioned that the former SHO Ameer Chang had been suspended for not properly investigating the death of Fatima.
Follow WOW360 for more.