Being a girl, we always try our best to keep our hands and face super moisturized, clean and baby soft. But why don't we pay equal attention to our feet? 
Probably we take them for granted because of the fact they they're hidden inside our shoes or socks most of the time.
However in out type of weather we usually wear slippers or sandals and the feet get more exposed as a result. The only time you care about your feet is when your favorite nail paint on your toes.
Especially in winter season our feet and heels go super dry, cracked and rough. Here are a handful of ways you can keep your soles soft.
1.Stop Walking Barefoot In Your House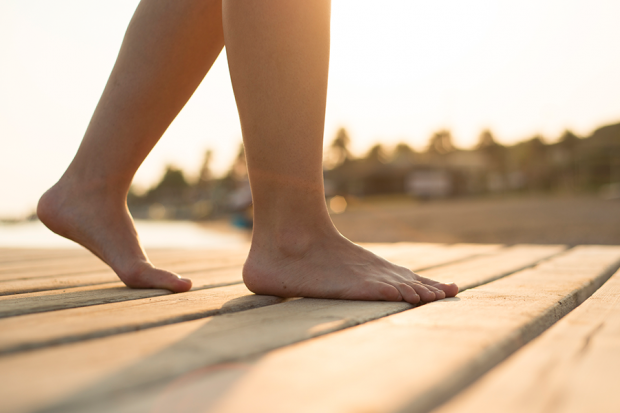 You feet accumulate dust the most when you roam around in your house barefoot wondering things and making life decisions. Get a pair of room slippers if you don't owe one – they're super light and prevent your feet from sticking all the dust in your room's floor.
2.  Soak Your Feet In Warm Water
Make sure to dip your feet in a tub full of warm water, don't let them out until your nails and feet start feeling soft.
3, Add Some Salt
Add some salt, pour in your favorite shampoo, (you can add in some conditioner too)& lemon. Blend the warm tub water with your feet.
4. Exfoliate With a Pumic Stone
Take a pumic stone and start scrubbing your soles, heels, ankles and the back of your feet since this stone will instantly make you get rid of calluses, dead skin and germs.
5.  Sanitize & Moisturize
The best moisturizer for dry feet and cracked heels is tea tree oil. Tea tree oil will also help you get rid of any fungus stuck in your toe nails with it's anti-fungal properties.  You can also use a tea tree foot spray which will keep your feet hydrated, fresh and smell amazing for hours.
6.  Put On a Clean Pair Of Socks
As soon as you're done pampering your feet in winter – take a fresh pair of socks and wear them. This will make your feet go way more softer, moisturized and stay super clean for days.
Did you find this article helpful? Let us know in the comments.
Stay tuned for more articles and updates.